Allyson Maynard Gibson KC and Sam Muller1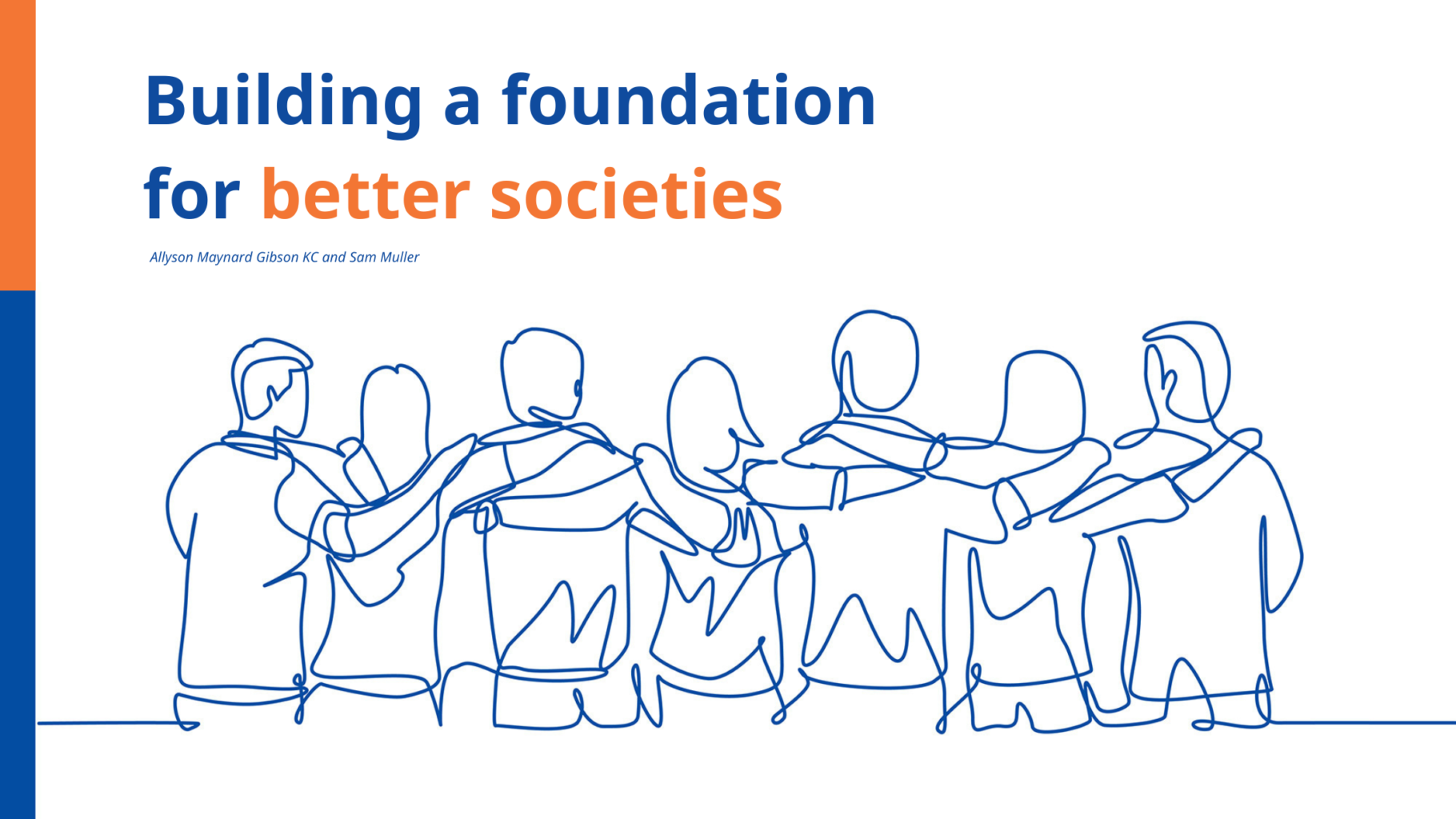 Democracy and rule of law are under threat at a time when the world faces unprecedented challenges. This week a large group of states and organisations are coming together at the Summit of Democracy to face this challenge and to formulate responses. They build on their first meeting held in 2021. Access to justice must now be solidly added to the democracy agenda. It is as important to democracy as is the right to vote. Citizens are expected to and hopefully want to fully participate in their society and economy. A corollary of this is knowing that your voice will be heard if rights given to you are infringed upon. We know, more than ever, what needs to be done. Focus must now turn to action. We need more action. Now.
The challenge cannot be overstated. A shocking 5.1 billion people do not have adequate access to justice. Between half and two-thirds of the population over 18 years in most countries experienced one or more justice problems every 4 years. Capacity to deal with justice problems comes nowhere near what is needed. Research shows that courts or similar bodies only deal with around 5 to 10% of the justice problems. Lack of access most acutely impacts those most vulnerable. More than half of the respondents indicate that justice system failures lead to extreme stress and mental health issues, slightly less than half report losing a lot of time, and around a third report loss of income and serious damage to relationships. And again: the vulnerable and poor are far more adversely affected than others.
The UN Secretary-General concludes in his "Our Common Agenda" report: "many justice systems deliver only for the few". Those that do get access experience justice systems as slow, complex, expensive, inaccessible and not all that effective. Slightly less than half of those that find a justice provider get a resolution. The societal and economic consequences of this are immense. They include political instability and serious challenges to democracy.
The good news is: we now know what is needed to deal with this challenge. The new approach is called people-centred justice programming: an integrated approach that puts the outcomes that people need at the centre and redesigns justice systems around people-centred outcomes. This people outcomes approach is similar to the approach taken by the public health sector in the 1970s. Importantly, this new approach to justice delivery is built on data (knowing the needs and experiences of people), evidence-based practice (developing and sharing the interventions that work best to resolve the most frequent and pressing problems people have), innovation (developing scalable and sustainable organisational models to get those interventions to where they are needed); and building an enabling financial, regulatory, and political environment for success. It is an approach that can be programmed, put into strategies and, because it is data-driven, managed much better than what is/was being done. 
We increasingly encounter practitioners from the justice sector who want to start working in this way, from ministers and chief justices, to court administrators, lawyers and civil society leaders. There is an incredible opportunity for the Summit of Democracy to seize the moment to take steps to scale the people-centred justice programming. Now.
As well said by Ambassador Samantha Power, "democratic donor countries and private businesses must increase their investments in projects that elevate economic and social inclusion and strengthen democratic norms—decisions that ultimately yield not only more equitable results but also stronger development performance." People-centred justice elevates economic and social inclusion, strengthens democratic norms and promotes political stability. We acknowledge that change is starting. USAID used the Summit to launch a new strategy that adopts this way of working. A group of states, some present at the Summit, are uniting in a Justice Action Coalition to provide a coordination hub. With its Global Roundtables on Access to Justice, the OECD is supporting research. The 2022 Commonwealth Law Ministers Meeting put its weight behind this way of working. Further, the people-centred approach has a growing group of academic institutions, think tanks, and civil society organisations supporting it. In countries as wide apart as Kenya, the Netherlands and Niger programmes are starting to be developed.
In short: a growing army of do'ers is waiting to action the new approach. They urgently need the support from knowledge and implementation partners and from funders and they need support to gradually realign systems and incentives, including financial incentives, to ensure that people centred justice outcomes take centre stage. Continual research and development is needed to refine methods and to standardise data.
The data driven people-centred justice approach enables governments to measure ROI as when cast as a measurement of positive outcomes for individuals, families, communities, businesses and society as a whole. Philanthropists have a huge opportunity to contribute to this effort for justice, social inclusion, and equity. Businesses can contribute to this thrust with its innovation power. This people-centred paradigm requires new metrics for measuring success and it requires innovation and creativity. It does not necessarily require new funding. Rather, the new metrics can lead to better use of current funding.
The time for talking is over.  So let's take action to build a foundation for better societies.
---
1 The Hon. Allyson Maynard Gibson KC is a member of the Justice Leaders, former Attorney-General and Minister for Legal Affairs and Minister of Financial Services and Investment of The Bahamas. Dr. Sam Muller is the Founder and CEO of The Hague Institute for Innovation of Law (HiiL) and recipient of the 2022 SNS-Tällberg Global Leadership Award for his work on access to justice. 
Related Posts
---