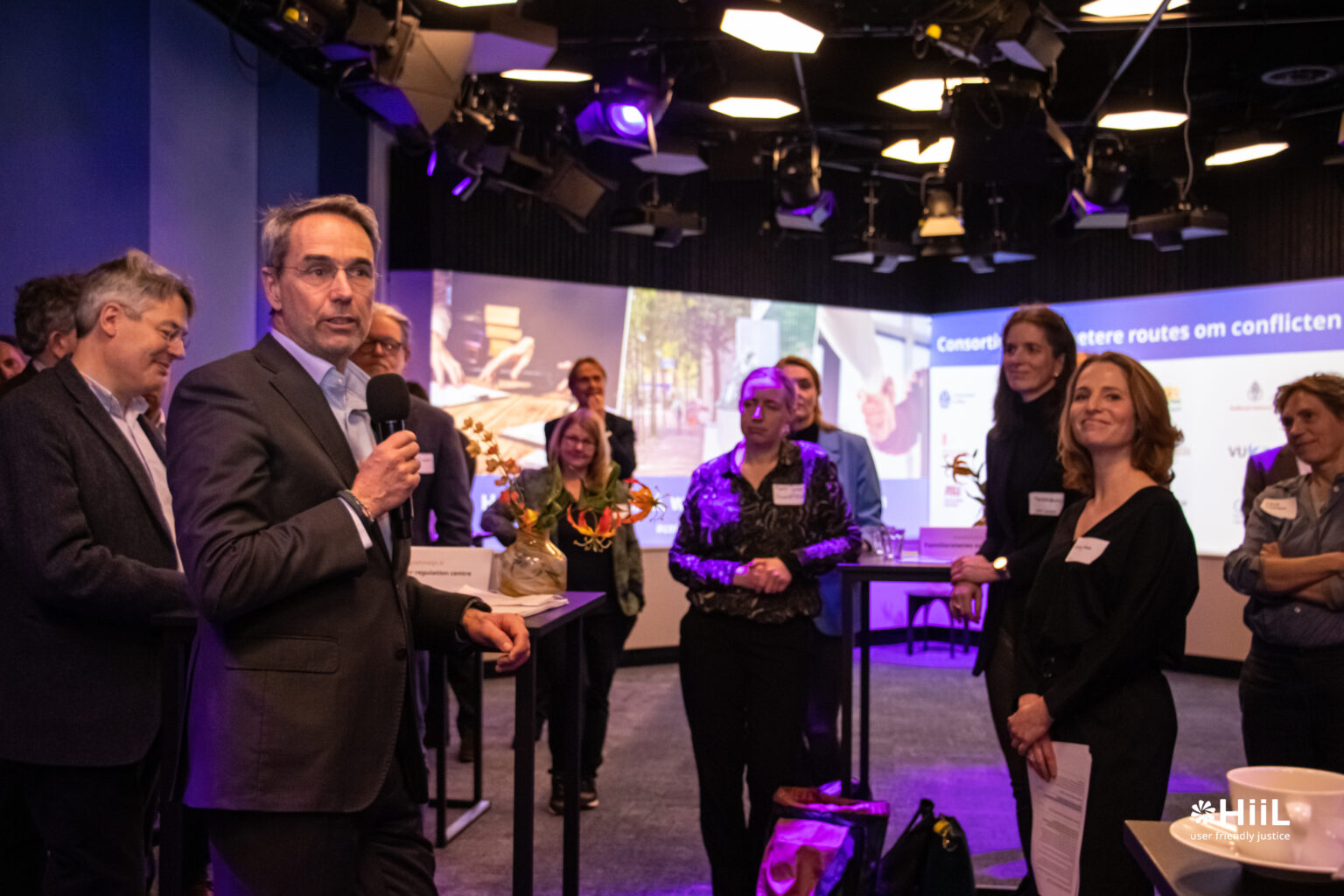 HiiL operates globally in half a dozen countries and counting. We're also committed to people-centred justice at home in the Netherlands. Together with a consortium of partners, we are investing in research and evidence-based practice to reform and strengthen conflict resolution capabilities in the Netherlands.
Data shows that only 32% of pressing conflicts in the Netherlands are resolved by agreement or adjudication in a way that is experienced as fair. This number is down from 45% in 2009. Our mission is to reverse this trend and ensure by 2030 that at least 80% of conflicts get resolved or adjudicated in a fair way within a year.
This mission is underway thanks to a consortium of partners investing in research and development (R&D) and using evidence-based practices to employ a people-centred approach to delivering justice.
The justice sector in the Netherlands and elsewhere lacks the well-organised and sufficiently funded research and development we see in health care or tech. As a result, existing institutional justice services are overburdened and of little use for resolving everyday conflicts. Rigorous R&D can reveal fair, effective and responsive pathways to conflict resolution.
"Our analysis shows that effective conflict resolution is not yet part of the current mission of justice institutions in the Netherlands," said Maurits Barendrecht, Director of the Netherlands programme at HiiL.
"People, businesses and governments urgently need better conflict resolution pathways," added Tim van den Bergh, Justice Transformation Programme Officer.
Change is underway but happening slowly. Now, however, there is power in collective action. A consortium of 34 research units, including alternative dispute resolution providers, international experts, as well as the World Justice Project and the Municipality of The Hague, have come together to help address the inadequate conflict-solving capacity in the Netherlands. A Justice Sector Regulation Centre will address the 'creation of an enabling environment', a key pillar of people-centred justice programming. The R&D work will focus on seven conflict areas: sustainable use of scarce land, cooperation in SMEs, family conflicts, debt restructuring, neighbourhood disputes, effective criminal justice interventions, and recovery in the event of injury or large-scale injustices. 
Applying methods from the health sector to support 'evidence-based practice', the consortium will iteratively develop pathways and guidelines to address each conflict area. They will also co-create and promote implementation plans together with practitioners and institutions. Rethinking the status quo and investing in 'what works' will put the Netherlands on a leading path to delivering people-centred justice and realising SDG16 – equal access to justice for all.
"Strengthening conflict resolution capacity is a manageable challenge, with limited costs, few risks and enormous economic and social potential," said Maurits. "This is a wonderful challenge to do the right thing together."
The coalition partners of the new programme include: HiiL, STAB, University of Groningen, Delft University of Technology, Zuyd University of Applied Sciences, Leiden University, Verwey-Jonker Institute, Utrecht University, Municipality of The Hague, VU University, Radboud University, SKGZ, stg. Finding Justice Together, Arizona State University, World Justice Project, The Hague Humanity Hub, Dutch Legal Tech, CILC, The Hague & Partners, stg. Museon-Omniverse.
Related content
Related Posts
---