HiiL and the Ministry of Justice of Ogun State unveiled a strategy with recommendations for the effective implementation of gamechanging pathways to improve people-centred justice in Ogun State and across Nigeria.
On 19 May, high-level officials from Ogun State, including Governor Prince Dapo Abiodun, Deputy Governor Noimot Salako-Oyedele, Attorney General Akingbolahan Adeniran, Chief Judge Mosunmola Dipeolu, and the Speaker of the Ogun State House of Assembly gathered with HiiL's Nigeria team to present practical next steps towards civil justice transformation in Ogun State. The strategy emerged from the Civil Justice Transformation Lab, a series of Stakeholder Dialogue sessions convened by HiiL and targeted at making people-centered justice a reality for Ogun state people.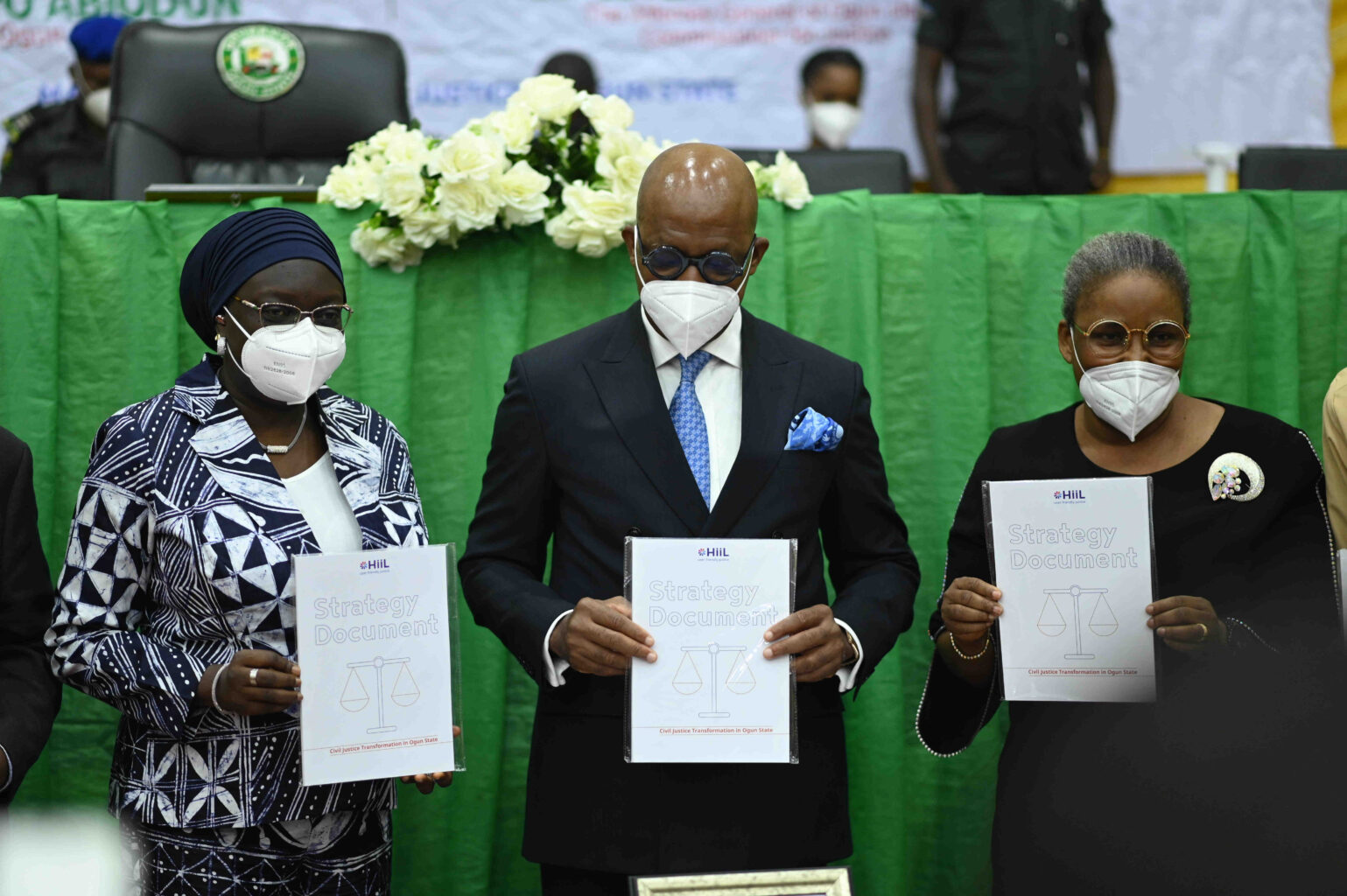 Speaking at the launch of the strategy at the Obas Complex, Oke-Mosan, in Abeokuta, Governor Abiodun regarded efficient administration of justice as an important pillar and indicator towards the ease of doing business in any society. "It is our vision for Ogun State to be the safest place to live, to work and to do business," he declared.
"This strategy offers a comprehensive path forward for making people-centred justice possible, not only in Ogun State but across Nigeria more broadly." – Ijeoma Nwafor, HiiL's Justice Transformation Country Representative in Nigeria
Recognising that business and justice are inextricably linked, the strategy offers recommendations for addressing people's justice problems in Ogun State, an economic and commercial hub neighbouring Lagos. Additionally, a Deep Dive report accompanying the strategy contains data on justice needs and research on "what works."
"This launch is the next step to showing the outside world what was done," said Sam Muller, the CEO of HiiL. "And it sets out next steps, including arranging a task force structure to continue this process and establishing innovation labs to develop solutions that can be financed in ways to help deliver on the four goals, 19 indicators and three pathways outlined in the strategy."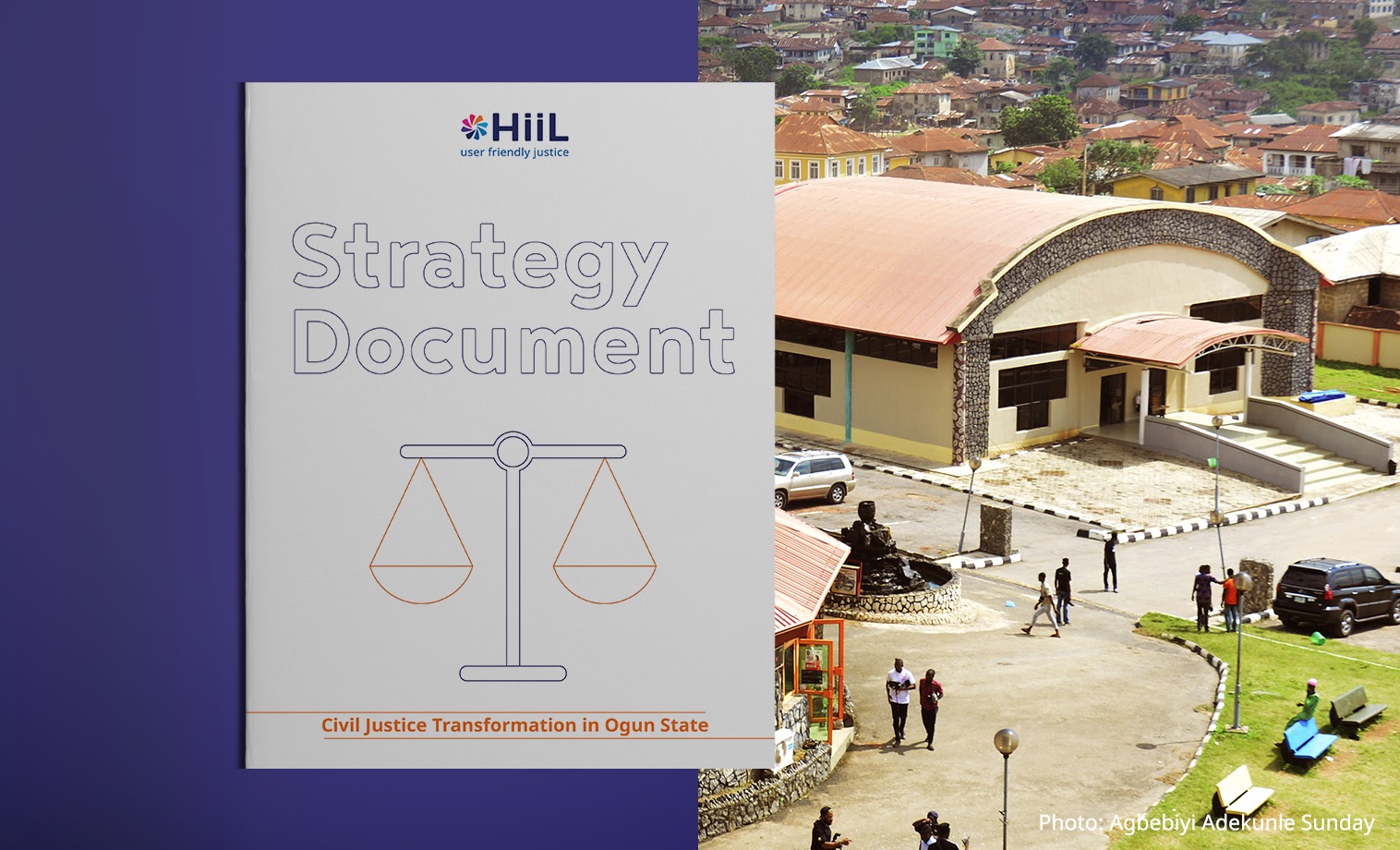 Land, neighbour and family disputes were identified as the most pressing civil justice needs that Ogun people face. To address these, four Civil Justice Transformation Goals were developed with accompanying indicators and targets to quantify what could realistically be achieved within a two to three year timeframe.
Goal 1: Ogun people will make land title registration more flexible, transparent and technologically driven to prevent land disputes.
Goal 2: Ogun people will increase their use of informal and local dispute resolution mechanisms to resolve neighbour issues.
Goal 3: Ogun people will have access to improved resolution of family disputes.
Goal 4: Ogun people will have fast and effective access to protection in the event of domestic violence.
"We would like to inspire an eagerness to think outside the box," added Theresa Smout, HiiL's Director of Justice Transformation in West Africa. "And to provoke thoughts on how to ensure people-centred Gamechangers can drive a transformative process."
The state-level Civil Justice Transformation Lab consisted of three dialogues that involved 25 stakeholders including civil justice practitioners, judges, lawyers, academics, and public officials. The dialogues sought to contribute to the broader ambition of Ogun State – namely, to transform attitudes, promote technology, and deploy (game-changing) activities in the administration of civil justice.
"The success of the strategy will depend on a cohort of dedicated individuals taking personal and collective responsibility for follow-up and implementation," said Attorney General Adeniran. "With this strategy, Ogun State renews its commitment to the global community striving to achieve Sustainable Development Goal, target 16.3 – equal access to justice for all by 2030."
The Civil Justice Transformation Strategy and its accompanying Deep Dive report are both available on HiiL.org under the project Civil Justice Transformation in Ogun State, Nigeria:
Further Reading
---