Justice thought leaders shared their thoughts and insights on solutions and interventions for delivering justice in the Covid-19 time.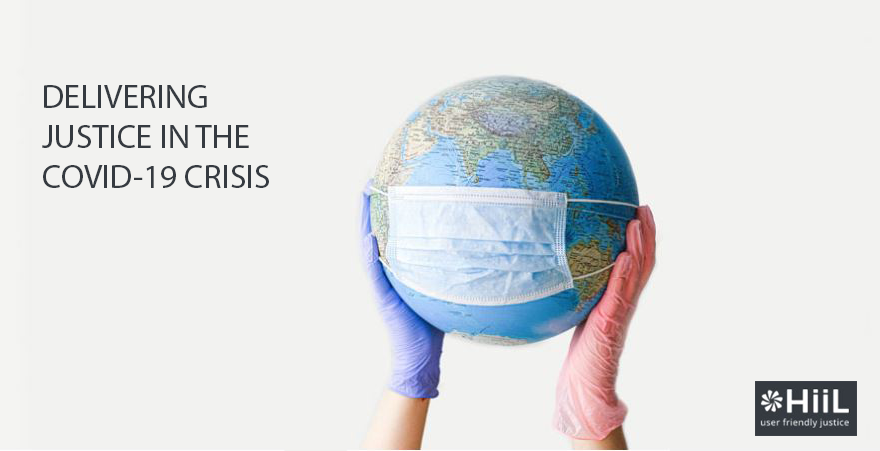 News reports in recent weeks have indicated several promising vaccines for Covid-19. Nonetheless, the coronavirus is likely to affect everyday life through 2021. Billions of people around the world will need to be vaccinated and until that monumental logistical effort succeeds, most of the world's population could remain burdened by the public health and economic uncertainties of the pandemic. For justice thought-leaders and providers, the Covid-19 pandemic has further exposed the threats and weaknesses of justice systems around the world.
At the onset of the global pandemic, The Hague Institute for Innovation of Law (HiiL) sought to understand the potential impact on justice-related issues stemming from the spread of Covid-19. In 2020, HiiL researchers and experts conducted the Covid-19 Survey with justice thought leaders around the world to assess this looming widening of the justice gap and its possible ramifications for individuals and governments. The first round of HiiL's Covid-19 Survey mapped the current and anticipated impact on individuals and societies. This follow-up survey among a smaller group of justice leaders focussed on three questions:
What should preventative, constructive and informal interventions during the Covid-19 crisis look like?
What are the most effective models for delivering community justice?
What kind of systems change do these unprecedented circumstances most urgently demand?
The thought leaders surveyed represent 19 countries. Mostly Uganda (22%), Bulgaria (16%), the Netherlands (13%), and Syria (11%) followed by Lebanon, Chile, Ethiopia, Tunisia, Kenya, Mali, Turkey, Bangladesh, Germany, Jordan, Kuwait, South Africa, South Sudan, the US, and Yemen. Over half of the respondents are lawyers, judges, or prosecutors, and 69% have over 10 years of experience in the justice sector.
Preventive, Constructive, and Informal interventions
During the first survey, respondents made clear that during the pandemic, preventative, constructive, and informal interventions would have the greatest potential for resolving people's current justice problems. Sanctioning and punishing were seen as less effective. Now, however, we asked the respondents during the 2nd follow-up survey to go one step further by reflecting on the interventions that would most likely facilitate key elements of a given resolution process.
The key takeaways included:
Meeting: Opening a channel of communication between the parties
Respecting: Helping parties take one another seriously as human beings
Shaping solutions: Exploring possible solutions to meet the needs and interests of the parties
Restoring: Repairing harm and preventing future harm
78% of respondents felt most confident about guided negotiations prior to court involvement in an effort to help identify, resolve, and define conflict issues.
Overall, the thought leaders were clear in their belief that a wide range of preventative, constructive, and informal interventions can facilitate resolution processes. Interventions that facilitate face-to-face dialogue and are not entirely informal (in the sense that they take place within the formal justice system) received preference compared to interventions facilitated online or in a criminal context.
Community justice delivery models
Following initial survey results indicating strong support for community justice, HiiL asked respondents to confirm which community justice models they believed could deliver the greatest impact and effectively scale.
Houses of justice (centres where different disciplines coordinate their interventions) and regional or local courts received support as most likely to effectively deliver. Additionally, Regional or local courts and community policing were seen as having the greatest potential to scale across the community. Religious courts and justices of the peace scored lowest among the community justice delivery models. This skepticism suggests that thought leaders feel most confident about the community justice delivery models that are connected to the formal justice system.
Other community justice service delivery models not included in the survey but highlighted and considered promising by the thought leaders surveyed include: online platforms, local governance structures, mobile courts, arbitration centres, community legal organisations, paralegal services, Local Council Courts, and traditional dispute resolution mechanisms (i.e. clan courts or councils of elders).
System change priorities
In the initial survey, three major system change priorities emerged: a framework for improving procedures and technologies in the courts; the development and implementation of innovative delivery models; and adapting services and procedures to the Covid-19 climate. As part of the follow-up survey, HiiL asked respondents to offer solutions on what they believe could turn these three priorities into reality. The responses:
Improving procedures and technologies in the courts
Developing and implementing innovative and accessible justice delivery models
Adapting services and procedures to the COVID-19 climate
Respondents considered video hearings (84%), information and advice via mobile technology (65%) and platforms supporting a two-sided contract or settlement to a conflict (57%) as the most essential opportunities for improvement.
In the COVID-19 climate, thought leaders listed new technologies that support virtual justice delivery and emphasise user-friendly interfaces that combine "a human touch with input." Examples mentioned included, video conferencing to facilitate remote hearings, electronic legal services and documents, and one-stop-shop platforms where procedures and payments could be centralised online. A "bringing justice to the people" approach also suggested restorative community justice mechanisms and mobile courts to help facilitate conflict resolution.
Lastly, thought leaders called for victim-centred justice and legal protection for women and children. This included "providing mental health and psychosocial support for survivors, focus on counteracting stereotypes and stigmatization, and survivor-centred and gender-sensitive services and procedures."
In conclusion
Based on the responses and opinions of justice sector thought leaders, the Covid-19 Crisis Report concludes that the pandemic will have long-term effects on addressing and resolving justice problems around the globe.
As the justice gap is expected to widen, many countries may also see an increase in large-scale violence. Courts, police, and informal justice services must adapt their services and focus on interventions that mitigate, prevent, and resolve an additional wave of justice problems. Rendering decisions and imposing sanctions are unlikely to work. Instead, the situation asks for a targeted and more accessible portfolio of interventions and delivered locally in communities or online where the use of and adoption of technology is not only possible but trusted too.
Regardless, emphasising innovative service delivery models will be crucial to promoting justice as leaders continue to develop new skills, relationships, and coordination processes and dismantle the barriers to justice access and services.
If you wish to explore further the follow-up Covid-19 Survey, also available in French and Arabic, and view all the data, please visit: https://dashboard.hiil.org/covid19-solutions-and-interventions/
---