After separating from my partner, I was very worried about the future of my children, ages 12 and 15. So I decided to get a will to ensure financial security of my children if ever anything happens to me. But being the owner of a small pharmacy, I could not afford to hire a lawyer to draw up the will. That's when someone suggested that I check out online providers of legal documents. And voila! For less than half the price of a lawyer, I got a will. One of my biggest worries has now been taken care of.
~ Sonia (42)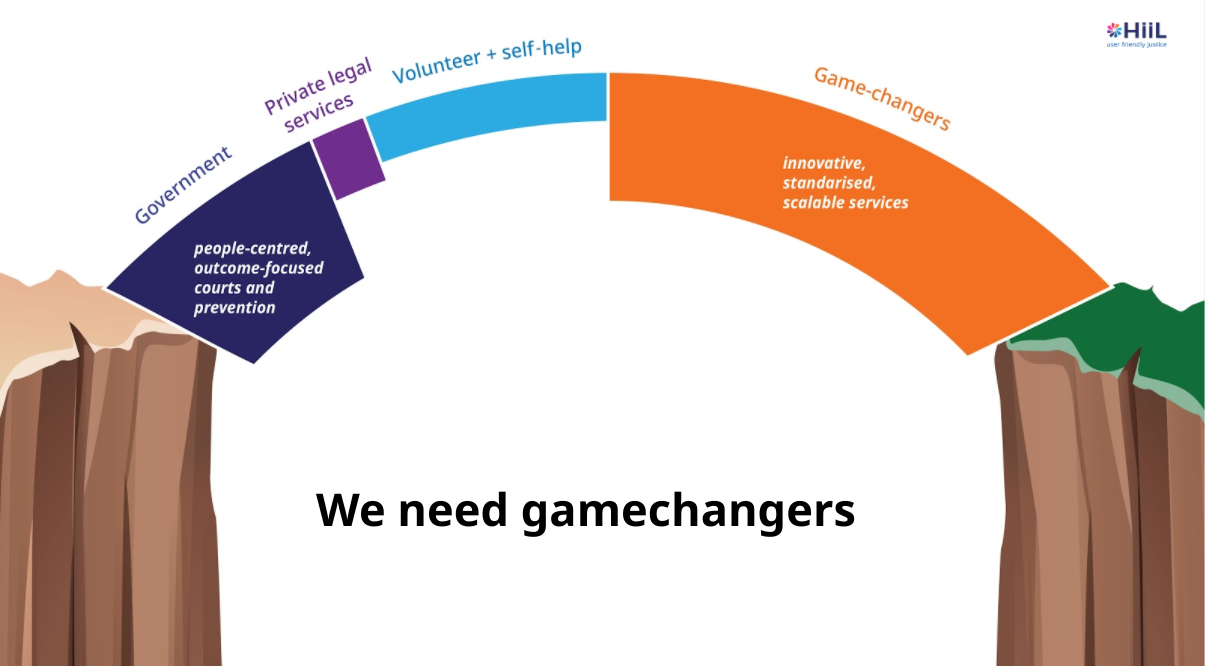 Millions of people like Sonia want access to affordable and accessible legal services. Unfortunately, the needs of such people often fall through the cracks of the traditional justice system. Clearly, we are at a juncture where we need to embrace fresh ideas to realise people-centred justice.
The Justice Dashboard presents innovations from the private sector as well as the public sector that have the potential to deliver justice to millions of people around the world. These innovations prioritise people's needs and experiences and provide justice services that are affordable, accessible, and easy to understand. Termed by HiiL as Gamechangers, these innovations have reimagined the way justice is delivered.
The Gamechangers work with a variety of justice initiatives from across the world and reflect over a decade of experience supporting justice initiatives including private startups and innovative interventions in the judiciary among others. At HiiL, we have gathered significant insights into the justice innovations that provide scalable and sustainable opportunities (products, services and models) to enact the (local) solutions most responsive to people's justice needs.
Beginning with community justice services, HiiL has identified seven Gamechangers themes of which five are presented here:
In many countries, parallel to formal legal services, there exist community-based dispute resolution mechanisms. The community justice services bring justice to the doorstep of many who cannot afford to hire lawyers and engage in court battles. To acknowledge the significance of the role they perform and to bring them under the purview of the law, countries such as Uganda (Local Council Courts) and Colombia (Houses of Justice) have facilitated their institutionalisation in the countries's legal system.
In a person's life, he or she needs several legal documents: real estate contracts, divorce papers, and prenuptial agreements, among others. Small business owners need tax forms, trademarks, patents, licenses, and business compliance documents. However, hiring a lawyer to prepare these documents is costly for many. That's where online legal service providers can step in. Avadocs in Ukraine, LegalZoom in the US, LawPadi in Nigeria, VakilSearch in India all provide a range of document preparation services that individuals and small businesses need. Others such as Creative Contracts in South Africa and Visual Contracts in the Netherlands offer simplified, visual employment contracts that make legalities easy to understand.
One stop shop dispute resolution platforms offer services that are required at various levels in a legal dispute. They provide legal advice, negotiation, mediation, and adjudication all under the umbrella of one institution. In the Netherlands, for example, Justice 42 helps couples going through divorce without unnecessarily escalating the problem. Likewise, Civil Resolution in Tribunal, in British Columbia, Canada, provides legal information, tools, and tribunal services on disputes related to motor vehicle injury, small claims, societies and cooperative associations, and home ownership.
Problem solving courts for criminal cases involving lawyers, judges, and social workers come together to bring about restorative justice in local communities. The Red Hook Community Justice Centre is one such example. It offers unconventional programmes such as community restitution projects and short-term psychoeducational groups to address needs of offenders, victims, and the community. It tackles cases related to crime (minor level), family disputes, neighbour conflicts, and other civic issues. Similarly, CrimeSync in Sierra Leone offers a case management system that automates the criminal justice process from the inception of a case to the release of an inmate, thus providing a single view of the offender's journey.
5. Claiming services to help people access vital public services
Claiming services that help people access vital public services have emerged in several parts of the world. These include services aimed at social security benefits, personal identity, healthcare, and simplifying taxation procedures. Haqdarshak in India and Turbotax in the USA serve as two examples. The former helps eligible individuals claim social welfare benefits while the latter aids individuals with tax filings and procedures. Both services simplify complex and bureaucratic systems that save time and money for both individuals and public servants.
Looking ahead, we are excited to share the upcoming pages of the Justice Dashboard in a couple of weeks. Check back again soon to learn more about the Gamechangers shifting the justice landscape along with information on two more Gamechangers categories:
Prevention programmes or services that ensure safety and security through the support of apps and focused on violence and fraud
People-centered online information/advice with follow up services
Further Reading
---