HiiL's Justice Needs and Satisfaction Survey reveals challenges and opportunities facing justice access in Ethiopia and the push for more user-centred innovation and transformation. The survey report, Legal Problems in Daily Life, to be presented during a 23 January launch event.
The Hague – A Justice Needs and Satisfaction Survey (JNS) conducted in 2020 by The Hague Institute for Innovation of Law (HiiL) shows that rapid development and urbanisation continue to widen Ethiopia's justice gap. Of the 7.4 million legal problems occurring in the country, 5.2 million remain unresolved or perceived as unfairly resolved.
"Legal problems in Ethiopia are relatively low compared to other countries in Sub-Saharan Africa," said Dr. Martin Gramatikov, director Measuring Justice at HiiL. "That said, however, addressing the high demand for access and resolution to these issues will require bold action from justice stakeholders across the country. What matters is how many legal problems Ethiopians manage to resolve fairly."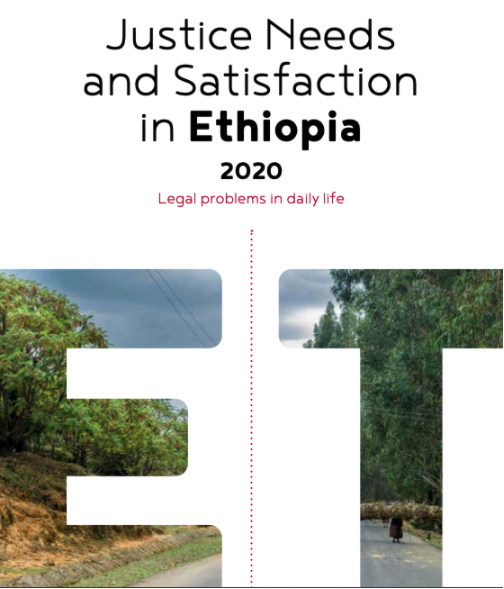 On 23 January, HiiL and its partners at Ethiopia's Office of the Attorney General convened a launch event to share the JNS report results and findings. During the event, speakers discussed the outcomes of the survey and justice problems experienced daily by Ethiopians.
In conducting the JNS Survey, HiiL learned that the justice problems most affecting Ethiopians include crime, land disputes, conflict between neighbours, family and domestic violence, money-related disagreements, and legal employment problems.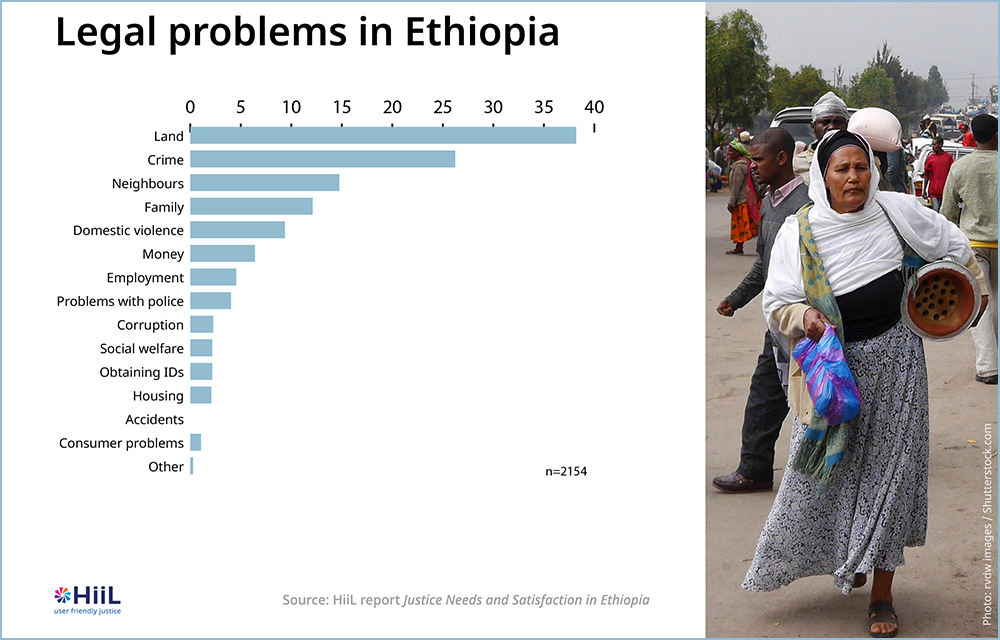 What the data shows
As part of the JNS, HiiL and its data collection partner, the Ethiopian company ABCON, surveyed over 5,400 men and women from across the country. Respondents were selected randomly across six key regions to sample Ethiopia's broad and diverse population. This representative portion of the people shared personal experiences stemming from legal problems over the last four years. HiiL learned how such issues get addressed and ultimately, whether Ethiopians manage to reach a fair resolution. The data has been triangulated with in-depth interviews and collective workshops involving experts from key justice institutions.
"Understanding people's demand for justice services from the bottom-up is key for a justice sector," said Dr. Sam Muller, CEO at HiiL. "Ethiopia strives to supply effective resolutions to legal problems. For this to be effective, justice practitioners must place people's needs, and their experiences at the centre of justice services and they must prioritise solutions that work best in the daily lives of Ethiopians."
Key findings include:
Gender disparities: Women encounter different problems compared to men (e.g. family disputes and domestic violence). On the other hand, men experience more often legal issues involving land and employment.
Urban versus rural areas: In cities and towns, justice concerns typically involve crime and employment problems such as theft, robbery, work dismissal, and non-payment of wages. By contrast, villagers often contend with land disputes, domestic violence, and disagreements between neighbours.
Seeking Resolution: Ethiopians actively pursue informal and formal strategies for resolving their legal concerns. Roughly 80% of the population takes some form of action including, village elders (43% of people) and the courts (18%). In only 1% of cases (mostly in urban areas) did Ethiopians engage a lawyer.
Closing the justice gap
The JNS survey confirmed a need to gather, analyse, and act upon data about people's justice needs and experiences. This will be integral to delivering and expanding access to justice. Based on the survey and the interviews of justice-sector stakeholders, HiiL recommends several dimensions or strategies for realising people-centred justice:
Develop mechanisms to triage and prioritise severe legal problems that need more resources and attention. Consider the vulnerable groups' needs – women, children, refugees, internally displaced people, and the illiterate and impoverished.
Build bridges between informal and formal justice systems to ensure broad access to justice at community levels and boost accessibility to formal justice mechanisms as needed.
Encourage courts to shift focus to matters that pose a more significant legal and factual difficulty. Accomplishing this requires a careful organisational and legal design that puts the people's needs and expectations at the centre of such processes.
Continue to study "what works" and replicate the best practices at scale in both informal and formal justice journeys.
As one justice-sector stakeholder acknowledged, "Where there is better access to justice, there will be development. And if there is development, then everybody benefits including the government, the economy, as well as our society."
For more in-depth and detailed information about people-centred justice in Ethiopia:
● Report: Justice Needs and Satisfaction in Ethiopia: Legal problems in daily life (available for download from the project page)
● Project: Justice Needs and Satisfaction Survey in Ethiopia
● Article: Collecting Justice Data in Ethiopia
~~~
Contact information
Martin Gramatikov
Head of the Measuring Justice
T: +31 (0) 70 762 0700 | E: communications@hiil.org
HiiL – user-friendly justice:
HiiL (The Hague Institute for Innovation of Law) is a social enterprise devoted to user-friendly justice. That means justice that is easy to access, easy to understand, and useful. We will ensure that by 2030, 150 million people will prevent or resolve their most pressing justice problems. We do this by stimulating innovation and scaling what works best. We are friendly rebels focused on concrete improvements in the lives of people. Data and evidence are central in all that we do. We are based in The Hague, the City of Peace and Justice. (HiiL, Muzenstraat 120, 2511 WB The Hague, The Netherlands, www.hiil.org)
---