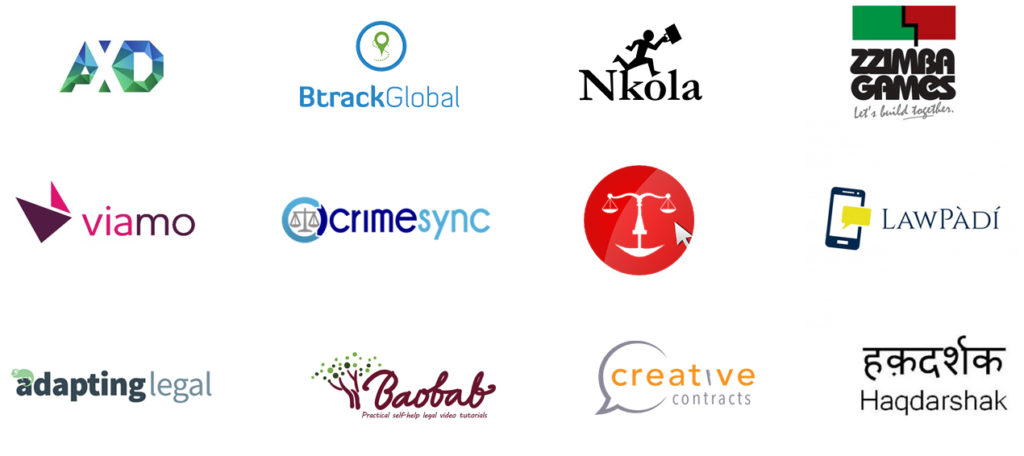 As preparation for the Innovating Justice Forum mounts, we are very proud and excited to announce the 12 innovators who will grace the forum with their brilliance and passion. Coming from 10 different countries across Africa, Europe, and Asia, the Forum acts as a stage for their ideas to be the points of discussion amongst fellow innovators and legal professionals.
After going through the hoops at the #JustInnovate Challenges, these innovators have put their ideas and scalability to the test. Here they are! (in no particular order)
A free online platform with automated legal documents for small and medium enterprises.
Has designed a functional GPS Tracking Device to monitor and recover stolen Boda Bodas.
An app that informs users about their employment rights including leave days for both annual and maternity, overtime rates and notice before resigning or being terminated.
Is simplifying the justice ecosystem by simulating Ugandans experience through an entertaining card & board game that mirrors their environment and subsequently empowers them.
Developing information on access to justice that will be made available on demand in pre-recorded audio and text, on a toll-free mobile service.
An all-in-one digital crime records management application which serves to improve judicial service delivery through the whole justice chain.
A mobile app specializing in legal advice.
LawPadi (BINTA) – Nigeria
an automated legal assistant for Nigerian legal issues.
Offers online services (Software as a Service) to check, edit and draft legal documents, initiating legal procedures and to outsource legal procedures.
Baobab – South Africa
Seeks to remove barriers to entry for legal assistance by providing DIY legal solutions in the form of video tutorials that can speed up process of resolving legal matters.
Is making contracts everyone can understand.
A tech platform that helps citizens discover, apply for and benefit from eligible welfare schemes.
If you are as curious as us to see what they have in store, come join us at the Innovating Justice Forum! Click here to get your ticket.
---