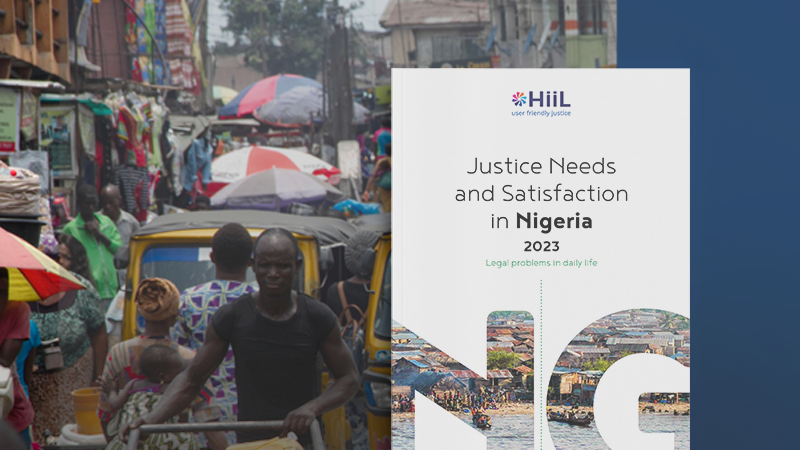 From food to music and business to entrepreneurship, Nigeria is one of the most ethnically diverse and dynamic countries in the world. In recent years, this energy has moved into the justice sector, especially in Lagos, Imo, Ogun, and Kaduna states, where HiiL, our Justice Accelerator, and partners have spurred globally-recognised justice innovations and prioritised people-centred justice. On 25 April, Nigeria took another step in this ambition with the launch of the 2023 Justice Needs and Satisfaction (JNS) report.
"With this JNS report, we have an essential tool for understanding more comprehensively the needs of the population," said Ijeoma Nwafor, HiiL's Country Representative in Nigeria. "We can identify areas that require improvement and monitor the progress of various justice initiatives."
Based on a survey of more than 6,500 adults, the 2023 JNS is the second study conducted in Nigeria and builds on data first collected in 2018. It was coordinated in partnership with CMRG Ltd, a marketing and research agency, and covers rural and urban areas in all six geopolitical zones across Nigeria.
"Justice systems play a central role in resolving and preventing disputes and daily legal problems that people experience," said Theresa Smout, HiiL's Programme Director of Nigeria. "However, justice systems alone can no longer deliver the outcomes people need in their most difficult moments that enable them to move on with their lives as quickly as possible. The data and findings contained in this report encourage meaningful action to drive transformation and to help actualise people-centred justice programming."
Walking through the data, Patrick Kimararungu, Justice Sector Advisor at HiiL, highlighted important findings and details but also emphasised the human element in the report.
"The report has many data points," said Patrick. "However, all this data, percentages, and graphs are also people's stories. Think about the people you know or your own stories. We are gathering their data and we are following their stories."
Compared to previous JNS surveys, this study will follow selected adults over the next four years to further understand their legal problems. The approach enables researchers to track the development and resolution of legal problems over time and to explore new questions following the first year of interviews from participants.
Based on the research collected to date, we see that people in Nigeria perceive their legal problems as very serious.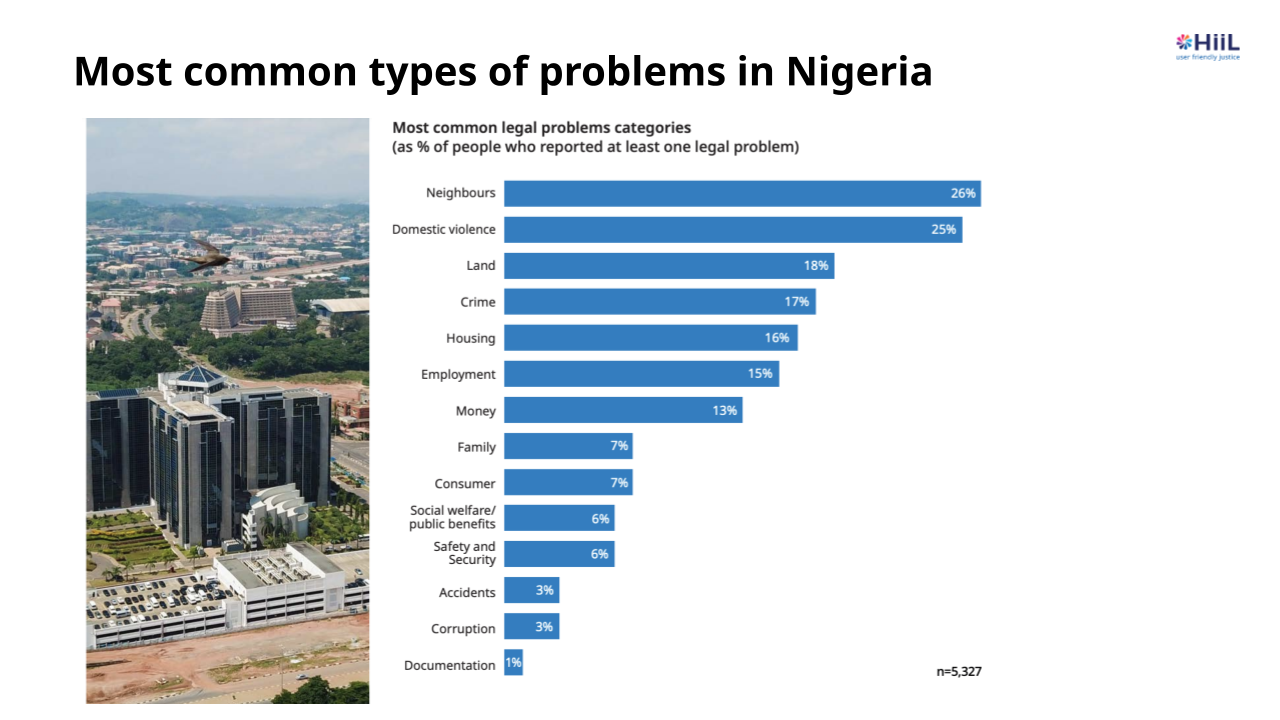 Key data from the study
At least 81% of Nigerians experience at least one legal problem in the past year, with many facing multiple problems.
55% of all legal problems were resolved either partially or completely, with about 82% of those resolutions deemed fair or very fair. 
The most common legal problem categories experienced by Nigerians include disputes with neighbours, domestic violence, land disputes, crime, and housing problems.
Approximately 86% of Nigerians with a legal problem take some form of action to address their most serious problem.
When addressing their most pressing legal problems, people often rely on their inner circle, frequently seeking help from family and friends.
Beyond one's social network, the most frequent sources of help include the police (11%), community/traditional leaders (8%), religious authorities (6%), landlords (6%), local public authorities (5%), and lawyers (5%).
The report contains good news as well. For example, at least nine in 10 Nigerians take action to solve their legal problems. This encouraging fact affirms the importance of continuing to collect people-centred justice data and prioritise resources that address the most burdensome justice problems. 
Stressing the implications further, Professor Nnamdi Obiaraeri from the Faculty of Law at Imo State University reminded the audience, "How fair is justice if it is not accessible, or attainable, or if it is delayed? A new normal is possible in Nigeria."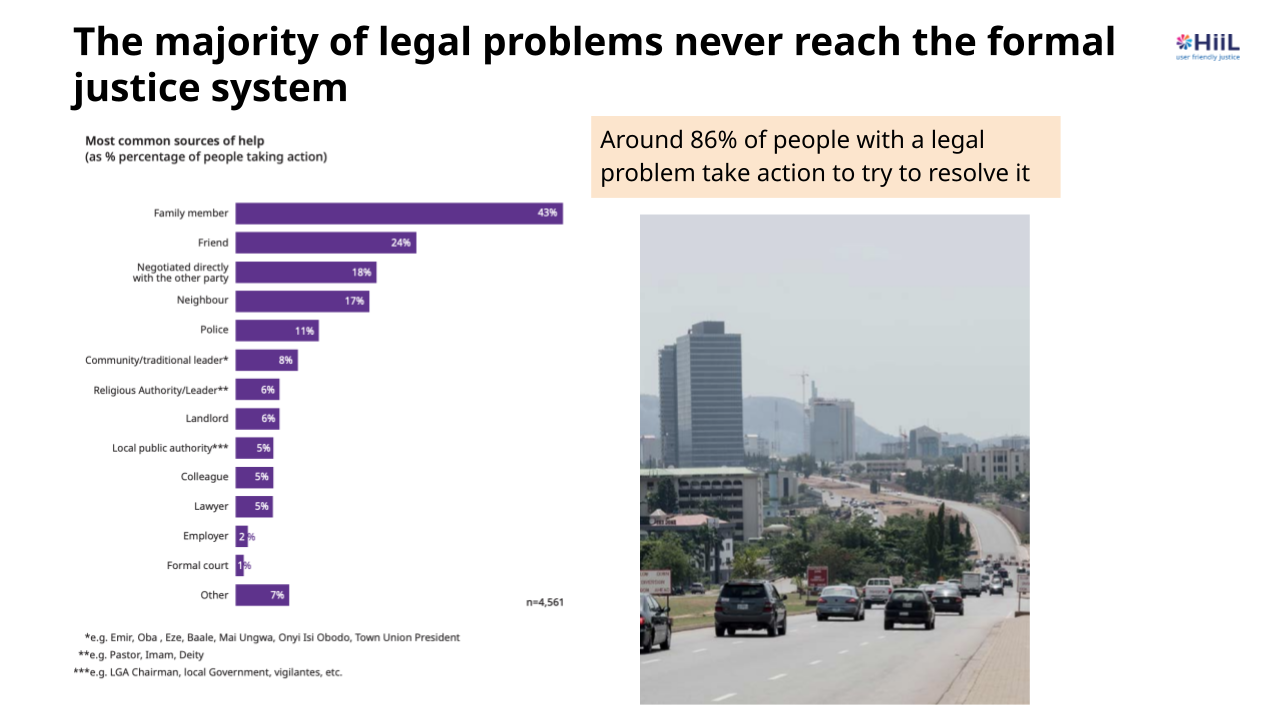 Making people-centred justice real
"Today, Nigeria took another step as a global leader in applying the people-centred justice programming approach," said Sam Muller, CEO of HiiL. "This approach was developed over the past years as the most promising way to make progress in tackling the huge justice crisis that the world is facing."
People-centred justice is a systemic and integrated approach. It focuses on redesigning justice systems around the needs and experiences of people and the outcomes they require to move forward in their daily lives.
The programmatic approach is comprised of five pillars: Gathering data on people's justice needs and experiences; Promoting evidence-based practice; Scaling innovations and service delivery models; Creating an enabling environment to sustain the results; and Strengthening the movement.
Taken together, they work to keep the focus on getting justice systems to holistically fulfill their potential for society and the economy.
In Nigeria, data is already used to develop evidence-based best practices, to innovate justice delivery models, and to work on creating the right enabling environment. Partners across the country are starting to do something cutting edge, something transformational, and something that will improve delivery of justice both in terms of quality and scale.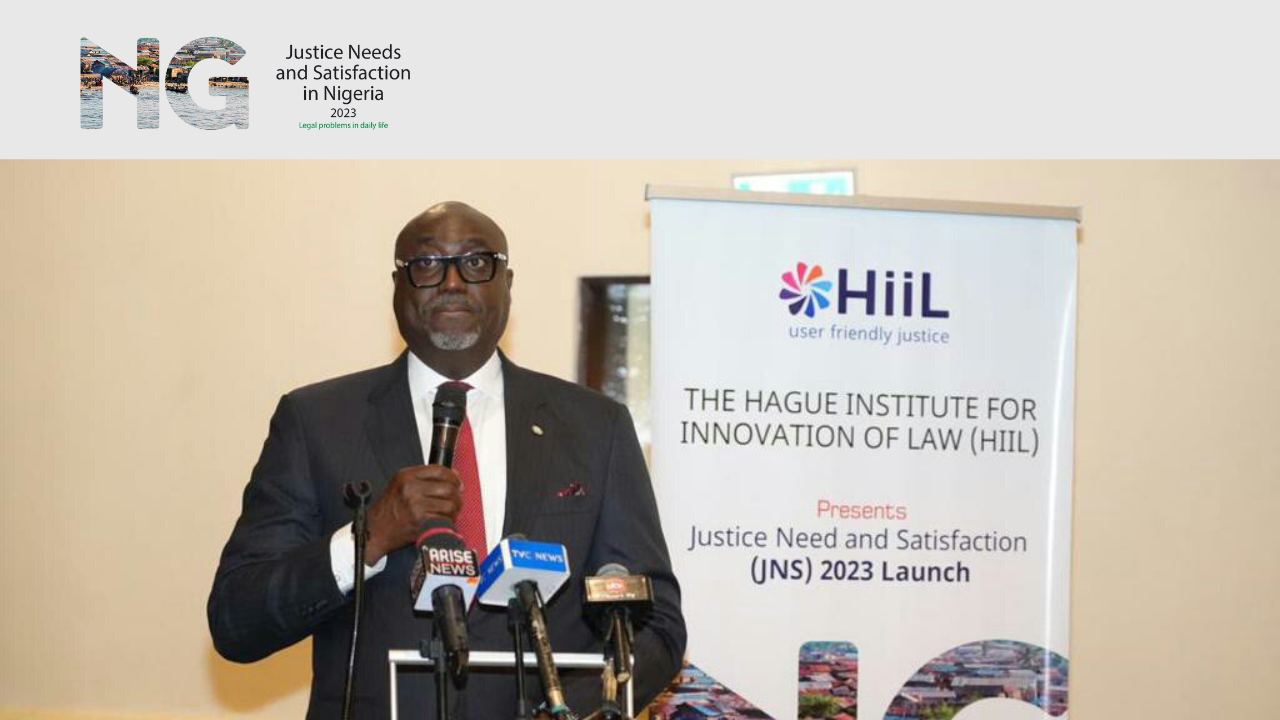 Development in Nigeria depends greatly on a justice sector that prioritises its people. "In the heart of every nation is justice," said Y. C Maikyau, President of the Nigerian Bar Association. "That is why it is important for everyone to show interest in justice. That is how we ensure economic growth, and peace and harmony in our country."
Through its partnership with the Dutch Ministry of Foreign Affairs, HiiL will continue implementing a people-centred justice programme in Nigeria that meets the vision articulated by Mr. Maikyau – a vision that integrates data collection, research, innovation and stakeholder engagement.
Make no mistake, however. HiiL is primarily here to create the space and support the stakeholders in country who must carry people-centred justice forward.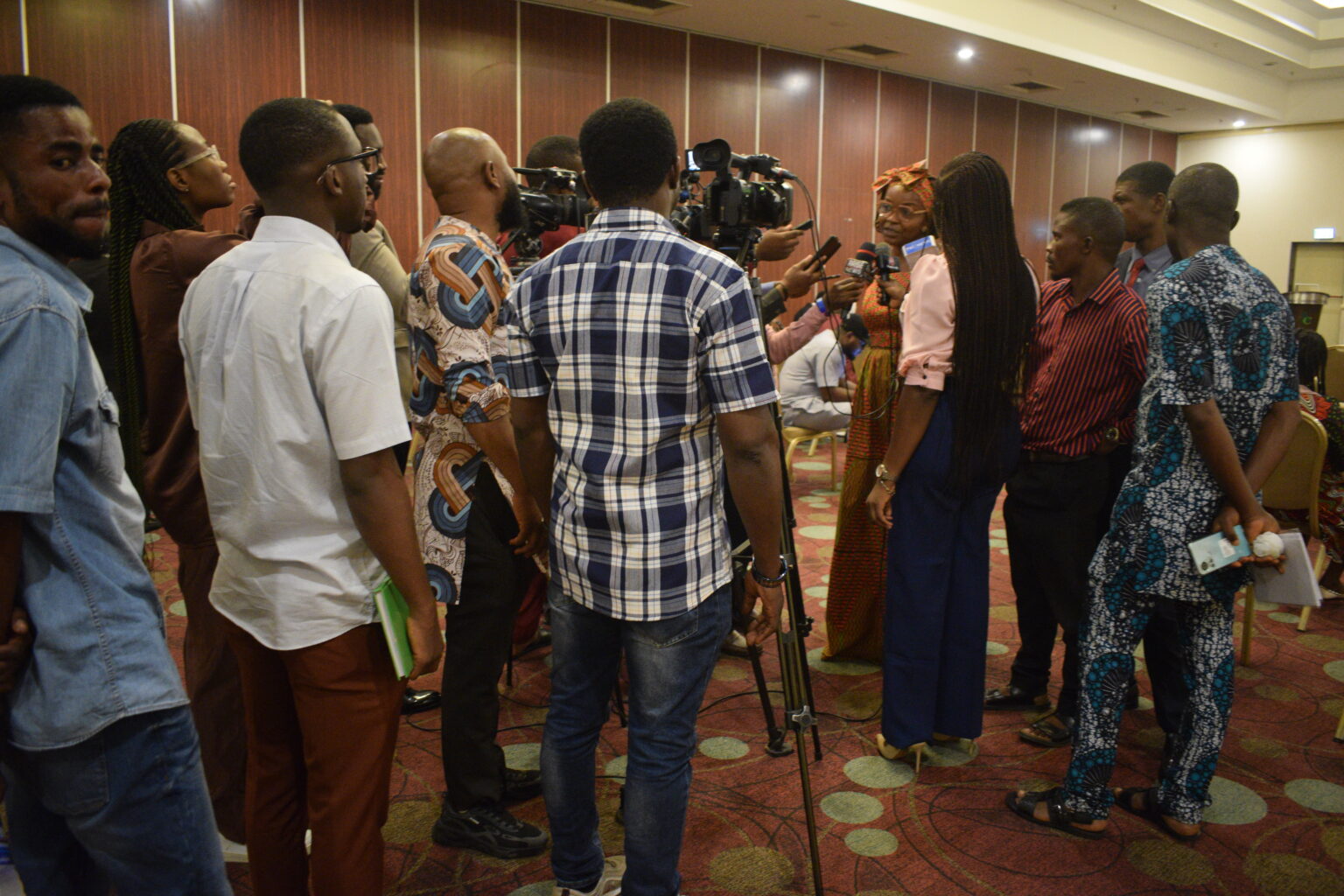 As Ijeoma said, "It is the stakeholder who will need to make decisions, design policies, and most importantly act! The valuable data in this report is not enough. Taking action will create impact in the daily lives of people in Nigeria. This is a collective effort."
HiiL CEO Sam Muller added, "We are proud to work with you and we will continue with our commitment to advance people-centred justice in Nigeria and around the world. Let's do this together!"
Watch the recap of the launch event
Related Posts
---