Tunisia, we're coming! After the success of our annual flagship event, we are going beyond the borders of a typical Demo Day. We are thrilled to announce "Tech the Justice Gap", an event that celebrates the audacious spirit and innovation of our justice-tech startups connecting them to an array of stakeholders, the entrepreneurial community, and government representatives alike.
What can you expect from "Tech the Justice Gap"?
🎤 Panel Discussions: Engage with thought leaders, startups and investors as they explore the role of startups in the justice ecosystem, as well as the trends and the future of justice using technology.

🌟 Startup Pitch Sessions: Witness innovative startups present breakthrough solutions aimed at bridging justice disparities.

🤝 Networking Opportunities: Connect with like-minded individuals, aspiring entrepreneurs, startups, investors, and justice practitioners.

💡Justice-tech exhibition: Explore Justice data, justice-tech startups, how artists visualise people-centred justice and how they all can connect through tech
Join us for an inspiring event on November 29th, 2023, as we explore how technology is improving the way we experience justice. Our theme, 'Tech the Justice Gap,' highlights how technology can transform the way we access justice and how it can improve outcomes for people. It's about making justice fairer, more accessible, and affordable for all. 
Attend in person  |  Join us online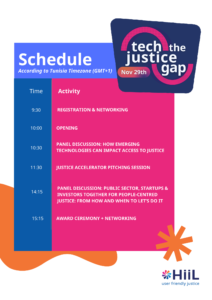 This inspiring gathering brings together justice startups, entrepreneurs, thought leaders and investors with powerful stories and breakthrough solutions for change. The latter is urgently needed to tackle the global challenge of people not having access to justice. Tech can bridge that gap, focusing on what people need so they can get on with their daily lives. This will bring greater social cohesion and prosperity across the globe leading to better societies.
Whether you're a student, startup, aspiring entrepreneur, young professional, justice practitioner, partner, donor, or investor, this is your opportunity to be part of the change.
Save the date and stay tuned for updates and registration details! Together, we can #TechTheJusticeGap.