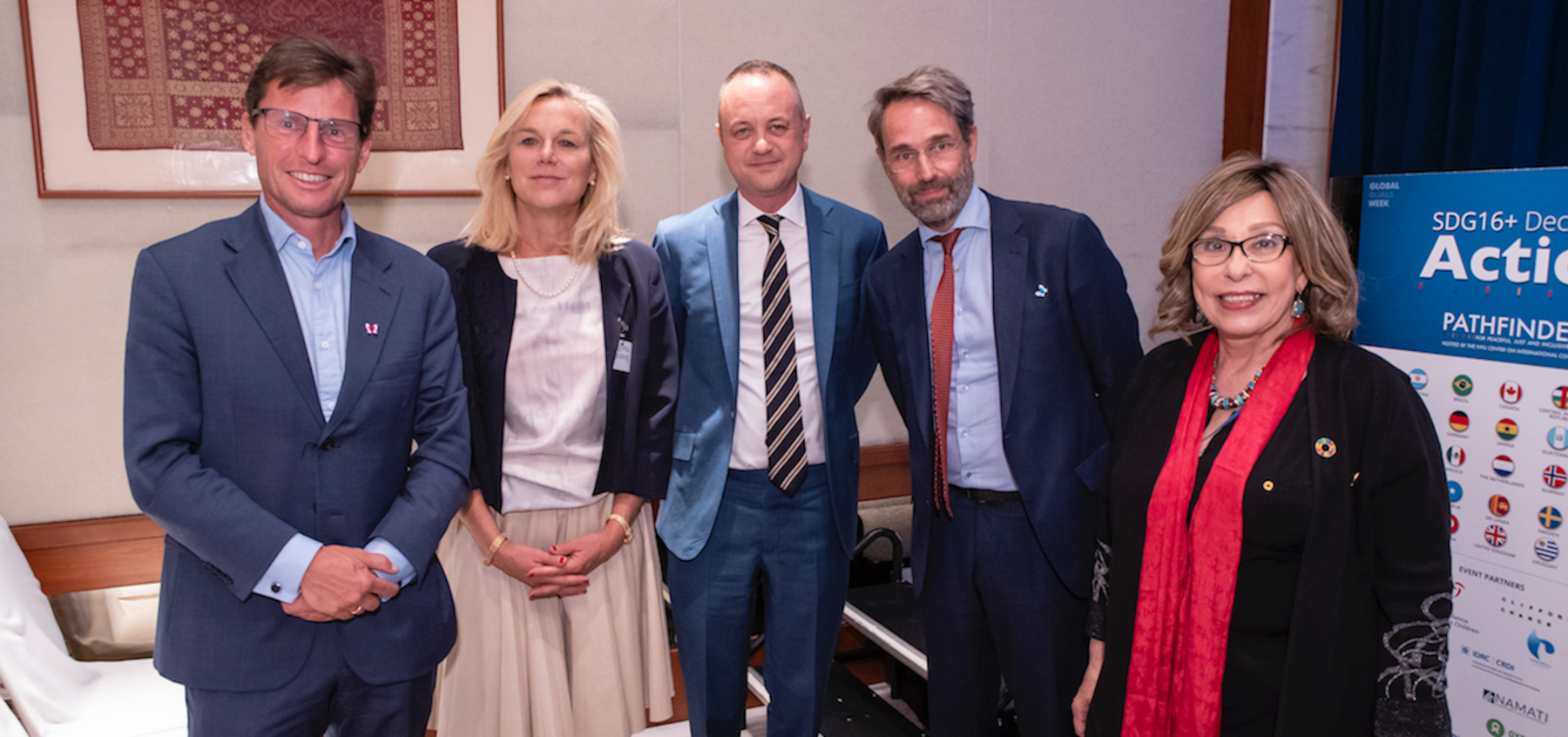 There was a really big meeting in New York last week. The UN High-level Political Forum on Sustainable Development (HLPF) under the auspices of the UN General Assembly. Makers and doers of the world met at the UN to discuss how close (or how far, depending on your view) we are from reaching the world's sustainable development goals. I will fill you in on what we were doing there.
Put People at the center justice systems
First, we were there to state our commitment and the dedication of our work to reaching SDG 16, the justice goal. We have a uniquely people-centred vision for justice systems around the world. Justice that is easy to access, use and understandable. The accelerated action is described in detail on a UN dashboard. The name of our commitment is 'People at the center justice systems'.
Increasing access to justice on a global scale
Speaking at the UN General Assembley, His Honorable, King Willem-Alexander quotes the TaskForce on Justice report: Justice For All.
King Willem of the Kingdom of the Netherlands beseeched other leaders to join the people-centred justice movement, ¨ We encourage others to join us¨ he said to the assembley. Quoting the landmark report published in July he said, "¨Everyone in the world needs to be able to exercise their rights. Today, 5.1 billion people are vulnerable because they lack access to justice." The movement grows as increasingly counties pledge their support.

Removing bottlenecks in justice innovation
Jeroen Ouwehand, global senior partner at international law firm Clifford Chance LLP announced a multiyear partnership with HiiL.
At a Pathfinders for Peaceful, Just and Inclusive Societies side-event, we announced an exciting partnership with Clifford Chance. A global law firm, Clifford Chance is helping the HiiL Justice Accelerator support more justice innovations – with a special focus on Africa.
Opportunities for people to participate in building inclusive justice systems
We also launched something that has been in the pipelines for a while: Justice Transformation Labs. Do you remember the Elephant in the Courtroom report? Business-as-usual approaches, including more courts, more lawyers and more litigation cannot provide enough capacity to reach SDG target 16.3. To increase the resolution rate for the most urgent justice needs, we need innovative strategies and policies adopted and implemented by significant institutions at scale. Through JTL's, we combine the evidence-based and stakeholder-driven approaches refined over the last 15 years to get there.
Where to find the money for justice?
The 10th Innovating Justice Forum ambition is to increase the money pie for justice
Over the course of the SDG Summit, our path forward became very clear. Both the private and public sector is needed to realise the SDGs. How will these partnerships take shape? For SDG16 specifically, that is the question drawing together financial sectors, philanthropists, government, civil society and entrepreneurs at the Innovating Justice Forum 2020.