At this moment in time, the justice sector has a huge potential to use actionable data on people's justice needs and their experiences with the legal system.
Following the nation-wide Justice Needs and Satisfaction studies completed in Morocco and for the second time in Mali, the findings are available to explore on our interactive dashboard!
Access to Justice means Access to Information
Many countries do not have data on people's actual legal problems, experiences and access to justice. We have completed 18 of these studies to date. The World Justice Project has also just released a massive dataset and map which digs into justice pain points around the world.
Explore national justice data
¨I recently added the Mali and Morocco data to the Justice Dashboard.¨ tells Rupinder Kaur. ¨We have high goals for this dashboard. We want to make it easy for people to explore the problems everyday people encounter and understand what action people take – or don´t take – and why. All at your fingertips.¨

The key indicators from these Justice Needs and Satisfaction Surveys, are presented on the Justice Dashboard in the form of interactive and easy to understand visualizations.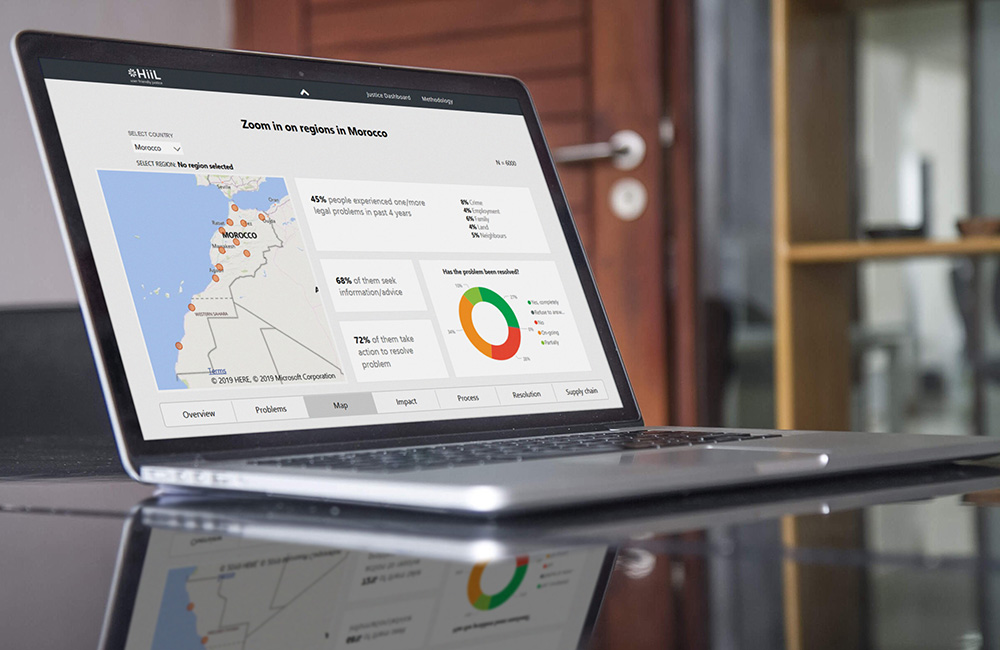 10 interesting findings from Mali and Morocco studies
Crime is the most serious legal problem in Morocco but in Mali, it is land disputes.
9 out of 20 Moroccans and 4 out of 10 Malians have experienced one or more legal problems in the last 4 years.
Of those who experienced a legal problem, how many completely resolved it? 27% of Moroccans and 38% of people in Mali managed.
Majority of Moroccans said that self-action (31%) and courts and lawyers (30%) were the most helpful mechanisms in resolving their legal problems. In Mali, personal network (39%) and courts and lawyers (21%) were the most helpful mechanisms.
In both Morocco and Mali, ´personal networks´ is the most commonly used source of legal advice.
The majority of people did not use public sources for legal information,
Of the public sources, the internet is the most frequently used in Morocco (8%) whereas radio is the most popular source of information among Malians (11%).
72% Moroccans and 87% Malians took action to resolve their legal problem.
The most common expectation in resolving a problem is to have certain rights or entitlements realised for both Mali and Morocco respondents
The most important reason why did people not take action to resolve their legal problem was that they did not expect a positive result.
The platform attracts justice sector professionals as well as justice innovators, researchers, NGOs and justice ministries and policymakers. We provide this justice data on our platform free of charge to anyone without restriction on its use.
How open is Justice Data?
In many countries, governments do not produce these data points. In fact, many governments do not even share legal information freely. Only about 60 countries around the world have made large volumes of legal information freely available on the internet. It is common for legal information to be only available through paid subscriptions or in hard-to-access, hard-copy-only formats. You have to be especially motivated under these circumstances to access information. Many will not have time and resources.
Research shows that open justice data leads to a much better understanding of the law, which is very good. This is the modern foundation of legal empowerment. As the number of people who can access the internet cheaply and easily increases, it is an opportune moment to invest in open legal information.
Access to information can prevent conflicts
We learned in Mali, land disputes are the most frequently occurring legal problems for people. The specific problems vary according to rural and urban areas. Common to both rural and urban communities is the multiple ownership of parcels and the illegal sale of land by brokers. Perceptions of rampant corruption further complicates the problems as a sense of impunity grows. Six out of 10 Malians perceive corruption as very high. As one respondent told us, "Today, people are not afraid of justice. They rely on their fortune to commit crimes. They tell themselves that when the case goes to court, they will give money and it will go away."
Transparency is crucial for ensuring fair allocation, accountability and securing and protecting tenure rights. We identified a lack of awareness on land policies – particularly a lack of awareness of how to apply customary law – as a barrier for people accessing justice for land disputes.
Data to action
Having collected data of more than 8000 Malian citizens across all regions of the country in Justice Needs and Satisfaction in Mali – second wave, we now have a robust and actionable knowledge base. It makes clear to all where justice innovations are most needed and what exactly needs to be improved in each justice need area.
Justice Data makes transformation possible
We learned key insights, in particular about how the poor and most vulnerable, experience the law and conflict resolution processes – both formal and informal – in their daily lives. This year, we have started to convene a Malian-led and locally-owned coalition of justice stakeholders that focus on these demands. In Justice Transformation Labs we facilitate the design of innovation strategies that deliver increased access to justice.
We are also active in supporting the Ministry of Justice in Mali track their progress towards SDG16.
What else can Justice Data do?
Access to information can prevent crimes
We published the largest nation-wide survey on normal peoples justice experiences ever undertaken in Morocco earlier this year. Talking to 6000 people spread out across the country can show the geographical differences, thus identifying hotspots of crime. In addition, crime prevention is served by identifying which individuals are vulnerable to crime. 760,000 people are affected per year. This data can be used to design evidence-based strategies to address this, supported by the understanding of varying vulnerabilities of different groups and areas.
Helping progress towards SDGs
Collecting thousands of ordinary people's responses to questions about their justice journeys offers a much more complete picture of what is going on than what the courts or other institutions can offer.
¨SDG 16.3 specifically aims to increase access to justice for all. However, the indicators that quantify the progress of governments toward reaching this goal are disconnected from what they are supposed to measure. The proportion of victims of violence who report their experience, for example, is not only difficult to measure but certainly does not provide a complete picture of the state of access to justice¨quoting Dr. Martin Gramatikov in the Justice Needs and Satisfaction in Morocco report.
The picture needs to be completed to ensure no one is left behind. Our data closes the disconnect between what is sought (equal access to justice for all – SDG16.3) and what needs to be measured (people's justice needs and experiences).

This article was written with technical support by Rupinder Kaur, Data Analysis at HiiL
---