Project: Working Groups on Gamechangers
The Working Group members on Community Justice Services, User-friendly Contracts, One-Stop-Shop Dispute Resolution harness the operational understanding of these gamechanger categories.
To scale successfully across multiple geographies, the gamechangers require a detailed set of tools, practices, case studies, network of people as well as the relevant know-how. Our network of experts come together in three different Working Groups to provide an external validation for this research.
Read related policy briefs:
—
Justice services from the private sector, public sector (and third sector) have the potential to prevent and resolve the most pressing justice issues. Termed by HiiL as Gamechangers, these innovative services and tools reimagine the way justice is delivered. They prioritise people's needs and experiences and provide justice that is affordable, accessible, and easy to understand.
'Gamechangers are justice service delivery models that are sustainable, scalable and can bring solutions to people to address their most pressing justice needs.'
Over the years, HiiL has identified seven game-changer categories. Each category requires a detailed set of tools, practices, case studies, and network of people as well as know-how to become sustainable and scalable. To harness the operational understanding and measured impact of Gamechangers, HiiL has brought together international experts from across sectors and geographies to form three unique working groups.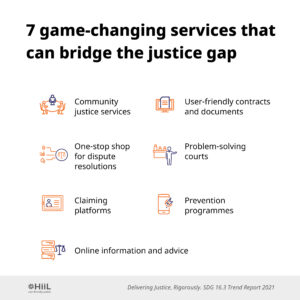 Each Working Group on Gamechangers creates an opportunity to explore and identify the innovative factors that help solve legal problems fairly and deliver effective justice treatments consistently. Our working groups also encourage the creation of a 'task force' as detailed in HiiL's 2021 Trend Report and they support our wider vision to build a movement towards achieving people-centred justice around the world.
The Working Groups on Gamechangers convened once a month between July and November 2021 and were composed of experts from across HiiL's global network. Their experience and interdisciplinary backgrounds include law, entrepreneurship, academia, economics, politics, and civil society.
Three working groups were created for the following Gamechanger categories:
Community Justice services
Community Justice Services deliver solutions effectively and integrate formal and informal justice through houses of justice; paralegals; justices of the peace; judicial facilitators; or community tribunals.
The members of the Working Group on Community Justice Services are:
Marcus Manuel,

Senior researcher at ODI

Christopher Marshall,

Team Leader, Western Balkans Rule of Law Initiative at Chemonics

Maha Jweied,

Fellow at Pathfinders

Chhavi Rajawat,

Former Local Council Chairperson at Village Soda

Gard Benda,

Founder at Bataka Court Model

Klaus Dekker,

Senior Public Sector Specialist at the World Bank

Juan Botero,

Consultant at HiiL
Read more about this game-changer category on HiiL's Justice Dashboard.
User-Friendly Contracts
These services provide safe, verifiable and user-friendly contracts (or other legal documents) to ensure fairness in families, at work, among neighbours and between small businesses and their partners. They include services that provide easy access to these documents, which is often achieved through online platforms.
The members of the Working Group on User-Friendly Contracts are:
Robert de Rooy,

Founder at ComicContracts

Sally Guyer,

Global CEO at the World Commerce & Contracting

Paul Neo,

COO at Singapore Academy of Law

Funkola Odeleye,

Co-founder at DIY Law

Laura Kalliomaa-Puha,

Associate Professor at Tampere University

Ozgur Kahale,

Head, Pro bono division at DLA Piper
Read more about this game-changer category on HiiL's Justice Dashboard.
One-Stop-Shop for Dispute Resolution
These tribunals or platforms offer (binding) mandatory one-stop dispute resolution services for employment, family or other justice problems. They do this by connecting advice, negotiation, facilitation and adjudication in a seamless way. The services tend to be offered online and complement in-person services.
The members of the Working Group on One-Stop-Shop for Dispute Resolution are:
Jose Torres,

Partner at Lexia Abogado

Aditya Shivkumar,

Co-founder at Resolve Disputes Online

Shannon Salter,

Chair at Civil Resolution Tribunal

Jin Ho Verderschot,

Managing Director at Justix GmbH

Tariq Mustafa,

Associate, Investments at Omidyar India

Laura Kristemaker,

Co-founder at Uitelkaar
Read more about this game-changer category on HiiL's Justice Dashboard.
Frequently asked questions:
How are the Gamechangers important for the work on people-centred justice?
How did the work on Gamechangers come about?
What would each of these categories entail in further detail?
What is the current work being done on Gamechangers at HiiL?
How does the research on Gamechangers align with the work being done at our partner organisations?
We have compiled the answers to the most relevant and frequently asked questions about Gamechangers in this document:
The Gamechangers FAQ.