It has been a very intense, interesting and fruitful time lately for HiiL in Ukraine. We've been trying and pushing hard to uphold the justice entrepreneurship spirit in Ukraine in 2016. Since it is the end of the year I've decided to wrap-up main stepping stones of this not even full year of HiiL's activities.
A Great Start
First of all, it is a great pleasure for me as a local Ukrainian guy to see the level of interest in the high-quality innovations coming out of Ukraine. Ukraine was the leading country by the number of innovators submitted to the international HiiL Justice Accelerator with almost 50 applications. 17 of those were put on the shortlist as they already had some progress. The best 8 of those shortlisted presented their ideas in the end of September at the first Innovating Justice Boostcamp held in Kiev. They were pitching in front of the wide audience of progressive lawyers, representatives of IT, academia, government officials and investors. It was especially pleasurable to see the deputy justice minister, Gia Getsadze and other distinguished justice sector agents taking an active role in the process. It was the very first event that showed the huge potential of justice entrepreneurs in Ukraine. The jury also choose one winner based on different criteria (social impact, uniqueness, sustainability and scalability) to receive the grant of $20k and represent Ukraine on the international Innovating Justice Forum at the end of the year in the Hague. That happened to be the Legal Alarm app team.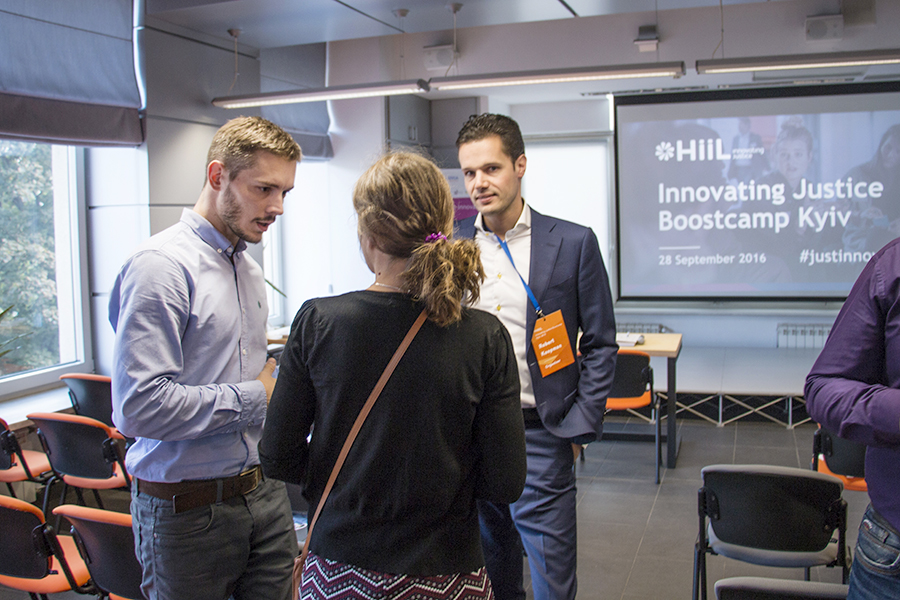 Building the Community Further
Following the momentum of the Boostcamp, HiiL partnered with the local accelerator and investment company GrowthUp, which is known locally as a locomotive of startup community. As a result of this partnership a regular meetup for the legal tech startups called Legal Startup Crash Test was launched. It is a series of regular, informal pitching events for entrepreneurs in the field of law and those whose objective relates to making justice more accessible. The first Legal Startup Crash Test was held on 3 November in the most active community building co-working space Chasopys right in the heart of Kyiv. It was a success, there were 3 high-quality pitches, and consequently we had lots of positive responses and encouragement to immediately started planning the second meetup of the Legal Startup Crash Test.
International Recognition
Because of the significance of these innovations in the justice domain, HiiL annually holds a final international Innovating Justice Forum to showcase the best innovations from all over the globe, give innovators access to an international network, build partnerships and learn from other attendants at the Forum. This year, on 2 December, Ukraine was represented at the Forum for the first time in the seven years of its existence, by the selected finalist, Legal Alarm app. The app is basically an S.O.S button to call for legal help. If you are illegally detained or just stopped by the police in a distant city your lawyer will know where to find you with the GPS coordinates of your phone. It has a great potential to provide access to emergency legal help in different parts of the world when used by travellers for example. Valentin, the CIO of this impressive innovation gave an inspiring pitch and received a special recognition from judges. I believe it gave a lot of enthusiasm to the team and to me personally. In addition to the forum, Valentin alongside ten other top-notch justice entrepreneurs from Middle East and Africa had an intensive week of training at the Justice Entrepreneurship School organized by HiiL.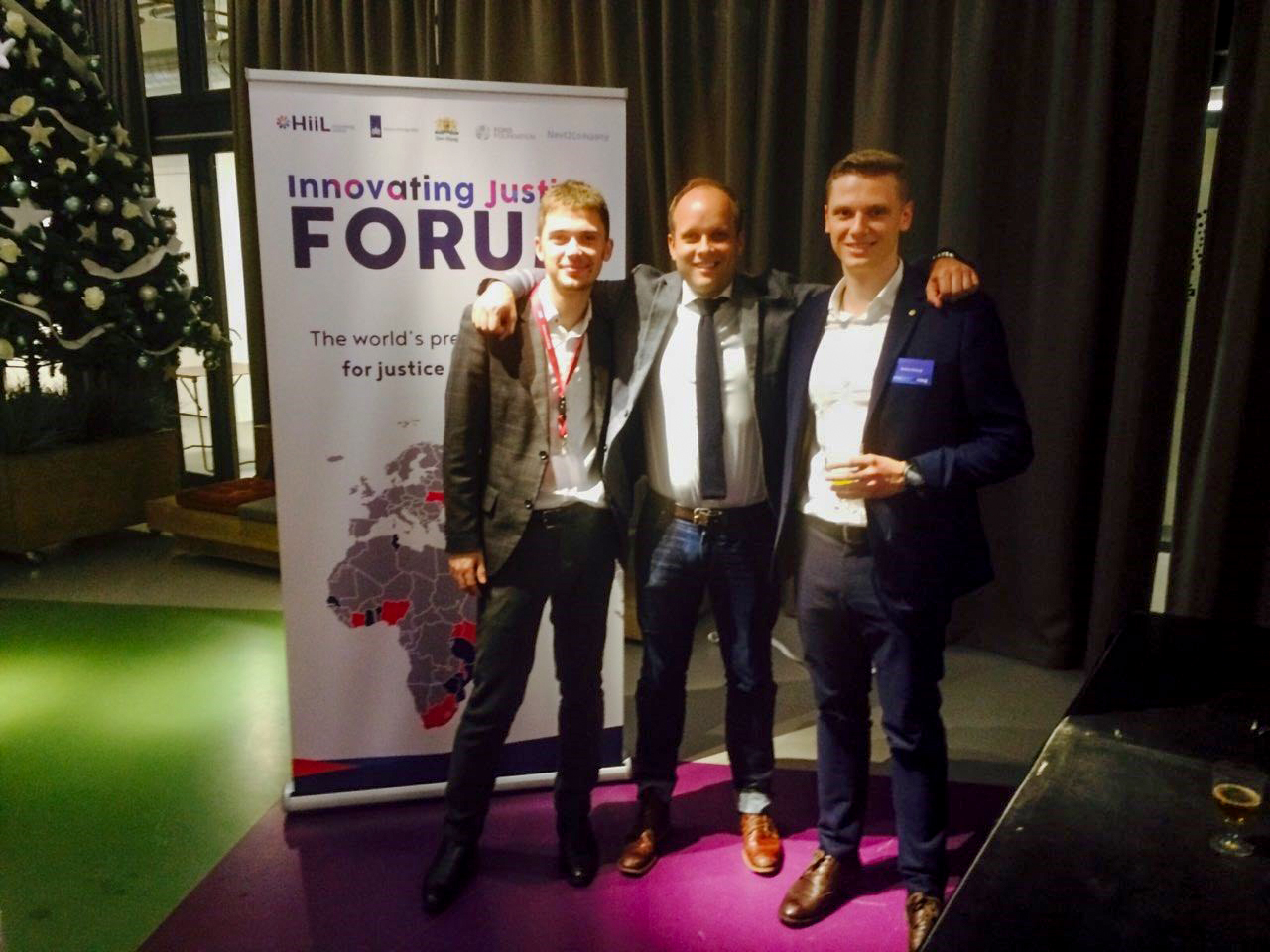 More Impact Back in Ukraine
Moving on, December was full of occasions where HiiL took an active role. It started on 6 of December when YurPractika, the most recognized legal publishing house in Ukraine was organizing a TMT (Technology. Media. Telecommunications) Forum. Wilfried De Wever, the Head of the HiiL Justice Accelerator, was invited to Skype-in and take part in the panel discussion. More and more Ukrainian justice and legal sector players recognize innovating justice to be an important topic. With this regard, it was especially valuable for Wilfried to share his global experience in innovations and talk about investing in legal tech startups.
Shortly after, on 9 December we had a Legal Startup Crash Test #2. The second meetup was full of insights presented in a relaxed, informal atmosphere with plenty of stimulating conversations. To kick off the pitches a partner of the leading investment company, Viktor Kompaneyets, shared his views on the future of the legal services. It was good to hear that Viktor anticipates the future "unicorn" startups to solve people's everyday needs, rather than technological problems. And access to justice is definitely among the former group.
Just few days later HiiL was organizing another event – an interactive workshop on employment justicedisputes. Top Ukrainian experts in employment issues, Dr. Maurits Barendrecht, Research Director at HiiL, Dr. Martin Gramatikov, Head of Measuring Justice at HiiL and myself gathered in the centre of Kyiv, next to the Golden Gate, for a first-of-its-kind "Innovations in Ukrainian Employment Disputes" workshop. According to the latest study of HiiL employment disputes are among the most popular justice challenges that Ukrainians face. So, together with different stakeholders we were working on setting goals of an innovative procedure to settle employment issues, discussed user stories, formalized qualities of the perfect procedure, thought of how we can implement it in the next year and drafted the action plan based on multiple terms of reference. It was extraordinary to hear points of view from no fewer than 15 experts who deal with employment issues from completely different perspectives: governmental body, lawyers, mediators, a judge, University professors and HR practitioners. We had a very thoughtful co-creation workshop and a concrete guide to move forward with in the New Year.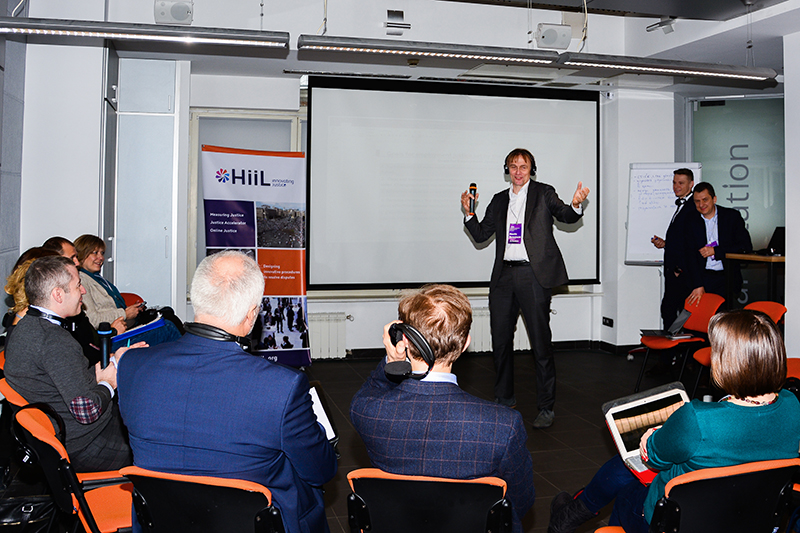 Discussion about the Future
On 13 December, the already mentioned YurPractika was holding the 4th Annual International Forum on Promotion of Legal Services. I felt very honoured to be invited to the panel discussion dedicated to the future of legal services. It was great to sit among some semi-finalists of HiiL Justice Accelerator other key opinion leaders in the legal field to discuss how the future of the justice and law will look like. I received a lot of insights, figures and examples of the law practices that few years ago could be a only described as a science fiction. Just one example – we started our discussion right after the presentation of the Paralegal Bot that can help in the business of registering companies and other simple legal questions only for 1 bitcoin per year.
So, all in all it was a busy months, but very exciting developments were made indeed. The positive reaction of the legal and IT community to initiatives that HiiL is starting in Ukraine reinforces the belief that the justice will be more accessible to the people of Ukraine. It will flourish on the great demand for the fairness in the society, strong IT sector and by connecting innovative thinkers with doers. Thus, I am convinced that 2017 will definitely will be the year of legal tech and innovating justice uprise in Ukraine. And we at HiiL will put our best to make it happen. Join us!
P.S. we greatly appreciate help and support of multiple people and organizations that were not mentioned above but stand to make innovations in justice happen, just to name a few, that is National Association of Mediators of Ukraine, Ukrainian Venture Capital Association (UVCA), UAngel, LigaZakon, Odessa IT Cluster, Lviv IT Cluster and last but not least we are grateful for the continuous support of Ukrainian Bar Association and its ICT committee which we found to be crucial. Thank you.
Stay tuned with HiiL, and refer your friends, let's make your justice ideas and wishes come true in 2017!