One of HiiL's approaches to create user-friendly justice is to invite entrepreneurs to make themselves heard with their service or product that prevents or resolves pressing justice problems.
This year we held 5 Regional Finals of our innovation challenge in Kyiv, Kampala, Johannesburg, Nairobi, and Lagos. Great ideas, relevant for people who lack access to justice, are pitched. And we are very happy to see that an increasing number of female entrepreneurs are joining the justice domain.
Kyiv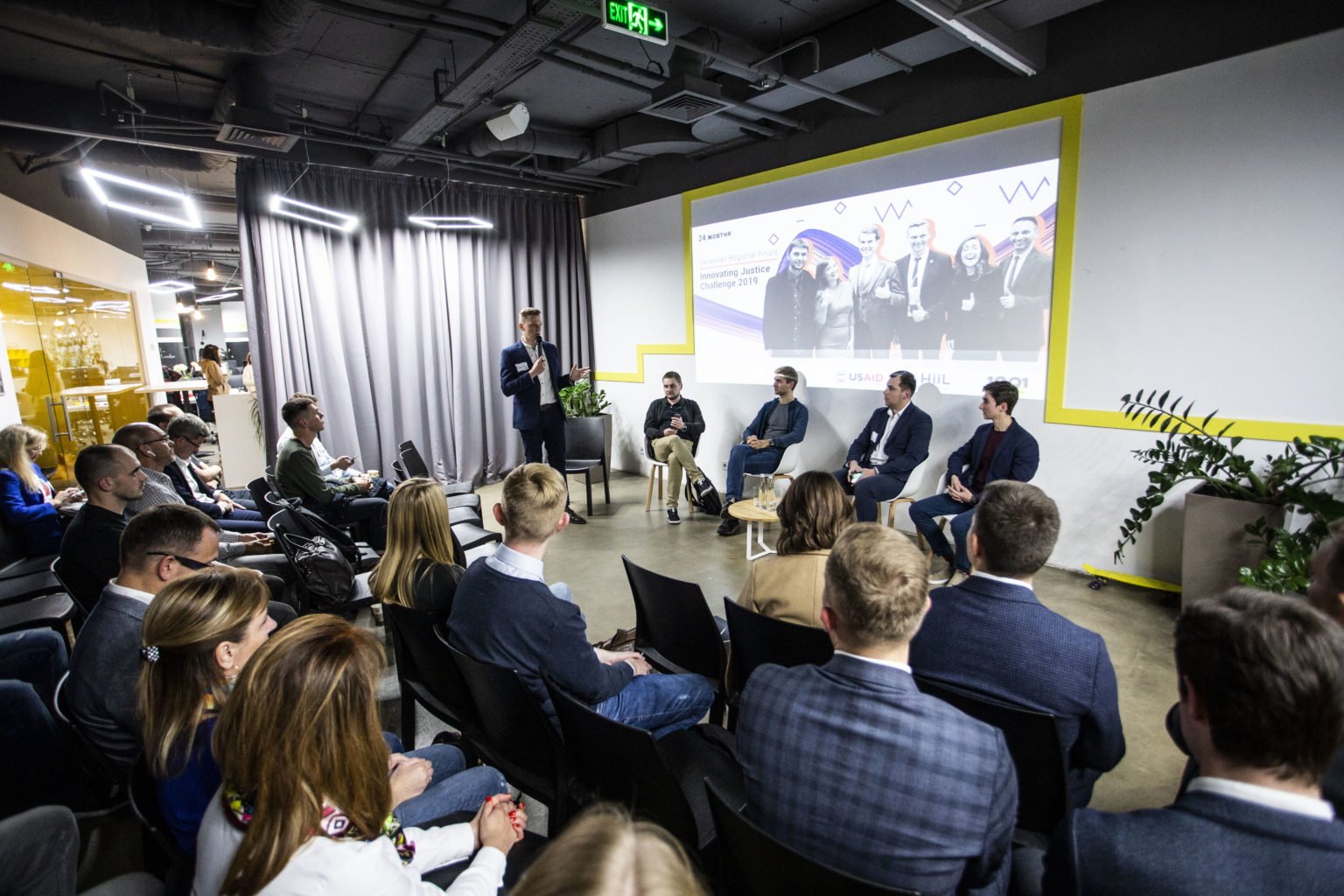 solutions address the most pressing issues
The government of Ukraine is taking strides to support justice innovations. We are pleased to work with the government in this endeavor and were pleased to welocme the (newly created!) Minister of Digital Transformation of Ukraine as a jury member.
Alongside his fellow jurers, they selected AirLaw.Pro to take the trophy. I can't tell what they do better, so I'll just cite the first slide of their pitch deck "AirLaw.Pro provides just in time justice delivery for passengers of airlines." Second place went to StaffBot, the tool for legally contracting temporary staff electronically. Third place went to Dumka.ua, which is a chatbot that allows ministries to poll public opinion on urgent issues and citizens to express their position in a convenient way.
It is interesting to note that the startups who won the first two places provide solutions for the top two problems according to the HiiL Justice Needs Survey; consumer and employment issues. And, as indicated by three of the finalists (out of seven), we can see that the chatbot trend is still very strong.
Johannesburg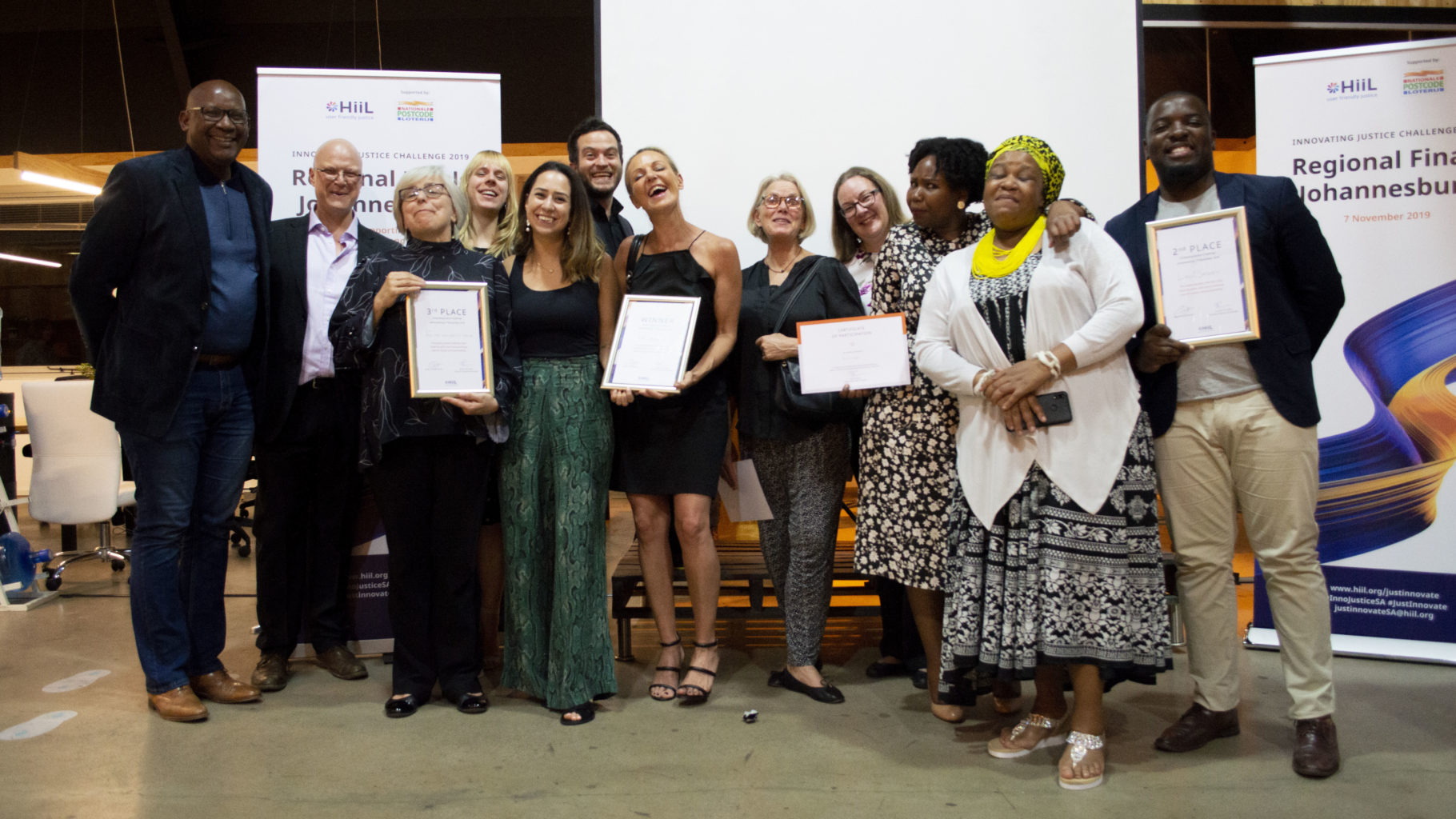 large proportion of female founders
Women´s issues emerged as the accidental but welcome theme as noted by keynote speakers, South Africa's Deputy Minister for Justice and Constitutional Development, Mr. John Jeffery, and His Excellency the Ambassador for the Kingdom of The Netherlands in South Africa, Mr. Han Peters. Out of nine finalists, seven organisations were created by women, as were two of our three winners there. This is even more significant when considering the challenges these teams address disproportionately affect women; issues such as gender-based violence and employment issues.
The first-place prize was awarded to rAInbow. The team believes in the power of AI for social good. Their mission is creating a safe digital space for women who feel they may be in an abusive relationship can discuss their problems, read stories, learn to recognise signs and ask questions. rAInbow has already had 720,000 conversations with women from all over South Africa. The team Second and third place went to Zimbabwe's Lawbasket and Cape Town's, ´For the children's sake´.
Kampala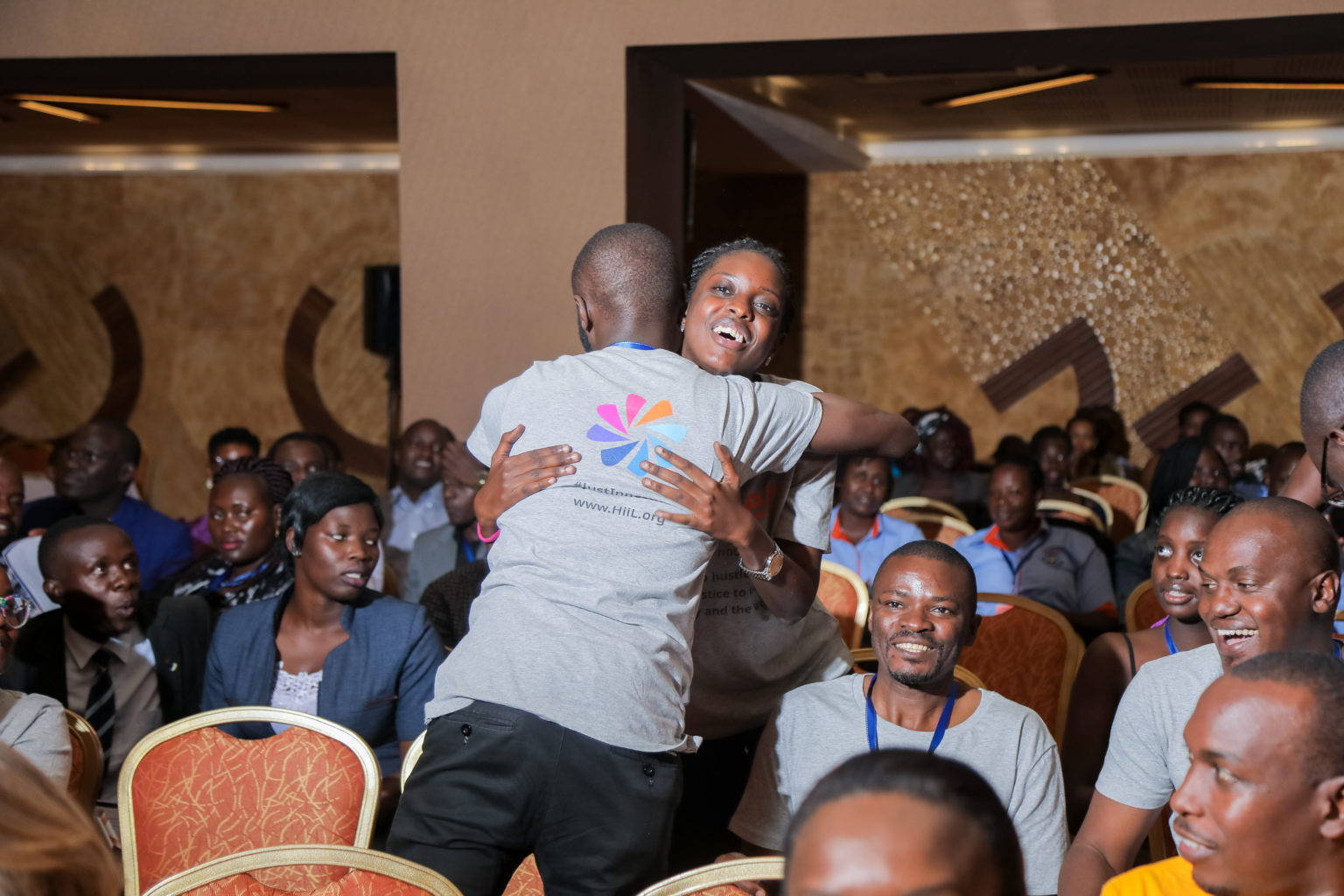 celebrate ties with the justice sector
The pitch sessions by the finalists, where FIDA, Legal Hub, LegIT, WeResolve, My Guardian, Bataka Court Model, Digital Land Forum and Wang-oo impressed the crowd. After an intense deliberation session from the jury, which took longer than expected due to the tough task of selecting this year's winners, and a lot of excitement from the crowd, Legal Hub Uganda were crowned the winners of the 2019 regional finals with LegIT and Bataka court model coming in second and third place respectively.
The Deputy senior technical advisor of JLOS, Mr. Sam Wairagala, gave the closing speech of the day and invited collaborations between JLOS and the innovators, 'There is definitely a need for collaboration between JLOS and innovators, we have worked with HiiL innovators in the past and are in continued discussions with others'.
Lagos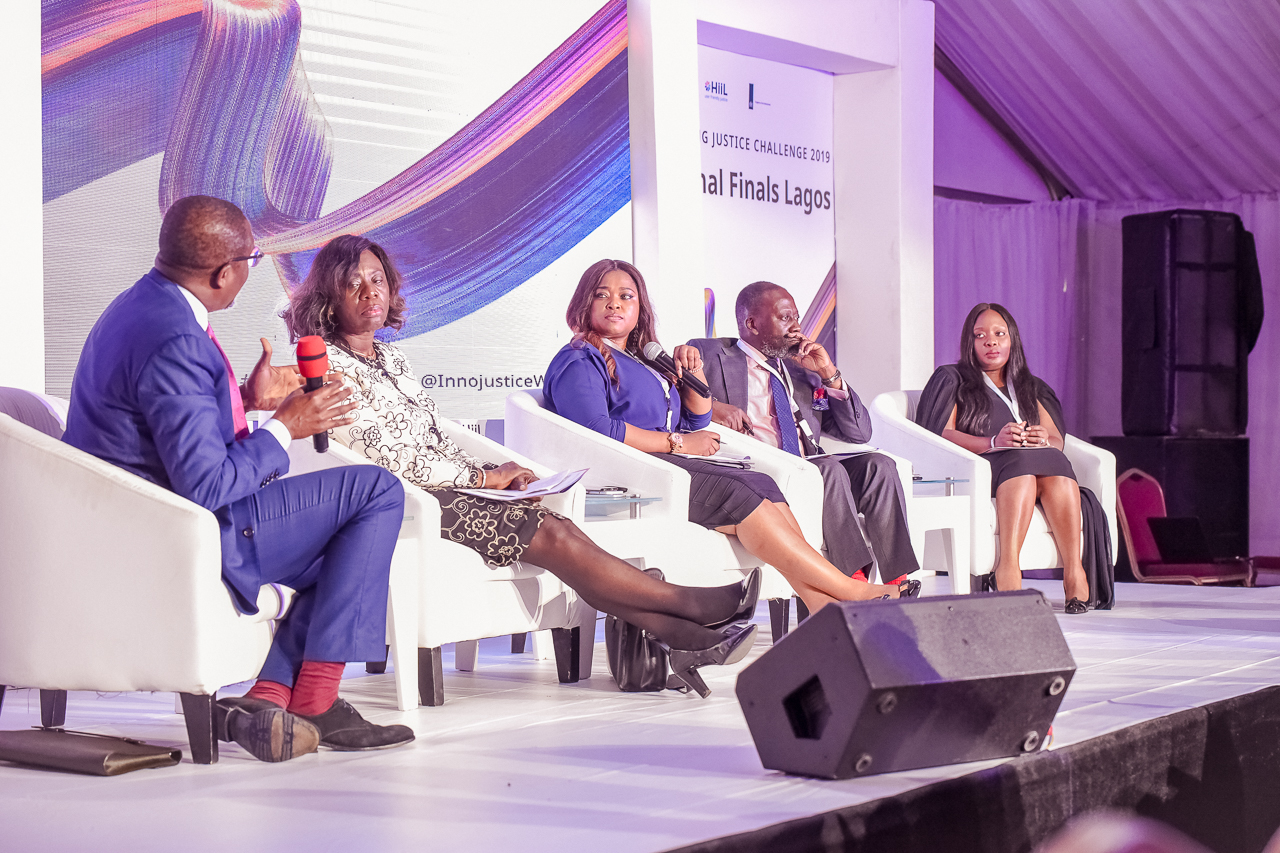 The sky is wide enough for birds to fly without them hitting themselves
How does one pick three let alone one out of seven inspiring innovations that all have potential to impact millions of lives massively? That was the task I and 4 other jurors were given and it was no mean feat deciding the three winners of the Regional Finals of the West Africa Innovating Justice Challenge.
After intense deliberations, Appruve was announced the winner. Appruve is a Ghanaian startup that provides identity management as a means to widen the financial inclusion bracket.
Second place was awarded to Africlaim from Nigeria. Africlaim helps Africans get compensated for delayed flights. Third place was awarded to The Flemer Project from Nigeria. This team promotes prison decongestion.
The Regional Finals featured engaging panels with a very interactive audience. Oo Nwoye, founder of TechCircle and one of the Regional Finals Jury asked the panel of senior lawyers discussing Justice Reform what the bar's approach was to open-sourcing of methods and processes? Yemi Candide-Johnson, (Senior Advocate of Nigeria) in response used the Yoruba proverb "The sky is wide enough for birds to fly without them hitting themselves" – it is in the interest of the profession to open-source, and in doing so shows great leadership.
The Chair of the Lagos State Judiciary Small Claims Court, Justice Yetunde Adesanya, addressed in her keynote speech the impact of justice innovation on how Nigeria has come to be considered one of the most improved economies globally.
The evening ended with a panel concluding: impact investing is a tool to promote justice, and innovators need a good grasp of metrics to promote impact investing in justice innovations.
Nairobi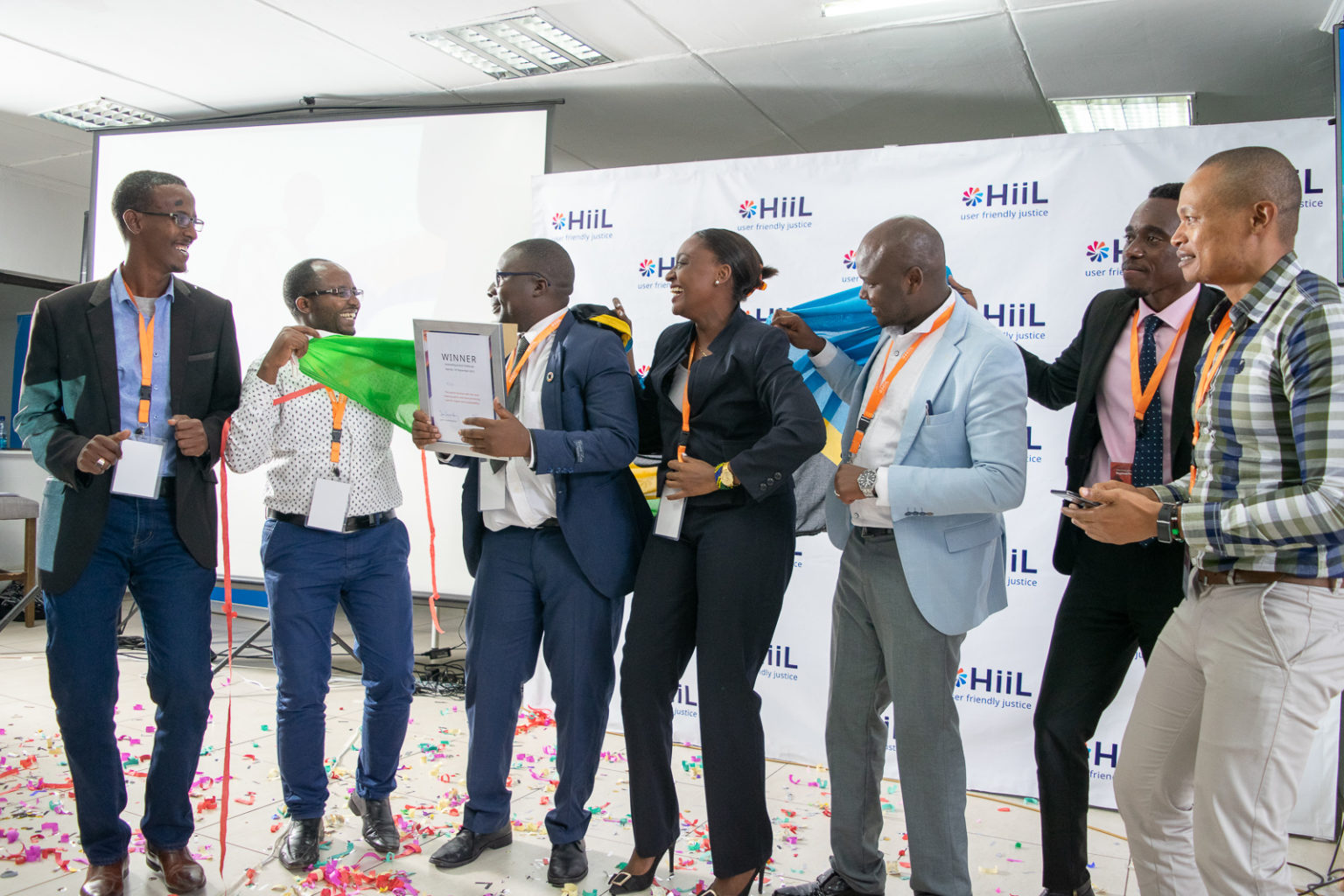 The first part of the event we hosted a panel discussion about financing justice innovations towards access to justice. The key insight was that affordability remains the key impediment to providing access to justice to millions of citizens. This gap can definitely be breached by more innovations in the justice sector. However, from an investor perspective, justice innovators and leaders need to reframe the conversation from providing access to justice  to building investable businesses that have cross cutting impact in society. A  good case practice is to look at the Solar energy industry which transformed the narrative from selling solar panels to providing energy access to marginalised communities and in doing so bring a lot of people out of poverty. Intersectionality with other sectors and putting the user at the center of the work is crucial in driving investor interests and building a thriving community of justice innovators.
From more than 90 applications in East Africa, we whittled down to the final 7 startups. The final 7 are a mixed bunch: 3 from Tanzania, 3 from Kenya and 1 from Somaliland. We spent the last 3 days with them, challenging and learning from each other.
All do an amazing job pitching, and it is gratifying to see that they have incorporated learnings of the past days' JES sessions. Once the pitches are done the jury retires. I had expected their discussions to be fraught, but surprisingly enough there is a general consensus.
Essential Social Services (ESS) comes out on top and is awarded the winner of the 2019 Nairobi Regional Finals. EES provides legal assurance to the 80% of Tanzanians that cannot afford legal representation, but also are not eligible for free legal aid, ensuring they always have access to justice.
In second place is Sheria Kiganjani, a startup from Tanzania which enables users to access various legal information and services remotely from their devices. Third place is awarded to Tenrent from Kenya, which helps resolve any disputes between tenants and landlords.
HiiL has made the final selection for our cohort of 2020. Curious to find out which other justice innovations were selected for the Justice Accelerator? And which other innovations will come to the Forum? Keep an eye on our social media and website!
---