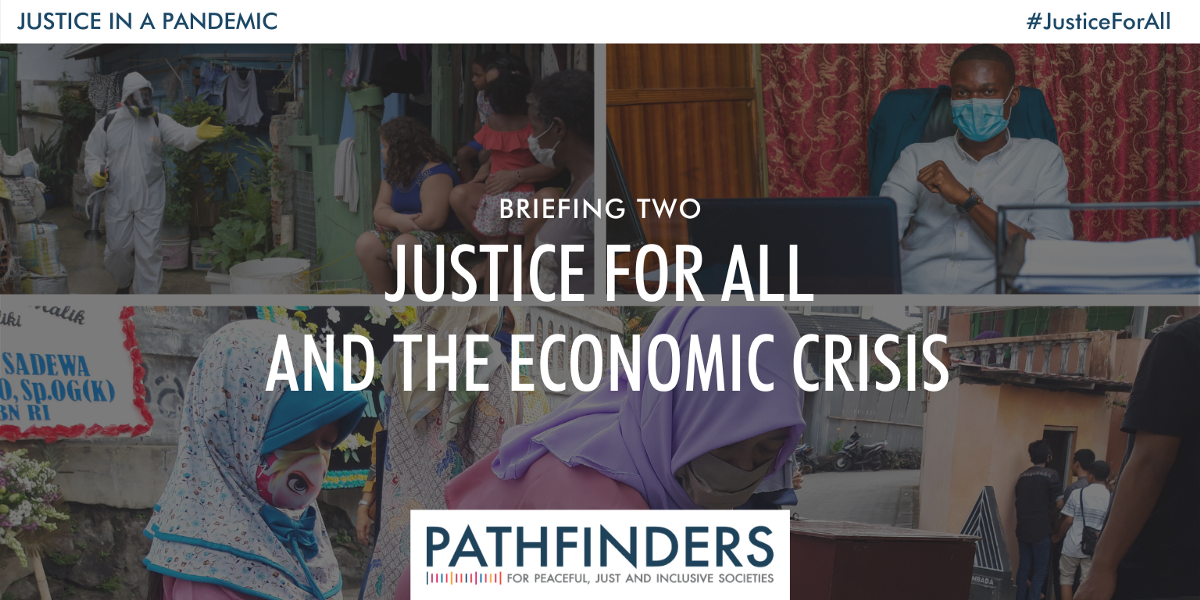 New report
The world was off-track to deliver the SDG justice targets before the Covid-19 crisis. The economic impact of coronavirus has set those long-term objectives back even further.
Covid-19's economic impacts are sure to last longer than the public health emergency and will be a catalyst for a massive increase of justice problems.
The economic crisis will substantially increase the pressure on justice systems and widen the justice gap. As employment contracts are terminated and businesses go bankrupt, the demand for legal assistance will rise.
We propose seven strategies for how justice systems can help, not hinder economic recovery, and how justice leaders can take action to reshape justice systems and support more inclusive, sustainable, and resilient patterns of growth:
Anticipate demand — use existing and new data to understand the changing demand for justice and use triage to channel people to the most appropriate service
Invest in personal contact — reach out to people by phone or digitally to reduce workloads and deliver fairer outcomes.
Address problem clusters — tackle multiple problems at once to stop disputes from escalating and break vicious cycles.
Prioritise non-court solutions — use mediation and other dispute resolution mechanisms reducing pressure on formal institutions.
Focus on prevention — use legal empowerment, online services, ombuds' institutes and other non-court services to nip disputes in the bud and address the structural roots of economic injustices.
Avoid making justice problems worse — modify or scrap laws and procedures that make disputes worse and exacerbate injustice.
Use justice to rebuild economies — put justice systems at the heart of ensuring fair distribution of recovery packages and use them to give marginalised people greater opportunities for economic participation.
Download the strategy document here.
---