The Hague Institute for Innovation of Law (HiiL) is developing a capacity building webinar series in partnership with the Justice, Law and Order Sector in Uganda. It is a part of HiiL's larger project 'Justice in Uganda', funded by the Swedish International Development Cooperation Agency (SIDA).
Our first webinar: Quantitative Research Methods
Acknowledging the role of data in informing the design of evidence-based interventions and programmes, HiiL has organised a capacity building webinar series ''Research Methods to Measure Justice'' to equip civil society organizations in Uganda with skills required to collect, analyse and utilise data on justice needs of local communities.
The first capacity building webinar took place on November 16, 2020. It was based on the topic of ''Quantitative Research Methods''. Facilitated by Evidence and Methods Lab, a Ugandan organization that works on access to information, accountability and generating evidence, and Rodrigo Nunez, Justice Sector Advisor from HiiL.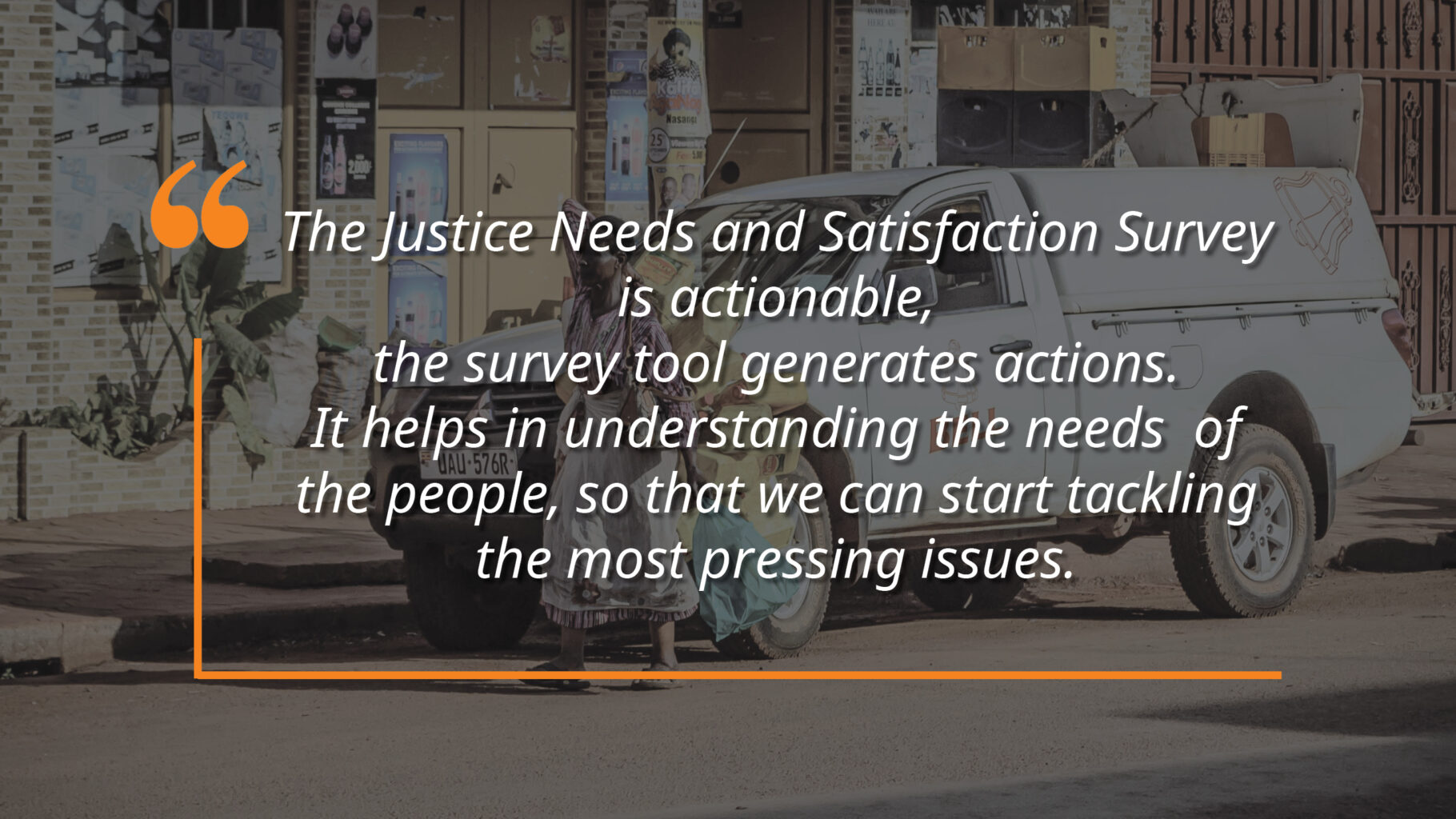 The focus of this webinar was to give participants an overview of the design of HiiL's Justice Needs and Satisfaction Survey (JNS), sampling techniques and data visualisations such as different types of bar graphs and pie charts.
Rodrigo Nunez from HiiL encapsulates the importance of quantitative data collections methods in this line, "The Justice Needs and Satisfaction Survey is actionable, the survey tool generates actions. It helps in understanding the needs of the people, so that we can start tackling the most pressing justice problems."
The data was widely appreciated by all those present at the event. "I believe that an important aspect of people-centred justice is access to timely information'', said Elizabeth Kemigisha, Advocacy Officer at The Uganda Association of Women Lawyers (FIDA).
The participants were keen on understanding the nuances of survey design. They interacted with the facilitators and proactively engaged with the facilitators by asking pertinent questions which led the webinar to become a lively discussion.
The series of webinars
The main objective of this webinar series is to facilitate the grassroots organisations in taking a bottom-up approach to justice, where data on justice needs and experiences of citizens will be used to hold justice providers accountable and make justice systems affordable, accessible and easy to understand.
The webinar series kicked off on November 5, 2020, with a virtual event to reflect on past, current, and future opportunities and challenges for strengthening people-centred justice in Uganda. One of the main goals of the event was to discuss insights arising from the data collected by HiiL during a nationwide assessment of justice problems of 6.000 people across all four regions of Uganda.
What happens next
In the next leg of the webinar series, we will be discussing the use of online tools in undertaking surveys and how to maintain safety and security of participants and researchers while undertaking research in the times of Covid-19. Stay tuned to this space to know more.
---