Justice Accelerator: apply now!
Citizens need solutions to their pressing justice problems. A justice innovation is:
Helping people prevent or resolve a pressing justice need

Helping people resolve problems in their daily lives

Helping improve the effectiveness of justice systems

Has the ability to help millions of people
If you have a project that fits the above, you are a justice innovator, otherwise called a justice entrepreneur. And, this means we are able to help you. 
The HiiL Justice Accelerator scouts and supports the world's best justice innovators. We provide grant funding, business acceleration services, access to free technical tools, connections to local and global mentors, and promotional opportunities. Check out our opportunities below to understand how to apply.
Apply to the HiiL Justice Accelerator programme
The application for the HiiL Justice Accelerator is currently open.
Check out the information below to understand more about the Justice Accelerator.
Application and acceleration process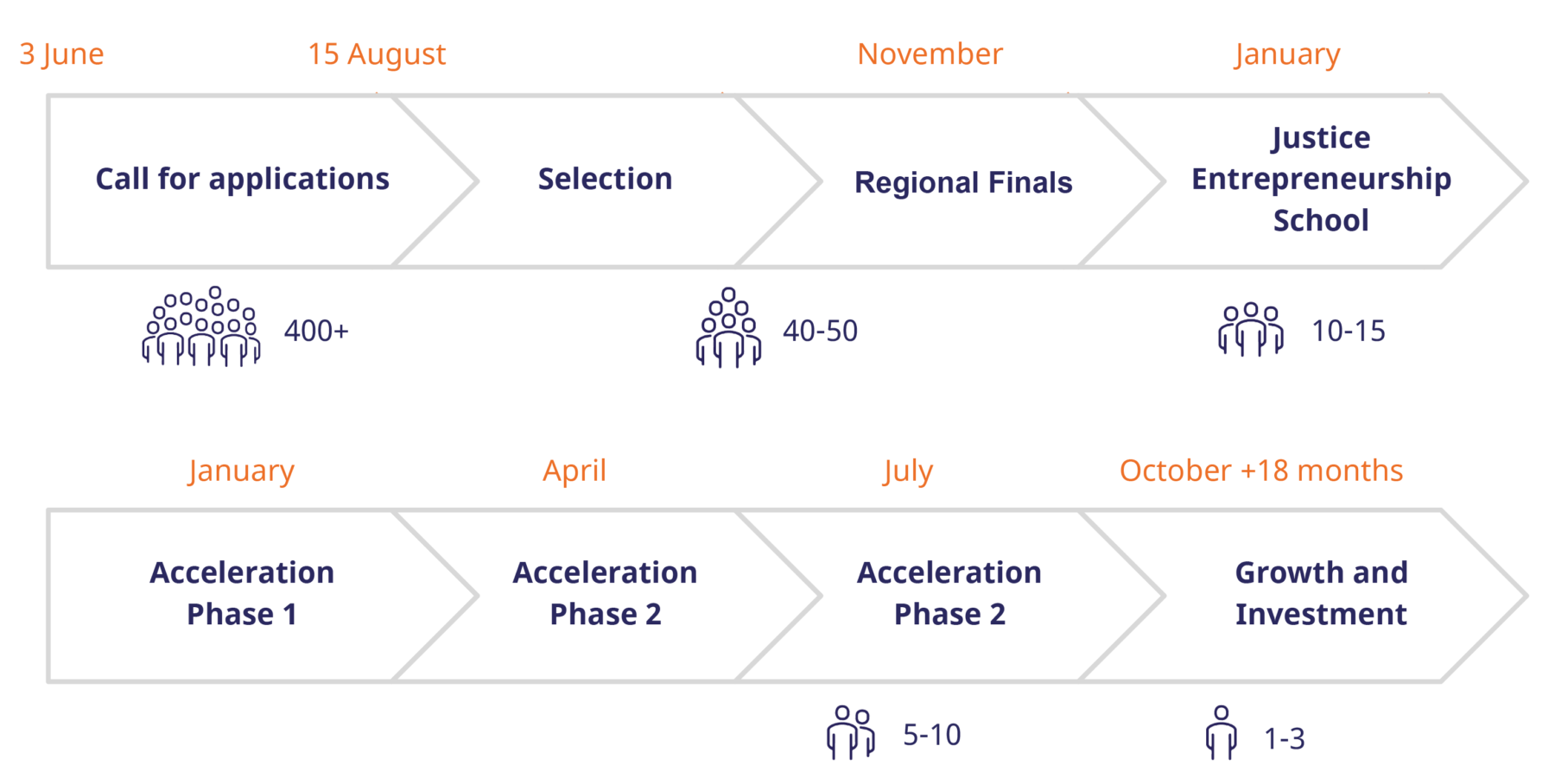 Currently we support the following innovations:
CrimeSync
Sierra Leone / Crime
CrimeSync made an all-in-one digital crime records management application that has been launched across Sierra Leone's prison system. It serves to improve efficiency and transparency of the justice system.
LawPadi
Nigeria / Legal advice
LawPadi is a friendly chat-bot that can be used to get information about the law for any legal issue in Nigeria.
FarmWorkerzApp
Nigeria / Employment justice
FarmWorkerzApp is a digital platform that seeks to connect vetted farm-hands to potential farms for hiring anytime, anywhere.
He! Lawyer
Benin / Legal advice
HeLawyer is a mobile app which makes legal information and advice available to citizens 7 days a week, in an affordable and easy-to-use manner.
Barefoot Law
Uganda / Legal advice and assistance
Barefoot Law is an online Legal Service Provider that provides access to justice and the Law for thousands of individuals and small businesses who would otherwise remain underserved.
Nkola App
Uganda / Employment justice
Nkola App provides users with information about their rights using a technology that doesn't exclude the poor; Unstructured Supplementary Service Data.
Lawyers for Farmers
Uganda / SMEs
Lawyers for Farmers help farmers make practical changes in starting, structuring and management of their farm businesses for increased productivity and profitability.
JusticeBot
Uganda / Legal advice
JusticeBot is a chatbot that provide access to legal procedures information and services to Ugandans in needs of legal service and justice.
Yunga
Uganda / Crime
Yunga is a local rescue digital network for neighbors that allows them to communicate to each other in real time in case of attack.
Zzimba Games
Uganda / Land problems
Zzimba Games educates people about legal procedures in an accessible way. Entertaining card and board games mirror their environment and subsequently empowers them to take action.
BTrack Global
Kenya / Crime
BTrack designed an affordable GPS Tracking Device to monitor and recover stolen bikes, but also that can cut-out the engine remotely.
Usalama
Kenya / Crime
Usalama takes access to emergency services to the 21st century by providing a single point to contact emergency services by a tap of a button.
Wakili Mkononi
Kenya / Legal advice
Wakili Mkononi is a social enterprise that offers legal aid services and legal networking services on a digital platform.
Viamo
Rwanda / Employment justice
Viamo makes legal information available toll-free on demand in pre-recorded AND text.  It helps drive public awareness about employment rights to stop staff being deprived of their rights.
Baobab Connect
South Africa / Case management
Baobab Connect provides a set of tools to track cases, manage teams and measure impact at scale. It is a decentralized case management for lawyers and community paralegals.
Creative Contracts
South Africa / Employment justice
Creative Contracts prepares contracts that are easy-to-understand, especially illiterate people. Visual communication techniques make it possible to everyone to understand their rights and obligations in their contracts.
JusDraft
South Africa / Legal documents
JusDraft is an internal legal document drafting tool that allows NPO's to draft legal documents or complete court forms without the need for an attorney.
Citizen Justice Network
South Africa / Legal advice
Citizen Justice Network trains community paralegals to develop radio stories on cases important to their area. The stories help improve residents' literacy and level of engagement.
Haqdarshak
India / Social welfare
Haqdarshak trains local facilitators, supported by a tech platform, so citizens discover, apply for and benefit from eligible welfare schemes.
Bababon Sangho
Bangladesh / Land disputes
Bababon Sangho is an open source Android mobile app which prepares maps of land in order to prevent or solve land disputes.
Axdraft Business
Ukraine / SMEs
Axdraft is a free online platform with automated legal documents for small and medium enterprises.
Vkursi
Ukraine / SMEs
Vkursi allows citizens and small and medium enterprises to check companies including risk monitoring, checking licenses, inspections and lawsuits against the company.
Adapting Legal
The Netherlands / Automation
Adapting Legal provides software to dramatically improve law firm's processes, giving them more time to serve more clients.
JustFix
USA / Landlord & neighbour disputes
JustFix empowers tenants in neglectful housing situations with tools to better organize, connect with advocates, and take legal actions.
List of innovators supported each year
Do you have any questions regarding the application process?