Justice Accelerator: for startups
The Justice Accelerator is HiiL's flagship innovation programme that funds, trains and coaches a global cohort of justice startups each year. We look for the most promising startups from East Africa, West Africa, Southern Africa, the MENA region and Ukraine that aspire for everybody to have access to justice at work, at home, in the neighborhood and in business.
We support startups that empower people with break-through innovations to create better
working conditions with their employer

separation terms with their spouse

protection against theft, fraud and violence

arrangements about noise, damages and property access with their neighbour 

housing maintenance and rent conditions with their landlord

agreements on ownership, registration and use of land

contracts, fraud protection and compliance for their small business.
We are especially interested in startups that work on what we've identified as potential game-changers.
Our programme supports startups that have a proven solution with increasing annual revenue and impact, have a scalable business model, are on their way to financial sustainability and are led by a strong team with experienced founders. Startups can be for-profit or non-profit!
The Justice Accelerator offers a four month long programme that provides justice startups with:
€10,000 non-equity seed funding.

Full training program delivered by industry specialists: business growth, marketing, team & leadership, impact measurement and much more.

Coaching sessions and mentorship on topics of your choice.

Access to HiiL's global network of justice leaders, legal tech organisations and top level researchers.

International exposure and potential investment opportunities.

Chance to win up to €20.000 at the pitch event of the Innovating Justice Forum.
We are the only accelerator in the world focussed entirely on justice and SDG16. 
We accelerate startups that show serious traction, have a strong team, and can scale to impact thousands and millions of people.
Our regional hubs in East Africa, West Africa, Southern Africa, MENA and Ukraine connect startups to the local market and can help scale across regions.
We work with leading organisations and international governments to promote the wide scale implementation of new justice innovations.
We have supported 120+ justice startups globally since 2011.
Do you want to participate in the Justice Accelerator Programme?
The application is currently closed.
Selection and acceleration process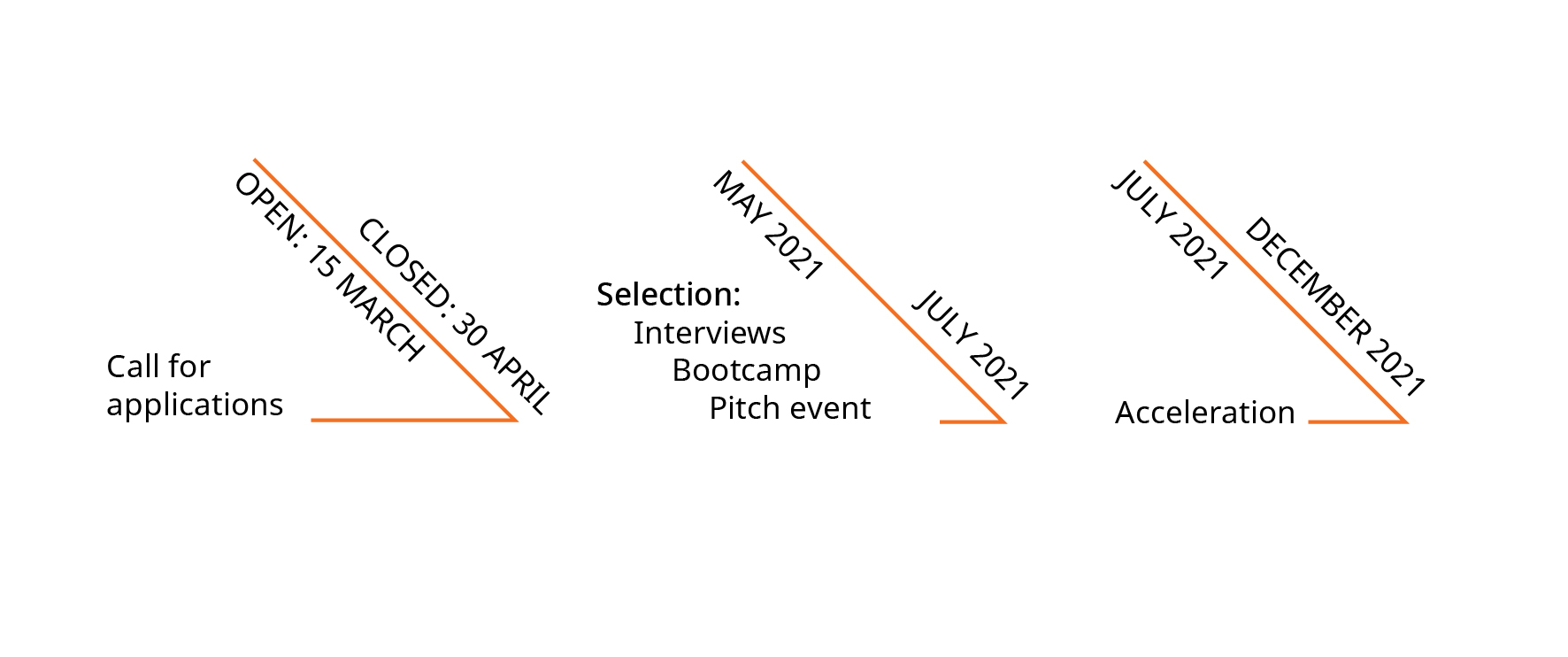 For general questions about the Justice Accelerator, please email the Accelerator Programme Manager, Iran Huffels at iran.huffels@hiil.org.
Frequently Asked Questions
The portfolio of startups we have supported:
The cohorts we supported per year
Do you have any questions regarding the accelerator programme?