This is how we bring about people-centred justice
Amidst a backdrop of deepening inequalities, a cost of living crisis, critical food and energy shortages, endemic corruption, and a fraying social contract, professionals from the rule of law and justice sectors gathered in The Hague, Netherlands for the annual World Justice Forum.
Covering four days, the Forum sought to exchange and solidify the ideas crucial to building fairer and healthier communities. Among them was the paradigm-shifting concept of people-centred justice.
The timing was impeccable. Today, more than 5.1 billion people suffer from an unresolved or inadequately resolved justice problem. The urgency to address this crisis has never been greater. It should propel us to act.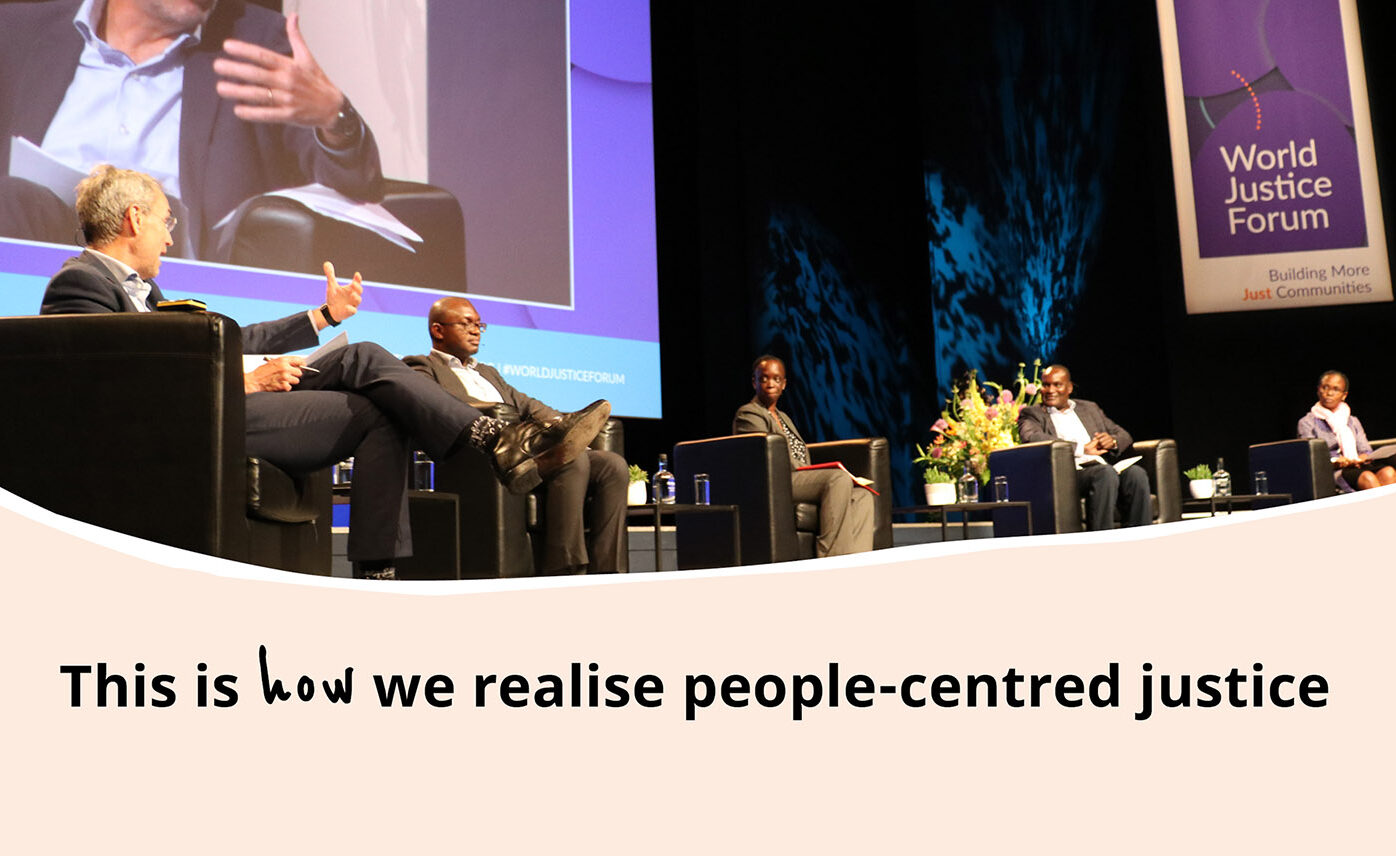 Here are six key takeaways from the 2022 World Justice Forum.
1. Harness Data
Data lies at the centre of realising people-centred justice. So far, the data collected on people's needs, experiences and outcomes reveal a massive "justice blind spot", as Martin Gramatikov, Director of Measuring Justice at HiiL stated. Approximately 80-85% of the justice problems never reach institutions in the formal justice system. Addressing this inefficiency requires innovating the broader justice sector. Harnessing data will deepen the sector's understanding of people's justice needs and experiences as well as their perceptions to elucidate the causes of people's legal problems.
In the end, data and evidence help steer reform and thus, provide a rich information infrastructure that will open the door for services and policies that work for the people. That in turn will spur changes towards "what works".
As part of sharing knowledge about best practices at the World Justice Forum, we launched a summary guide to the upcoming Trend Report.
2. Build Trust in Public Systems
Change can't happen without trust. Trust and cooperation between justice sector organisations and stakeholders are especially important for enabling people-centred justice. Establishing this trust helps develop lasting interventions and can nurture holistic solutions that address people's most pressing justice problems at scale. "We must continuously check the pulse of the people and to what extent we're reliably addressing people's needs and measuring their trust in the public institutions," said Rachel Odoi-Musoke, the Senior Technical Advisor to the Governance and Security Programme in Uganda.
It takes time to create systems built on trust between different actors and players in the sector. Doing this effectively requires bringing together leaders from institutions which will work towards common results. This has to be factored in at all levels.
We emerge from the World Justice Forum with a fortified determination to breathe more life into SDG16+ and with a renewed commitment to tackle 'our common agenda' collaboratively across diverse sectors for change.

— Sam Muller, CEO at HiiL
3. Value Informal Justice Systems
Strengthening trust extends also to Customary and Informal Justice (CIJ) systems. These have existed for hundreds of years in countless countries and are the first point of contact for millions of people seeking to address their justice issues. However, many justice systems around the world continue to focus on the formal justice system as the only solution available. We need to shift that focus. In the words of one speaker, "The concept of people-centred justice is much wider than the formal justice sector can ever be expected to match."
Indeed, it's important to recognize that customary and informal solutions—those that address numerous justice problems including family disputes, land conflicts, and problems between neighbours—are crucial to delivering justice. So let's value CIJ systems for being more affordable, accessible and user-friendly.
4. Expand Partnerships and Collaboration
Partnerships and collaborations encourage inclusive thinking that reinforces 'our common agenda' and promotes a common language that will support engagement and knowledge exchange. The UN, World Bank, and OECD among others must prove to justice practitioners that they are not alone in this fight for expanding access to justice. The Justice Action Coalition, operationalised during the Forum, aims to serve this purpose. It will develop and promote effective justice action based on data, shared learnings, and international assistance and funding.
As Brittany Kauffman, the Interim CEO at IAALS stated, "Bridging the capacity gap with partnerships means looking outside the justice system to get people onboard and help them understand the social, political, and economic benefits to addressing the problem."
5. Advocate for Funding and Investing
Start-ups with game-changing business models are a key driver in the transformation of the justice sector. Supporting these 'Gamechangers' will be pivotal to expanding access to justice. To do so means applying 'smarter financing strategies that redirect resources away from ineffective approaches towards what works.' Ministers of Justice must be at the forefront and must turn rhetoric into action. They can do this by allocating budgets and human capital towards (bold) people-centred initiatives.
Building investor confidence is also a priority. The Innovating Justice Fund developed by HiiL in partnership with FOUNT is the first-of-its-kind fund with a unique focus on SDG16. It will financially support early-stage startups to scale their promising innovations and thus expand access to justice in places that need it most.
6. Urge Courageous Leadership
Inspiring action requires building coalitions and involving stakeholders from the outset. This means finding the right people to do the right job. It also means having difficult conversations about priorities, budget allocation, reforming regulatory environments, and being honest and frank about what is not working. As echoed throughout the Forum, strong leadership requires effective integration of systems and using the three C's – Communication, Coordination and Collaboration – to identify and agree on shared results and shared priorities. Governments and experts can see SDG16 as a driver of people-centred justice and implement ideas that also tackle SDG 5, SDG 8, and SDG 10.
In the words of the former Attorney-General and Commissioner for Justice of Ogun state in Nigeria, Akingbolahan Adeniran, "You need to have visionaries who are passionate, persuasive, and who have a mindset for change management. They will play a central role in the design and implementation of successful people-centred justice."
What is people-centred justice?

People-centred justice (PCJ) is emerging as a concrete approach to (national) justice programming. Justice practitioners and sector innovators alike have identified the 'enablers and impediments' that support the successful implementation of PCJ. The key goal is to ensure that justice sector professionals spend time in ways that people expect and direct services towards those priorities.

People-centred justice consists of five core elements: First is the need to collect data on justice experiences. Second, apply best practices on 'what works'. Third, open up to innovations to create and scale game-changing solutions. Fourth, justice sector professionals must create an enabling environment and nurture private-public partnerships that show results. And finally, strengthen the movement toward change by creating accountability and ensuring the justice system's shared goals are met.
Further reading
---