The Hague — FOUNT and HiiL announce the launch of the Innovating Justice Fund: a first-of-its-kind fund with a unique focus on SDG 16: equal access to justice for all. We are currently deploying for our first investments, as we continue to raise additional capital via like-minded mission-oriented investors.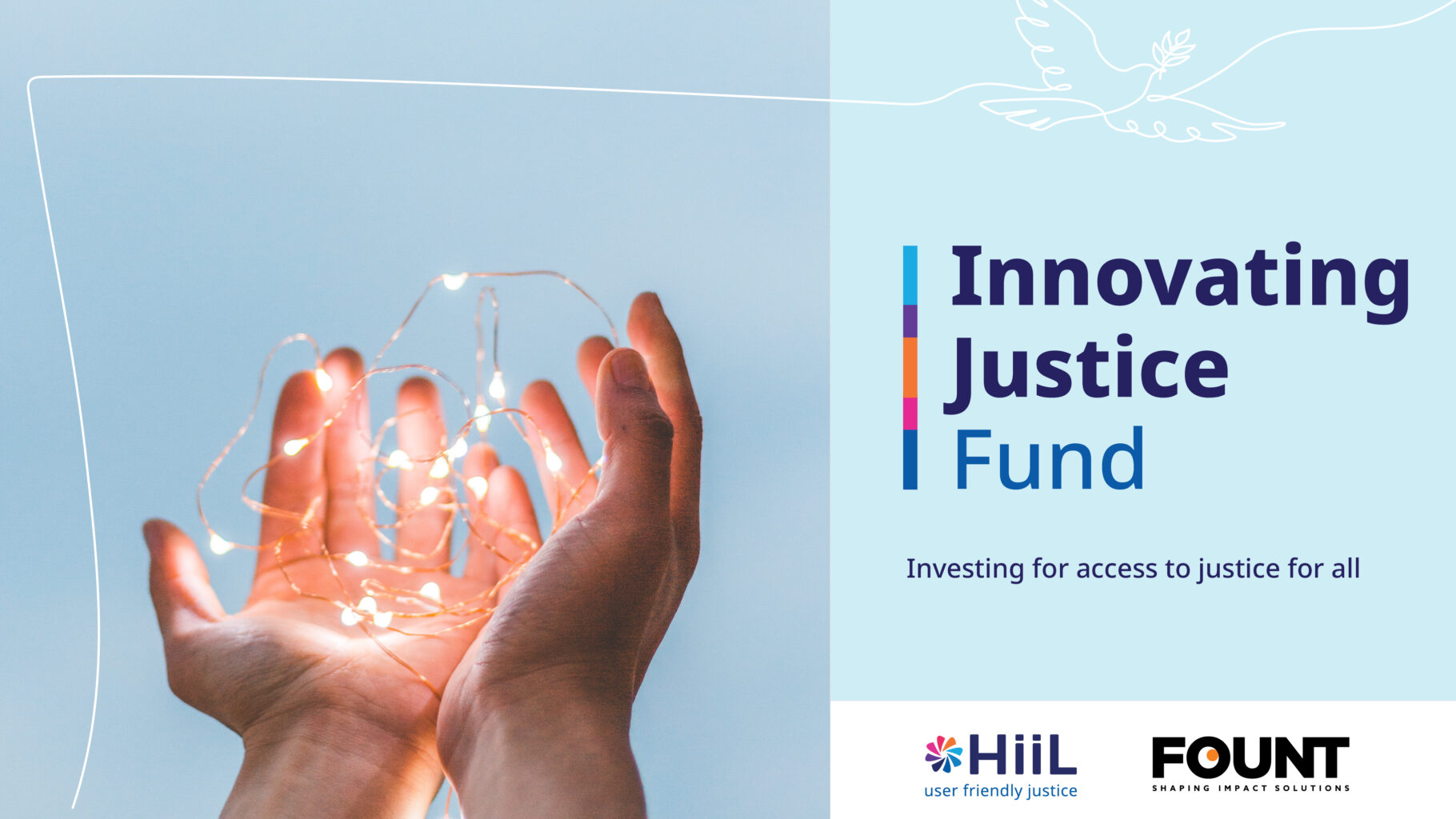 Each year, more than 1 billion people face a serious justice problem. Up to 55% of these problems remain unresolved or are resolved in a way that is felt as unfair. Our current justice system is unable to deliver equal access to justice for all. This lack of justice causes huge suffering, erodes social cohesion, entrenches and exacerbates inequalities, and disrupts economic development.
To close the Justice Gap, innovation is needed to bring new services to scale that can prevent or resolve justice problems for all. Start-ups with game-changing business models are a key driver in this transformation of the justice sector.
The Innovating Justice Fund addresses the Justice Gap by providing funding and technical assistance (TA) to early-stage start-ups that sustainably deliver innovative justice services in emerging markets. Their services prevent and resolve pressing issues around employment, family, fraud, crime, land, housing and neighbour conflicts.
The Fund's main ambition is to contribute to people-centred justice services at scale. Eligible portfolio ventures must demonstrate a measurable contribution to this mission. The Fund impacts SDG 16 (equal access to justice for all) as well as SDG 5 (gender equality), SDG 8 (decent work and economic growth) and SDG 10 (reduced inequalities).
The Fund is a strategic partnership between FOUNT and HiiL. HiiL brings in-depth justice sector expertise, a strong presence in the justice ecosystem and a pipeline of ventures via its Justice Accelerator (139 innovations supported since 2011). FOUNT, a leading impact investment firm, provides extensive investment and fund management expertise (10+ years and currently managing three impact funds) in developing countries.
The Fund is financially viable and presents a unique opportunity to support the justice sector in several regions and to be a frontrunner as investor in the first SDG 16-focused impact investment fund.
The Fund features:
A dedicated investment team of seasoned professionals;
A strong proprietary pipeline of early-stage gamechangers;
Access to a hub network providing access to in-depth local knowledge and stakeholders.
Currently, the Fund is being launched with support from the Dutch Government, a long-time partner of HiiL. The Fund is to be established as a Dutch limited partnership (CV) with a blended capital structure. The target capital size is EUR 10 million.
---
For more information, please contact:
Fund Manager, FOUNT: Bob Assenberg Bob@fount.eu, (+31(0)625251275), Bernadette Blom (Bernadette@fount.eu), +31(0)622695620)
Technical Assistance Manager, HiiL: Ronald Lenz (ronald.lenz@hiil.org, +31(0)627021204).
Further reading
---