UN Special Rapporteur on the Independence of Judges and Lawyers reflects on achievements and challenges of realising the Sustainable Development Goals.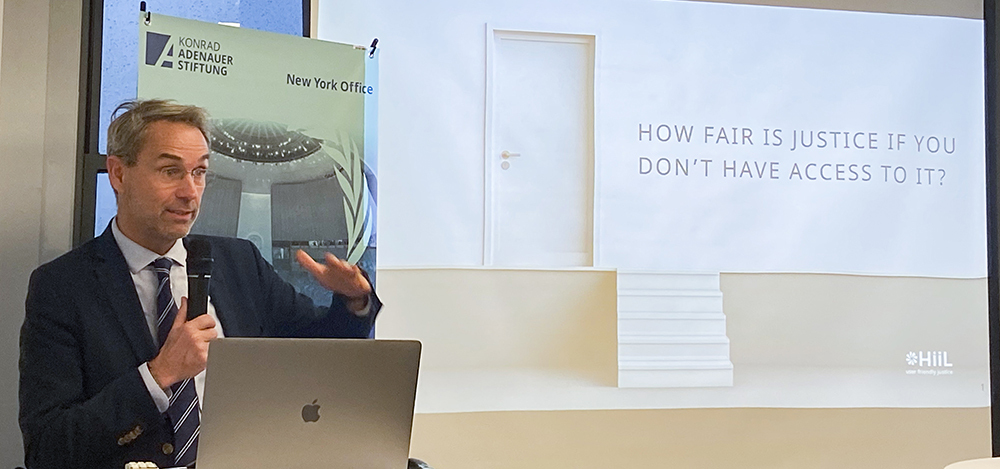 On 13 October, HiiL, together with the Konrad-Adenauer Stiftung and the Netherlands Permanent Mission to the United Nations New York, organised a panel discussion of the final report presented to the 77th UNGA by the UN Special Rapporteur on the Independence of Judges and Lawyers, Mr. Diego García-Sayán.
Event speakers included: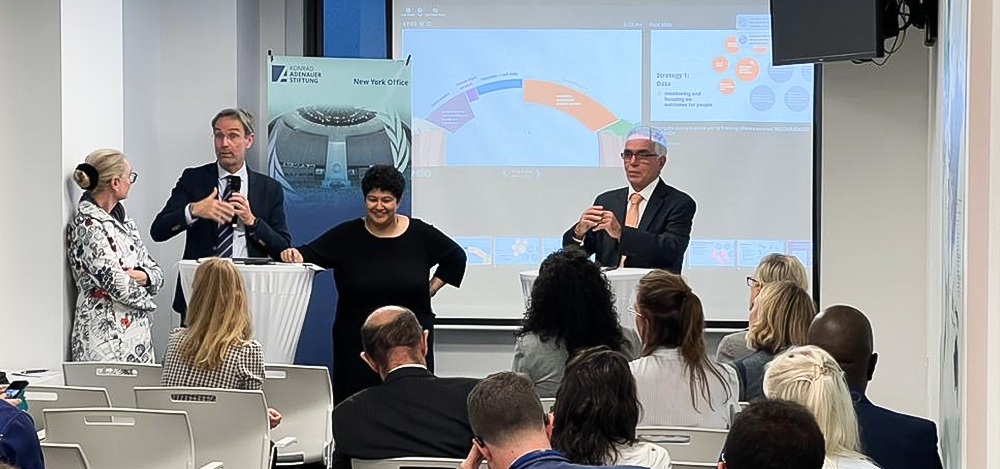 This special event was held in honour of, and farewell to, the Special Rapporteur who completed his mandate at the end of October. In his remarks, Special Rapporteur García-Sayán examined the contributions of his previous reports to the achievement of the targets of Sustainable Development Goal (SDG) 16 and identified the outstanding challenges and tasks for States in the area of justice.
The Special Rapporteur focused on justice for all, a fundamental guiding concept running through his various reports. He further clearly demonstrated the importance of achieving SDG 16, in order to make all of the Sustainable Development Goals a reality by 2030. Access to justice clearly underpins the entirety of the SDGs, both throughout the Special Rapporteurs final report and in his remarks.
Furthermore, the Special Rapporteur grouped the main threats to achieving SDG 16 into three areas: the influence of authoritarianism; the effects of corruption on the justice system; and the lack of access to justice for all. All of which are interlinked and connected to people-centred justice (PCJ) programming.
Through the Special Rapporteur's final report we learned more about the connection between the independence of judges and lawyers and people-centred justice. Sometimes, there is confusion around the term "people-centred justice" and its programming; it can be seen as working outside of the formal justice systems. However, the emphasis by the Special Rapporteur and subsequent speakers on access to justice as key to judicial independence helps us to better understand the all-encompassing nature of people-centred justice.
This event was pivotal in broadening all of our understandings of people-centred justice programming. In a key moment, Ms. Swati Mehta, Justice for All Program Director, explained:
"Often when we talk about access to justice, we assume that everything is right with the justice system but there are some barriers that people face in accessing them – money, complex processes, distance, language – and if we removed these, everything would be fine. But that is not entirely correct!"
When we think of improvements needed to close the justice gap we often think about improving resolution rates, making courtrooms more accessible, ending case backlogs, and bringing courts and legal aid closer to the people. Indeed, all of these are needed, but as Ms. Mehta reflects, they will not solve all of the justice needs of people.
This is where the juncture between justice institutions, judges, lawyers, and people-centred justice programming lies. Both Ms. Mehta and HiiL's CEO, Mr. Sam Muller, stressed that institutions are critical, however, even perfectly working institutions cannot entirely fill the justice gap. Accessing justice is not equivalent to accessing courts. Instead, accessing justice is about people being able to prevent and resolve their justice problems by achieving the outcomes they need and desire.
Getting there requires more innovation in the sector. Ms. Sara Offermans emphasised three ways to achieve this, "we need increased funding, inclusive partnerships, and leadership at all levels," she said. "This is how we can realise tangible results."
People-centred justice programming calls on justice institutions, practitioners, implementers, and donors to put people at the centre of their work, focusing on outcomes for people, rather than outcomes for institutions.
In this way, people-centred justice programming is itself the bridge between institutions and access to justice. Bringing institutions and their leaders towards the needs of people, while simultaneously opening up the space for evidenced based ways of working, innovations, and game-changing service delivery models. All rooted in an enabling environment – nationally and internationally — which supports these innovative, people-centred ways of working.
Listening to all of the speaker's remarks, it became clear to those of us in the audience that people-centred justice programming is not an advocate for abolishing justice institutions, judges or lawyers – it is an advocate for a systematic shift – for access to justice for all by reshaping and opening institutions to be responsive to the needs of people. The upcoming 2023 SDG Summit and the following 2024 Summit of the Future will be key moments to create momentum for the shift towards people-centred justice programming. HiiL, together with our partners, will be working to ensure people-centred justice is integral to these events.
Related Posts
---