Tucked away in a small side road in central Kampala lies a white, two-story building with a dozen lawyers crammed inside. But this is no traditional law firm – this is Barefoot Law. These lawyers each stared down a career of public prosecutorial work, private law work, or politics and chose a different path: using their talents and their love for technology to make access to justice and the law readily available to 50 million people in Africa by 2030.
The HiiL Justice Accelerator played a critical role in this journey, identifying and supporting one of Barefoot Law's first innovative products, when the mSMEGararage won the Innovating Justice Awards in 2015. This proved to be a catalyst of success, after which the organisation grew and was awarded the presteigious King Baudouin African Development Prize in 2017.
Now, two years after first identifying the promise of the organization, the HiiL Justice Accelerator in partnership with Nuffic conducted a two-week Tailor-Made Training (TMT) programme in Uganda to help Barefoot Law in defining, executing, and scaling up its social mission.
The first step, and the major accomplishment of the training, was defining the BHAG – the Big, Hairy, Audacious Goal that Barefoot Law wished to accomplish. They set an ambitious target and mission: Barefoot Law seeks to make access to justice and the law readily available to 50 million people across Africa by 2030.
Full of drive for this inspiring goal, the Barefoot Law team spent nine more days working on a framework of how to get there. This included work on lean startup and experimentation, social impact measurement, organizational structure, sales and marketing, personality and leadership, resiliency, international scaling, spinoff strategies, and technical tools for building prototypes.
Attendees of the workshop anonymously reported afterwards:
"It is going to be a huge catalyst to the organisation's growth."
"Barefoot law is going to do what it has been doing better and more efficiently."
"We will have more direction, focus and more unified voice especially because of the BHAG. We have a great goal to aspire towards. Our structure and the functions of each team member will improve. The training has also helped us figure out the cracks we need to fill out in order for us to make access to justice and the law readily available to 50 million people across Africa by 2030."
The HiiL Justice Accelerator greatly looks forward to being able to play a continued supporting role in the development of Barefoot Law's programme, and thanks Nuffic for its support of a crucial programme at a critical time for Barefoot Law.
For more information about the HiiL Justice Accelerator, visit www.innovatingjustice.com. To connect with our Ugandan justice innovation programmes, contact Nathalie Dijkman at nathalie.dijkman@hiil.org.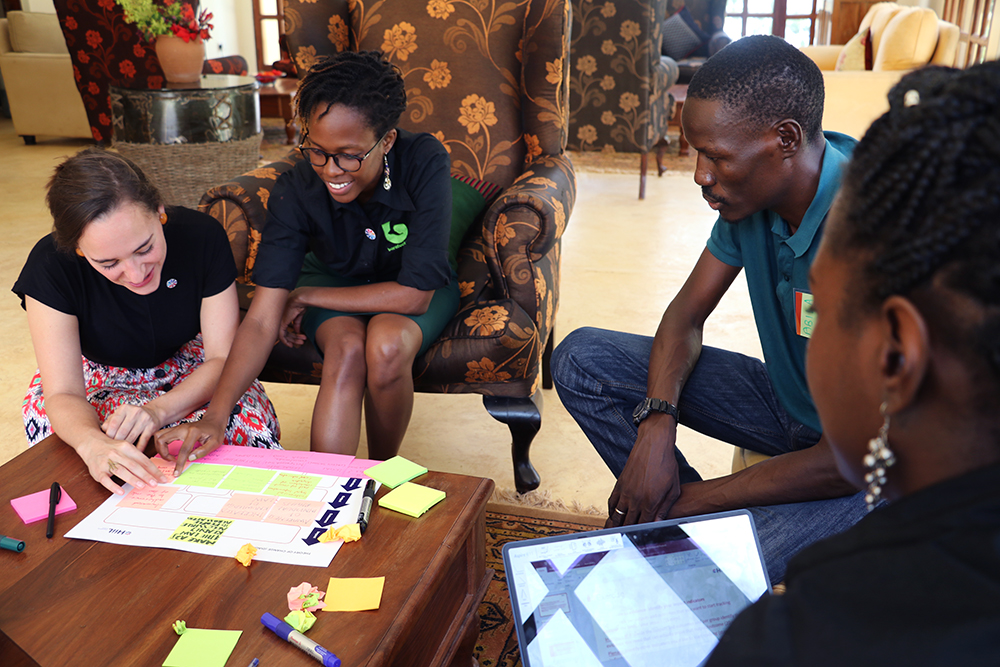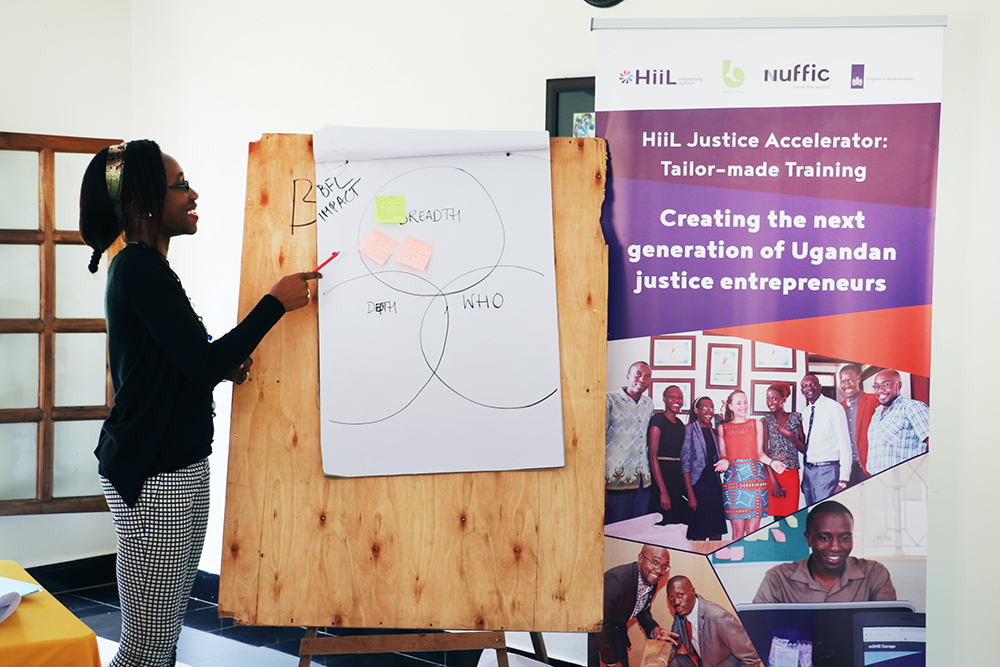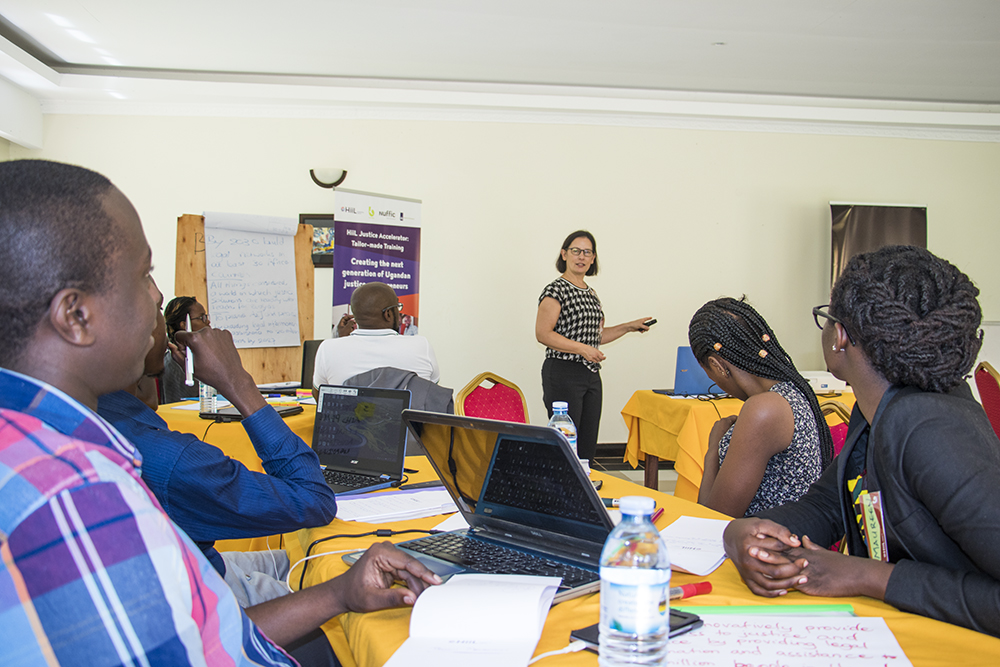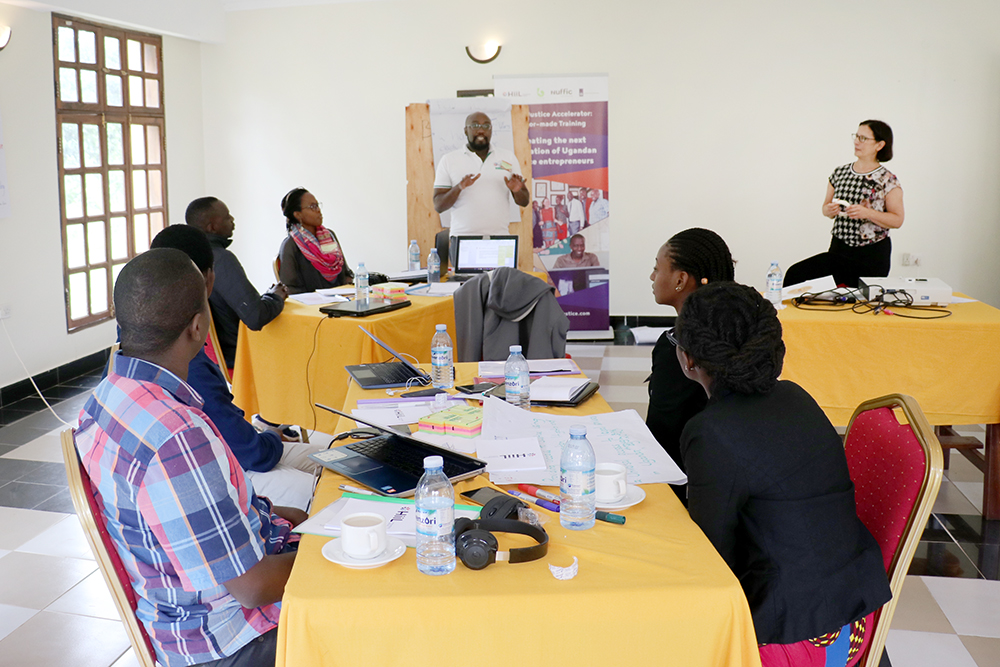 ---