Throughout the past few months, we introduced you to startups from our current cohort who are working to solve justice issues. All of these innovators are now preparing to pitch their unique solutions for addressing the justice gap at the HiiL's Demo Day 2022. This 2021 cohort of Gamechangers is competing for the top prize in our 2021 Innovating Justice Challenge.
The innovators dedicated to the Justice Issue: Crime, money, family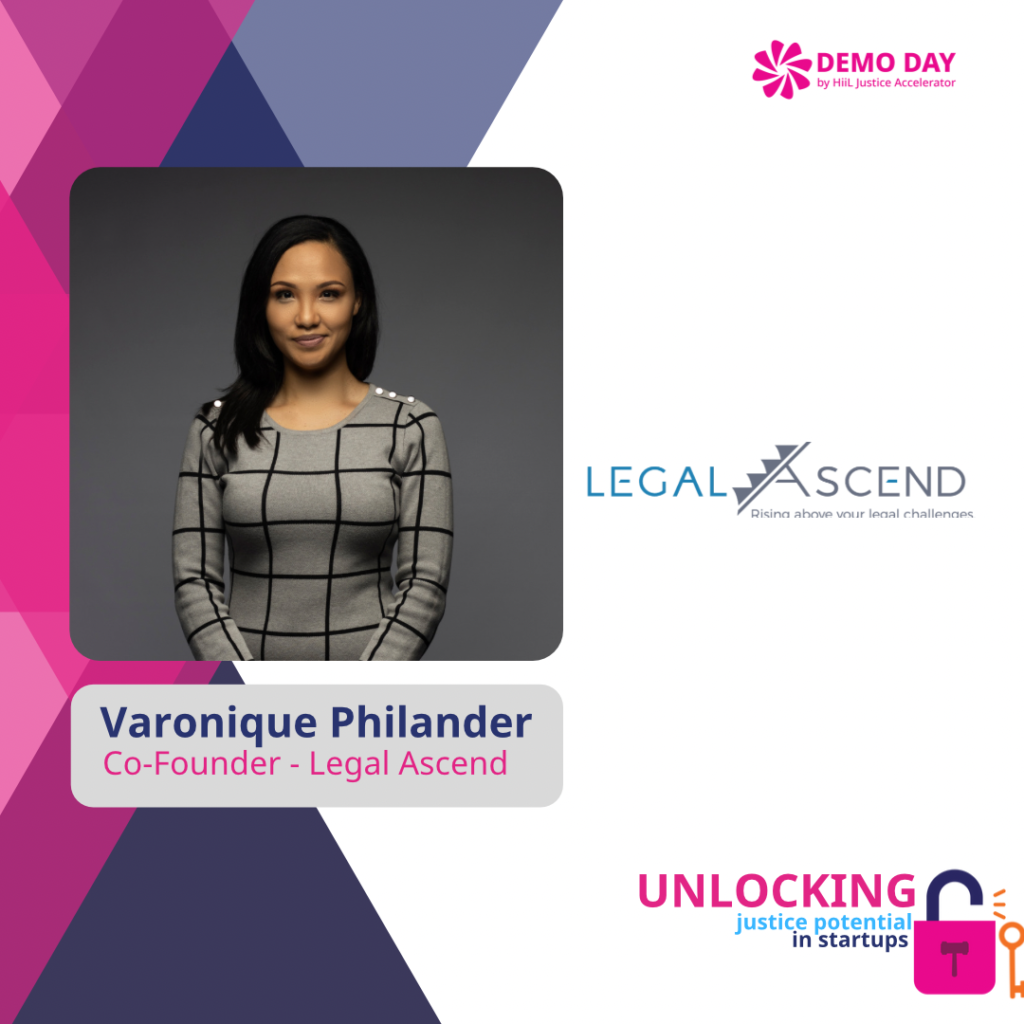 Meet Varonique Philander, Founder of Legal Ascend
Legal Ascend is a platform that supports families & individuals with the admin after-death process.
We interviewed Varonique, the Founder of Legal Ascend to learn more about her justice innovation that guides people who have lost their loved ones through the admin and legal process.
How did your entrepreneurial story start?
"We started our Legal Ascend product in March 2020. I am an attorney and conveyancer who loves entrepreneurship & community building."
Why did you choose to solve this specific justice issue?
"Losing a loved one is a very painful experience and struggling with "admin after death" while grieving can be very frustrating. Especially, if you do not know how to start the process. Many times the death of a loved one can place the family under severe financial pressure because accounts get frozen and without proper guidance, they get stuck in the system. Our Legal Ascend platform aims to solve this justice issue."
What impact do you hope to achieve and what's next for you?
« We have launched an Empowering Community Paralegal programme in which we train community paralegals about the "admin after death" process. The aim is for them to be able to help their community Clients by providing guidance and document support using our Legal Ascend tool. We hope to be the most Trusted Online Admin after Death Guidance Tool in South Africa that assists marginalised persons/families navigate through a very painful time in their lives. We hope to do this by training more community paralegals to offer guidance and document support in respect of the "admin after death" process which allows us to reach and create opportunities for communities across South Africa.
Hiil's user-friendly justice approach has been instrumental in assisting our team in being more customer focussed and building a solution that is impact-driven. "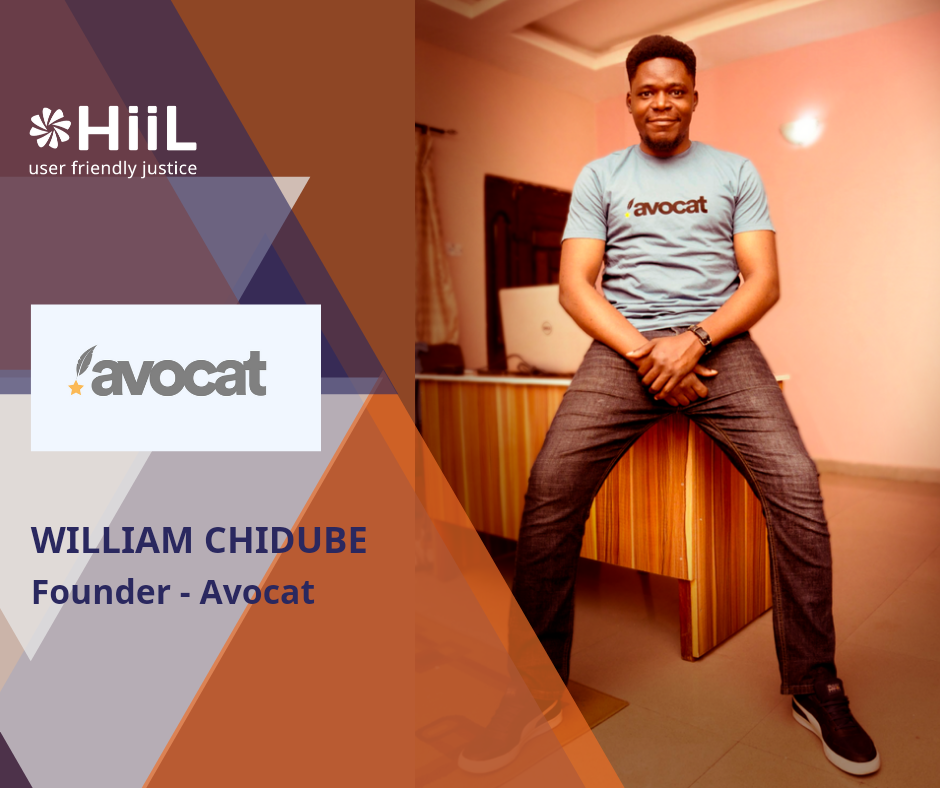 Meet William Chidube, Founder of Avocat
Avocat offers Nigerians quick legal aid in emergency situations via their mobile app.
We interviewed William Chidube, the Founder of Avoact to learn more about his justice innovation that provides people with legal help in emergency situations.
How did your entrepreneurial story start?
"Avocat is my third attempt at starting a company. It was inspired in 2020 by the ENDSARS protests that were sparked by police brutality. We wanted to foster a better relationship between people and the police using legal professionals as catalysts. It was important to offer timely legal protection to citizens who could be exposed to abuse by security forces. The idea has since grown beyond police brutality to include domestic violence and even abduction cases."
Why did you choose to solve this specific justice issue?
"Because we want a society where each person is treated with respect and is in full knowledge of their basic human rights and that they are respected in every situation, regardless of their income, social status, race or gender. We work with anyone whose profession or lifestyle exposes them to any potential form of abuse, so the range of people we work with is diverse. From international expatriates, political activists, journalists, domestic and emotional violence victims."
What impact do you hope to achieve and what's next for you?
« Currently we focus on understanding and serving the Nigerian people. When we believe we have our grounds set, we will begin our Pan-African expansion beginning with our neighbouring country: Ghana. It is our vision to see a country without oppressive behaviour. We hope that thousands of Nigerians will successfully avert violent human rights over the next two years. Additionally with our legal consultation feature we expect to have connected thousands of Nigerians with legal professionals by the end of 2022."
---
This Month is dedicated to the Justice Issue: SMEs, entrepreneurs & employment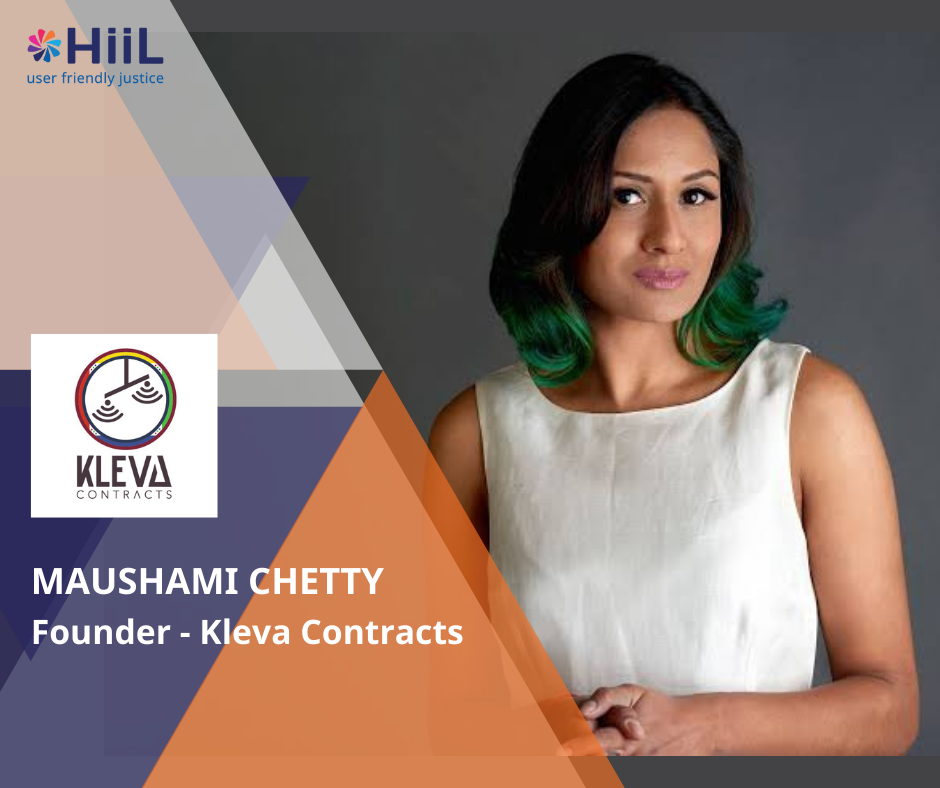 Meet Maushami Chetty, Founder of Kleva Contracts
Kleva Contracts works with employers and entrepreneurs of small and medium-sized enterprises to simplify their startup procedures. They tackle this unique justice-related issue by providing online contract creation, access to legal services, and educational materials in multiple South African languages. The result: increasing access to legal services and facilitating more efficient and sustainable practices that encourage employment.
We interviewed Maushami Chetty, the Founder of Kleva Contracts to learn more about her justice innovation towards democratising the legal procedures for SMEs and promoting a successful startup culture across Southern Africa.
How did your entrepreneurial story start?
"I'm an attorney with 15 years experience and particularly love working with entrepreneurs and start-ups. I love the energy of new beginnings and the promise of big dreams and impact. I enjoy bringing risk management and security to these big dreams. Kleva Contracts began as an idea in 2017 but started in 2019."
Why did you choose to solve this specific justice issue?
"I work with entrepreneurs in my consulting business and realized how other small businesses could not afford risk management themselves and did not see the added-value that law can bring in building a resilient business, especially considering their limited resources. I wanted to have a true impact on these small and medium businesses and found the only way is to use digital platforms to scale and reach more ventures."
What impact do you hope to achieve and what's next for you?
« We are working on key partnerships. In particular, a big challenge for us is expanding internet access especially outside larger cities and towns. But we are committed to solving this challenge through partnerships. And with help from HiiL's network we have been widening and broadening our own network, which is something we find invaluable and a stepping stone towards the partnerships we want to see through to make the largest impact. For now, a key goal of ours is to reduce the 80% failure rate among SMEs in their first three years. »
Meet Zhukov Mykyta and Oleh Horlachov, Co-Founders of Legal Design
Legal design is a platform that assists people to understand household contract conclusions without the need for lawyers' contribution and offers access to user-friendly legal documents that are easily interpreted by all users.
We interviewed Zhukov Mykyta and Oleh Horlachov to tell us more about their justice innovation and what they hope to achieve next.
How did your entrepreneurial story start?
"We started working on this project in April 2021. In the beginning, we only wanted to simplify the legal world to the end-user and through time we decided to transform the modern legal theory to comprehensible legal documents easily perceived by users without a need for professional lawyers."
Why did you choose to solve this specific justice issue?
"Both of us are experts in our niche and every day we come across hundreds of people who are victims of ambiguous legal documents. Together we saw an opportunity to make their lives better through legal design."
What impact do you hope to achieve and what's next for you?
"In general, we hope to automate legal design contracts. We want to create bots and design contractual templates accessible to all our users, a click away on their smartphones.
Our main goal is to replace ambiguous legal documents with comprehensible ones for everyone to use without having to resort to legal counsel. We also try to popularize our activities and gain exposure in the media as well as get the appropriate mentoring and financial support for the development and automation of our products."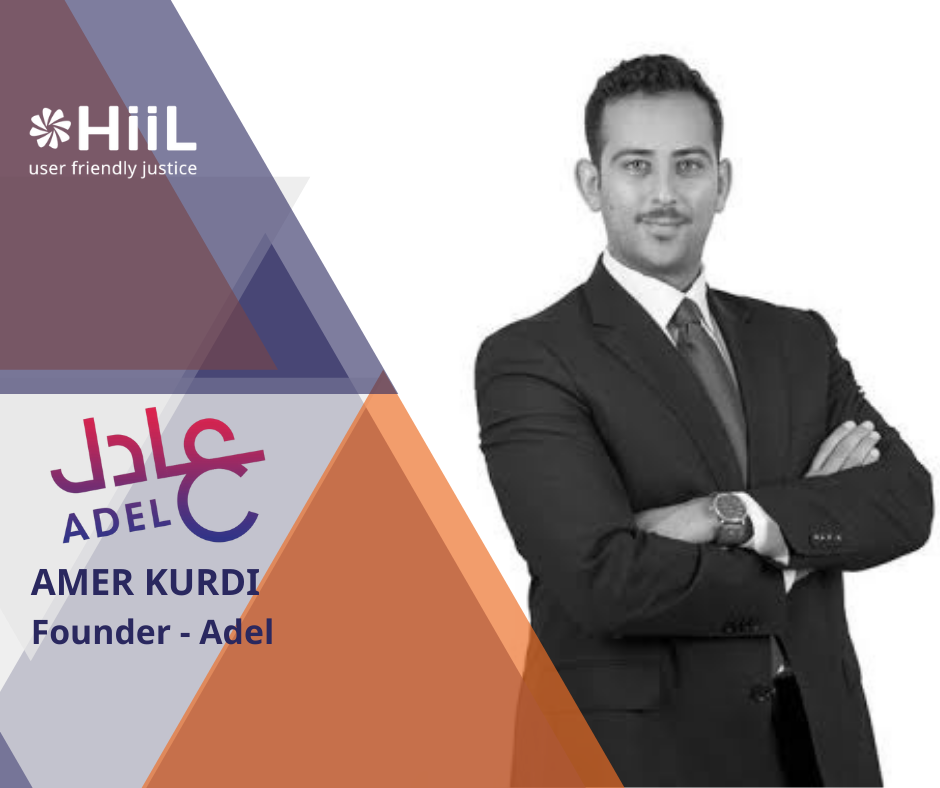 Meet Amer Kurdii, Founder of Adel
Adel enables employees experiencing difficulties from injustice at work to access our legally automated platform to check their employment compensations and connect them with experienced attorneys.
We interviewed Amer Kurdi and asked him to tell us more about his justice innovation towards employment rights.
How did your entrepreneurial story start?
"In the past six years of my service as an attorney to facilitate efficient, productive interviews with my clients, I have developed a series of questions related to building their employment claim; through time, this list of questions developed and enabled me to automate it and make it accessible to thousands of employees who demand instant help, to self-assist themselves and know their rights."
Why did you choose to solve this specific justice issue?
"I choose to work on this specific justice issue for many reasons. Amongst many, firstly, it's important to notice that employment laws offer excellent protection and compensation against the violation of employment rights, however, 80% of the employees in MENA are deprived of those rights because they simply are not aware of them. Secondly, this falls right in my expertise. I always wanted to innovate and incorporate technology and law given the immense impact and the vast outreach. Finally, I wanted to disrupt the employment sector by helping those in need by levelling the playing field between employees and employers through legal technology."
What impact do you hope to achieve and what's next for you?
"Our next steps are to refine the claim checker to make it even more user friendly and free of legal jargon, as well as finalize the process of partnering with the lawyers required to provide legal services, and split our business model to contain a free version of the claim checker the advanced version to be paid.
We also want to expand in the MENA region and localize the claim checker to the employment laws of at least 5 countries and decrease the percentage of Labour deprived of their fundamental rights in MENA.
Hill's support is empowering us. We're looking forward to continuing working with dedicated entrepreneurs and building on the connections and knowledge from Hill's vast network of mentors and experts in the field."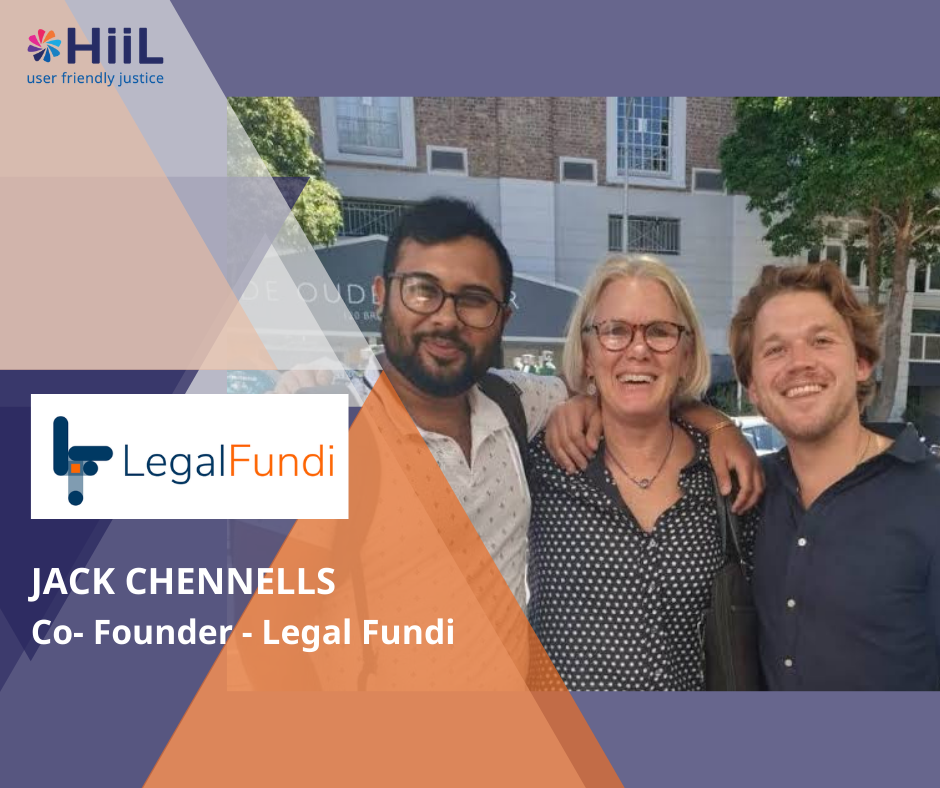 Meet the co-founders of Legal Fundi
Legal Fundi provides free legal assistance whilst simultaneously providing low-cost legal services to those who we believe need it most: SMEs.
We interviewed Jack Chennells, co-founder of Legal Fundi and asked him to tell us more about his innovation.
How did your entrepreneurial story start?
« Legal Fundi was born when our Chief Legal Expert, Colleen, South Africa's Paralegal Manual author and I partnered. We brought together the legal business processes I had developed with their underlying technology and sat down first with the community to validate the service.
Throughout our journey, we have been able to bring the cost of SME legalities down by 85% without compromising the crucial role legal practitioners play within the sector and its advancement. « 
Why did you choose to solve this specific justice issue?
« Since I'm an entrepreneur myself, I understand the pain associated with legal understanding and services and how expensive these services are. According to SME South Africa, 78% of startups indicated that they required assistance in understanding law and regulations and 92% said that it was not affordable. We believe innovation plays a huge role in using, understanding and sourcing legal solutions.
With over 250 thousand SMEs within South Africa, the market at large is open for inclusion. The market is composed of businesses that are under 5 years which makes up 86% of the SME market. 61% of these companies stated that their biggest challenge was the lack of guidance on the legal aspect of their business. »
What impact do you hope to achieve and what's next for you?
« There is no doubt the role SMEs play to develop & uplift the community and diversify, as well as strengthen the economy. Through our services, technology and access to information, we aim to empower, support and sustain the success of SMEs within Africa.
We want to grow our team in the next phase and raise investment to expand our services & technology to support more SMEs on their way to growth. »
---
The innovators dedicated to the Justice Issue: Housing/Land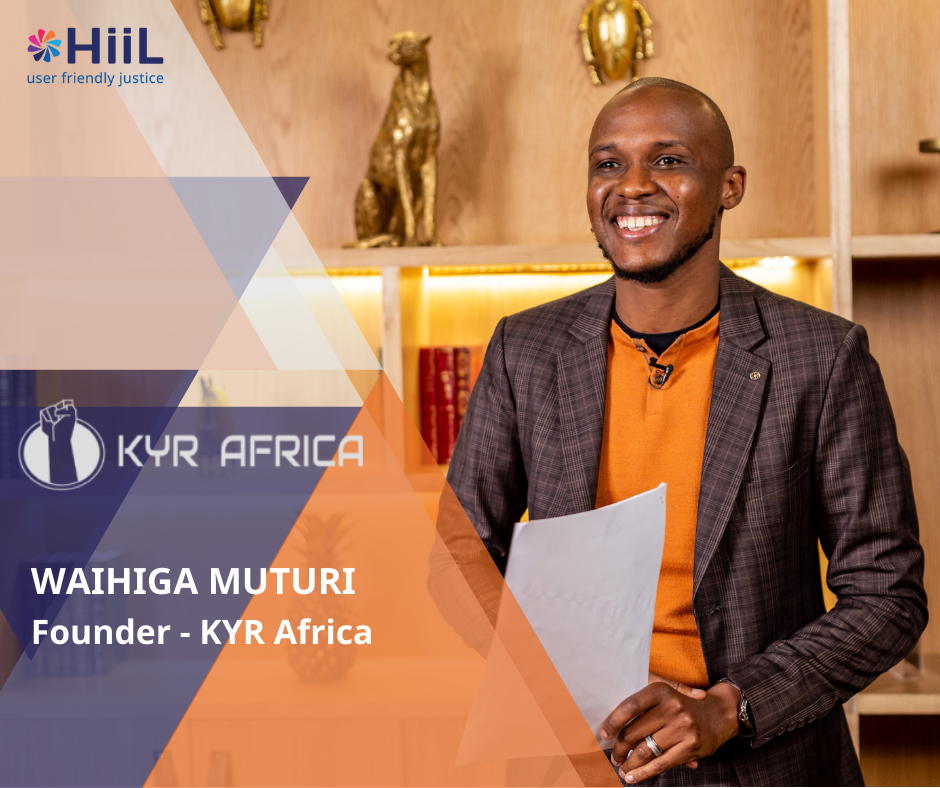 Meet Waihiga Muturi, Founder of KYR Africa.
KYR (Know Your Rights) Africa is a platform providing access to user-friendly, affordable justice education and advice on individuals freedoms and rights via Mobile (Call, Text), Social media
We interviewed Waihiga and asked him to tell us more about his justice innovation towards rights & legal transparency
How did your entrepreneurial story start?
"My story started back in 2002 when my dad passed away and I watched as some of my relatives take away my dad's property by force and back in 2007/08, my friends and I experienced a lot of injustices within our suburb location that we were unable to and didn't even know how to seek appropriate justice resolutions for. This incident planted a seed that matured 13 years later when the community and my close friends amidst the Covid-19 pandemic would go to me for solutions to their various justice issues.
As a serial social entrepreneur, I am always interested in working with people building businesses that are building Africa (ensuring last-mile impact). If you are looking for a like-minded individual to work with, then Let's Create Africa – reach out to me."
Why did you choose to solve this specific justice issue?
"Justice access and education is an opportunity to not only empower citizens of our African continent within their respective countries but to also ensure public access to information whilst protecting fundamental freedoms in accordance with national legislation and international agreements. This is also in line with one of the SDG 16 goals."
What impact do you hope to achieve and what's next for you?
"Majority of Africans have in the recent past been denied access to information and thus have for long been excluded from decision-making processes in public affairs. In 5 years we want KYR Africa to be a one-stop platform for citizens who seek legal information and legal help to foster their individual freedoms and rights to transparency in personal decision-making. I find justice innovation to be a bottomless pit to sort out infinite human struggles. This is great because the impact brought about by justice solutions is a reminder of humanity. I simply LOVE the chance to be human!!
In the next year, we hope to achieve the following:
Get into 5 more countries in different regions of Africa,
Serve a total of 1,000,000 Africans through our combined platforms on Mobile (Call, Text), Social media (YouTube, Podcast) and Website (Q&A Forum, Chatbot)
Provide access to timely and accurate information that provides individuals with the knowledge required to participate effectively in the democratic processes in any democratic society.
Ensure access to legal resources (consultation, counsel, documentation) & information law fostering legal understanding to openness and transparency in personal decision-making.
We are enthusiastic that we are a part of HiiL, as we have access to funding and hope to benefit from the network and masterclasses that shall support the sustainable development of our business model and multiply our impact."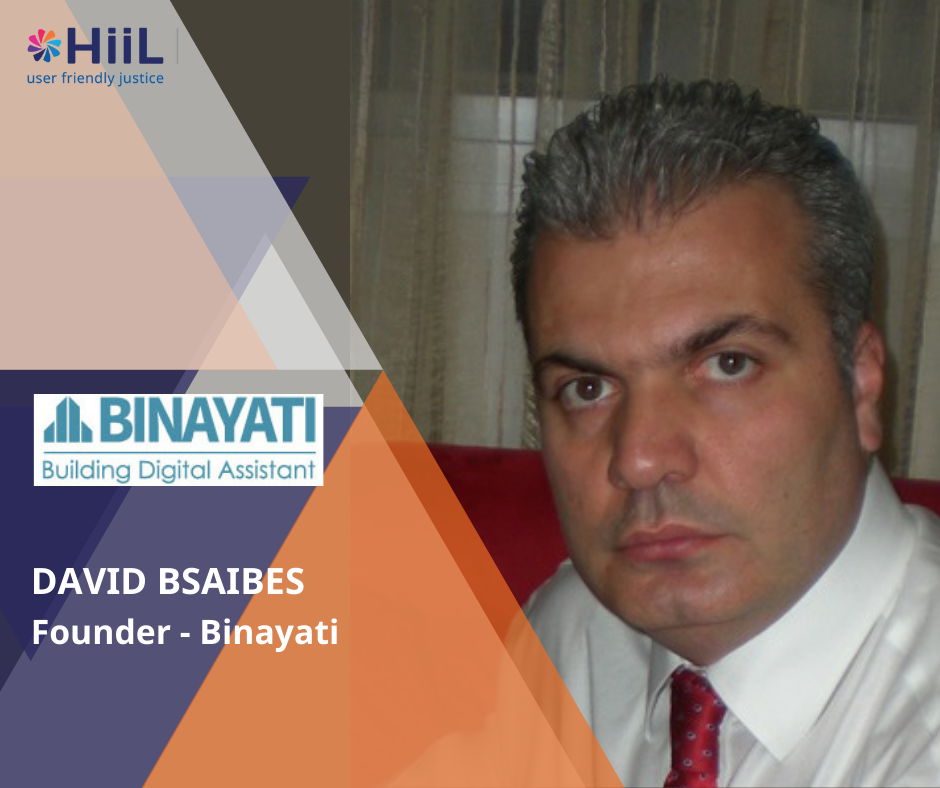 Meet David Bsaibes, Founder of Binayati
Binayati is an accounting and communication solution allowing tenants of a building to have access to financial and legal information related to the building.
We interviewed David and asked him to tell us more about his justice innovation.
How did your entrepreneurial story start?
« It all started back in 2016 when I moved to a new building that I was managing. To make life easier, I started to build micro tools to help me manage the building. It simply started by automating emails and text messages and later, we created a webpage to publish the records and details. In April 2018, I found these micro tools I created to be very useful for me and could become a handy solution for managing buildings. So, in June 2018, I finally launched the first version of Binayati. »
Why did you choose to solve this specific justice issue?
« I didn't really choose it, the issue chose me. I was creating these tiny tools with the intention to decrease the time spent in managing the building but they proved to be very efficient to prepare financial reports and also prevent conflicts between me and tenants, as well as the tenants with each other. Everything is properly managed, transparent and automated. »
What impact do you hope to achieve and what's next for you?
« Being a part of HiiL and its network enables us to scale our solution to the MENA region, which is a step we're prepared and want to take. We are also innovating new features in Binayati to cater to various businesses in the MENA region. Our main vision is to decrease unnecessary conflicts between tenants caused by unawareness and inaccessibility of basic laws, as well as the lack of transparency and communication. »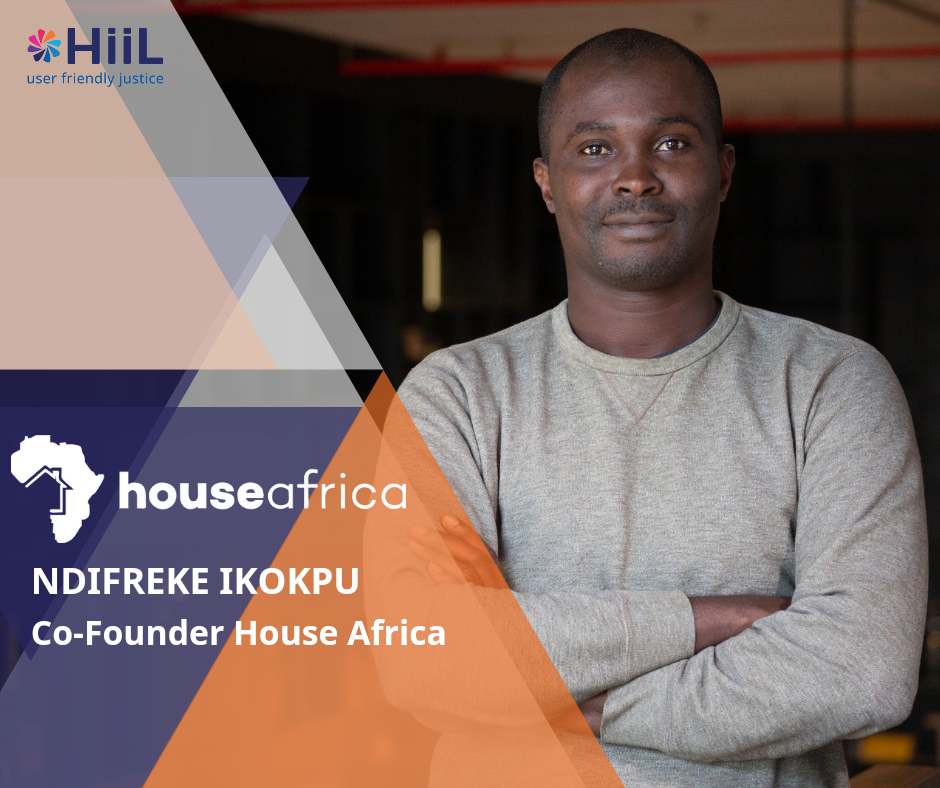 Meet Ndifreke Ikokpu, Founder of House Africa.
House Africa is a platform that helps financial institutions and individuals validate properties prior to investment or purchase and hence, helps in mitigating fraud, reducing risk, and increasing access to credit in the real estate market.
We interviewed Ndifreke and asked him to tell us more about his justice innovation towards secure housing and property investment.
How did your entrepreneurial story start?
« We launched the startup in 2019 but the story started in 2017 when I lost USD18k to Land Fraud. During my crisis, I realised I am one of many Nigerians who suffered from similar fraud experiences.
Together with my co-founder, we started getting creative and trying to solve these property fraud issues by making verification easy and accessible to anyone before deciding to purchase or invest in real estate. »
Why did you choose to solve this specific justice issue?
« It affects me personally and touches the lives of so many other people, as well as, Landbuyers, Homebuyers and banks who finance individuals through mortgages to buy real estate. Naturally, the economic repercussions of the crisis are huge. »
What impact do you hope to achieve and what's next for you?
« Through our startup and verification, we want to unlock $900B dead capital in real estate as a result of unverifiable properties in Nigeria alone. We have launched Sytemap to acquire property data when real estate developers list their properties, activate mortgages or partner with other mortgage providers.
Now that we are a part of HiiL, we are looking forward to the mentorship sessions and accessing HiiL's wider network, which we believe will eventually connect us with key people who can support our mission: to facilitate convenient, secure, fast, transparent and affordable property transactions using technology. »
---
Further Reading:
Further reading
---