Each year, HiiL welcomes a selected number of startups to compete in the annual Innovating Justice Challenge. This flagship programme of our Global Justice Accelerator culminated with Demo Day on 16 February 2022.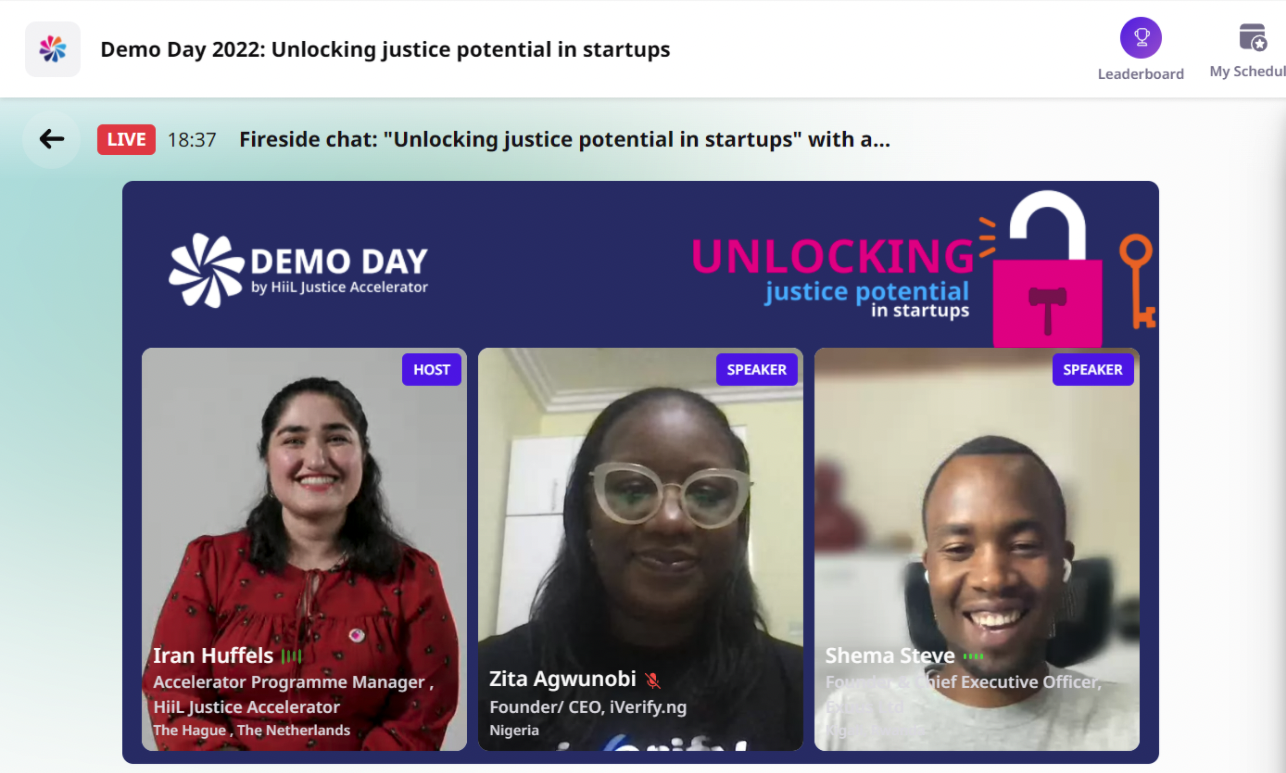 Sixteen startups representing seven countries from Africa, the Middle East and Europe took part in this year's edition. They pitched their game-changing justice innovations to a panel of judges in a bid to win the top three cash prizes of €20,000, €10,000 and €5,000.
This year's top prize went to THR Media, a social enterprise using new media and technology solutions to help women and girls break free, find shelter and recover from Sexual and Gender-Based Violence. They wowed the judges with their justice innovation addressing « a real and present danger of our times. » Second and third place went to Civitas (Tunisia) and Legal Ascend (South Africa). They were awarded €10,000 and €5,000, respectively.
👏 Congratulations to THR Media, who just won the Innovating Justice Challenge and a cash prize of €20,000 👏 They wowed us and the judges today during #DemoDay2022, presenting their justice innovation addressing "a real and present danger of our times." #SGBV

— HiiL (@InnoJustice) February 16, 2022
Demo Day 2022 was organised virtually for the second time due to the pandemic. More than 300 people tuned in globally including justice sector practitioners, innovators, and civil society representatives.
In addition to the three winners above, this year's startups included:
« The innovations participating in Demo Day are ambitious and thoughtful, » said Nadine Hafez, Justice Accelerator Project Officer. « They are managed by tech-savvy entrepreneurs with a fierce commitment to promoting access to justice. »
Demo Day marked the end of the 2021 Innovating Justice Challenge but also the start of our 2022 programme. Beginning today until March 31, the Global Justice Accelerator is accepting applications from the next generation of justice innovators. For the next month, HiiL will be on the lookout for the new generation of Gamechangers from East Africa, West Africa and MENA. Once selected, the startups will go through a 4-month long training programme culminating in the next Demo Day in February 2023.

Related Posts
---