Investing in a new vision of justice startups!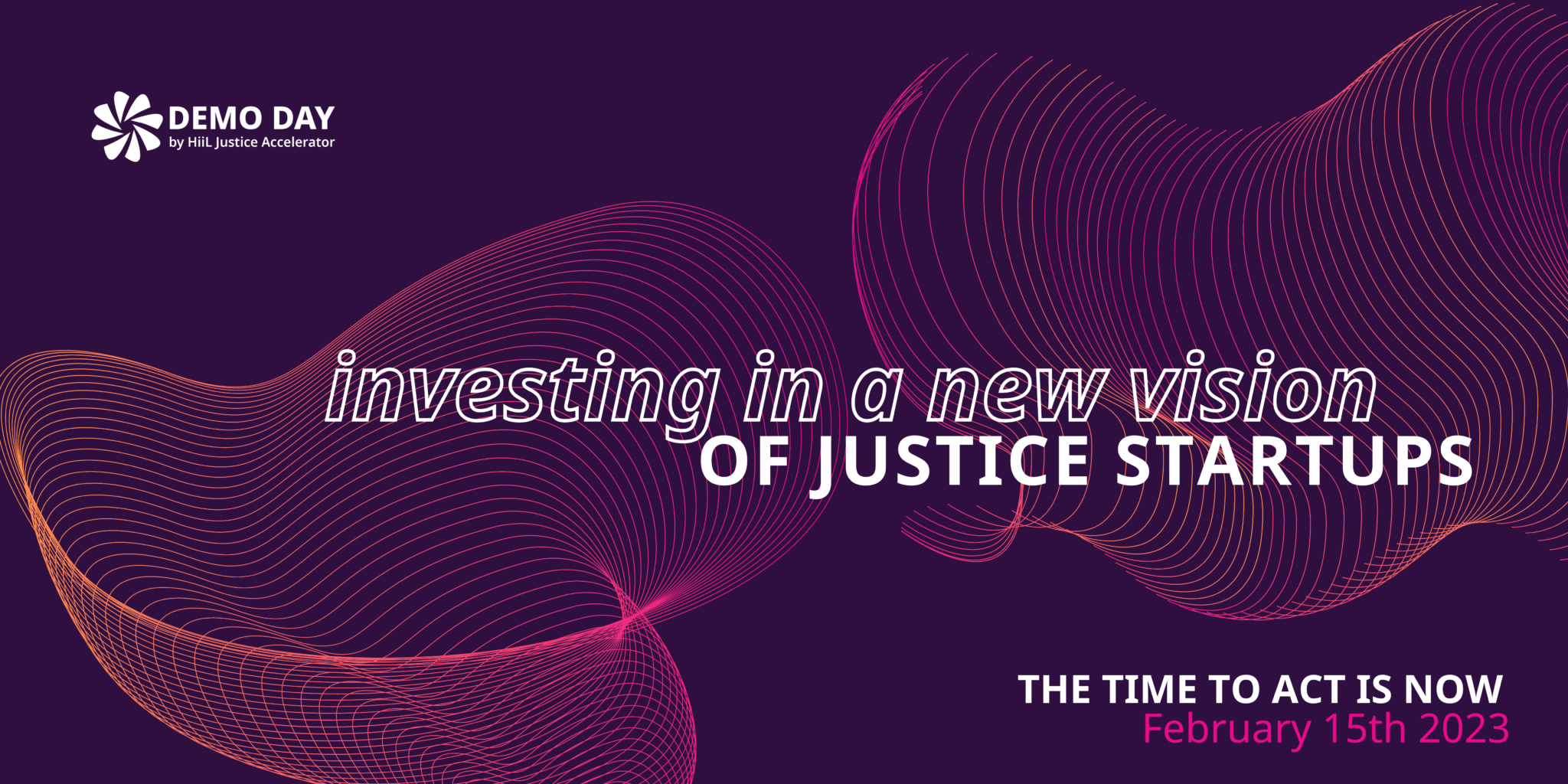 What kind of future do you envision for justice? How can justice work for people? What role do innovators and entrepreneurs play in making people-centred justice a reality?
On February 15, 2023, 12 justice innovators from Lebanon, Tunisia, Nigeria, Rwanda and Kenya will showcase their innovative solutions for increasing access to justice. Demo Day is the capstone event of our annual Innovating Justice Challenge.
A three-panel jury consisting of South Africa's Jackie Nagtegaal, CEO of LAW FOR ALL, Kenya's Duncan Onyango, Executive Chairman of KIFFWA, and Lebanon's Joseph Naayem, Partner at Contrast Capital will select the top 3 winners of the 2023 Innovating Justice Award. The winners will receive €20,000, €10,000 & €5,000, respectively. 
Join us online on Demo Day as we celebrate the leadership of these 12 justice startups in the movement towards people-centred justice. 
The event takes place 16:00 – 17:30 EAT, and is open to everyone
HiiL's Justice Accelerator programme is the only startup incubator dedicated to improving access to justice. "An innovative and scalable business model is essential to successfully making an impact," said Iran Huffels, Accelerator Programme Manager. "These startups go beyond SDG 16 in promoting inclusive societies and providing access to justice for all. Their impact is far greater. For example, in making people-centred justice possible, they reduce inequality (SDG 10), contribute to fair employment and economic growth (SDG 8), and facilitate people's access to services and safety toward building sustainable cities and communities (SDG 11)," said Iran.
These startups go beyond SDG 16 in promoting inclusive societies and providing access to justice for all. Their impact is far greater.
Demo Day will also highlight our ideation and incubation programmes delivered by our hubs in Tunis, Nairobi and Lagos. It will also feature the bespoke scaling programme for ready-to-scale startups, as well as the recently launched Innovating Justice Fund.
HiiL's mission is to help 150 million people prevent or resolve their most pressing justice problems by 2030. We believe that people-centred justice solutions and programming are the only way forward. 
Driven by data and evidence, we identify and support best practices and champion getting what works to the hands of the people. To make this happen, we collaborate with a variety of stakeholders, including justice practitioners, regulatory bodies, funders and innovators to build an environment where scalable and game-changing interventions can thrive. It is our commitment to the financial sustainability potential of these interventions that drives our support to justice startups in the Justice Accelerator programme. Startups are a key driver in closing the justice gap. They come up with breakthrough ideas and implement them in ways that large businesses or institutions often can't. 
We believe in a new vision of justice and we invite you to join us!
---
About the HiiL Justice Accelerator:
To close the justice gap, we need to do more than improve the current justice system. We need to innovate and bring new services to scale that can prevent or resolve justice problems for everybody. Startups are a key driver in this transformation of the justice sector. They can devise breakthrough ideas that large businesses or institutions often can't.
That's why we run our annual global Justice Accelerator, the only startup programme and innovation ecosystem builder in the world dedicated entirely to access to justice. The programme funds, trains and coaches a cohort of justice startups. During the 5-month long programme, we provide:
€10,000 non-equity funding
Workshops delivered by industry specialists on a variety of topics from impact measurement to marketing, commercial strategy and financial modelling
A dedicated coach and a network of expert mentors
Access to a HiiL's global network of justice stakeholders and practitioners, as well as top-notch research and development
International exposure and potential investment opportunities
Chance to win up to €20,000 at Demo Day
To date, we have supported over 150 startups so far!
Further reading
---