L'Accélérateur de justice est le programme d'innovation phare du HiiL qui finance, forme et développe chaque année une cohorte mondiale de start-up juridiques. Depuis 2011, nous avons soutenu plus de 110 start-up dans le monde entier.
Par le biais de notre programme Accélérateur annuel – l'Innovation Justice Challenge – nous recherchons des entreprises innovantes qui visent à :
prévenir ou résoudre les problèmes juridiques urgents ;
se concentrer sur les personnes et sur l'utilisateur plutôt que sur le système ;
s'adresser à des millions de personnes.
Vous voulez transformer votre innovation en matière de justice révolutionnaire en une entreprise percutante ? Alors le programme Accélérateur de justice du HiiL est là pour vous.
Le programme Accélérateur de justice est un programme de 4 mois qui offre aux start-up :
Formation, apprentissage par les pairs, coaching et mentorat
10 000 EUR de financement autre qu'en capital
Accès à un réseau mondial d'institutions judiciaires, d'investisseurs d'impact, d'organisations de technologie juridique et d'universitaires
Possibilités d'investissement
Visibilité internationale
Nous sommes l'unique accélérateur au monde entièrement consacré à la justice et à l'ODD16
Nous accélérons les start-up qui témoignent d'un bel élan, possèdent une équipe solide et peuvent évoluer pour toucher des milliers et des millions de personnes
Nous avons des pôles régionaux en Afrique de l'Est, en Afrique de l'Ouest, en Afrique australe, dans la région ANMO et en Ukraine
Nous collaborons avec des organisations de premier plan (Justice Leadership Group, The Elders et le Groupe de travail sur la justice) et des gouvernements internationaux
Nous avons soutenu plus de 110 start-up juridiques dans le monde depuis 2011
Vous voulez participer au programme Accélérateur de justice ?
Posez votre candidature pour l'Innovating Justice Challenge 2021 entre le 15 mars et le 30 avril 2021.
Processus de sélection et d'accélération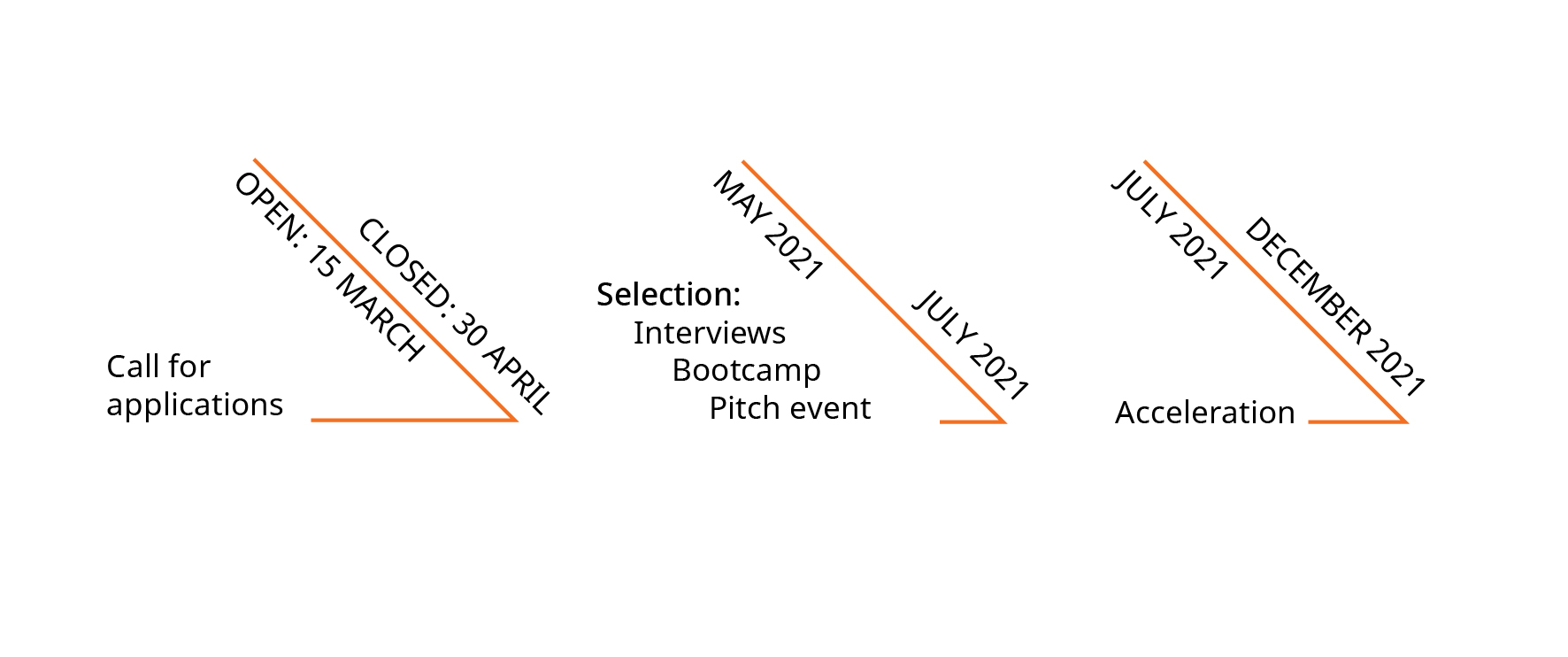 If you have any specific questions regarding your region, please contact your Justice Accelerator Hub: West Africa ( Odun Longe) , East Africa (Eric Mwangi Kariuki), Southern Africa (Themba Mahleka and Adam Oxford ), MENA (Emna Sayadi) and Ukraine (Dmitry Foremnyi). 
For general questions about the Justice Accelerator, please email the Accelerator Programme Manager, Iran Huffels at iran.huffels@hiil.org.
The portfolio of startups we have supported:
The cohorts we supported per year
Do you have any questions regarding the accelerator programme?