Global justice leaders convene for the World Justice Forum 2022
The Hague – Justice leaders, practitioners and innovators from across the world come together for the World Justice Forum from 30 May to 2 June to make people-centred justice happen. This year's annual conference will focus on access to justice, combatting corruption, and protecting equal rights. The conference is organised by the World Justice Project in partnership with HiiL, IDLO, CIVICUS, Pathfinders, and the Ministry of Foreign Affairs of the Netherlands.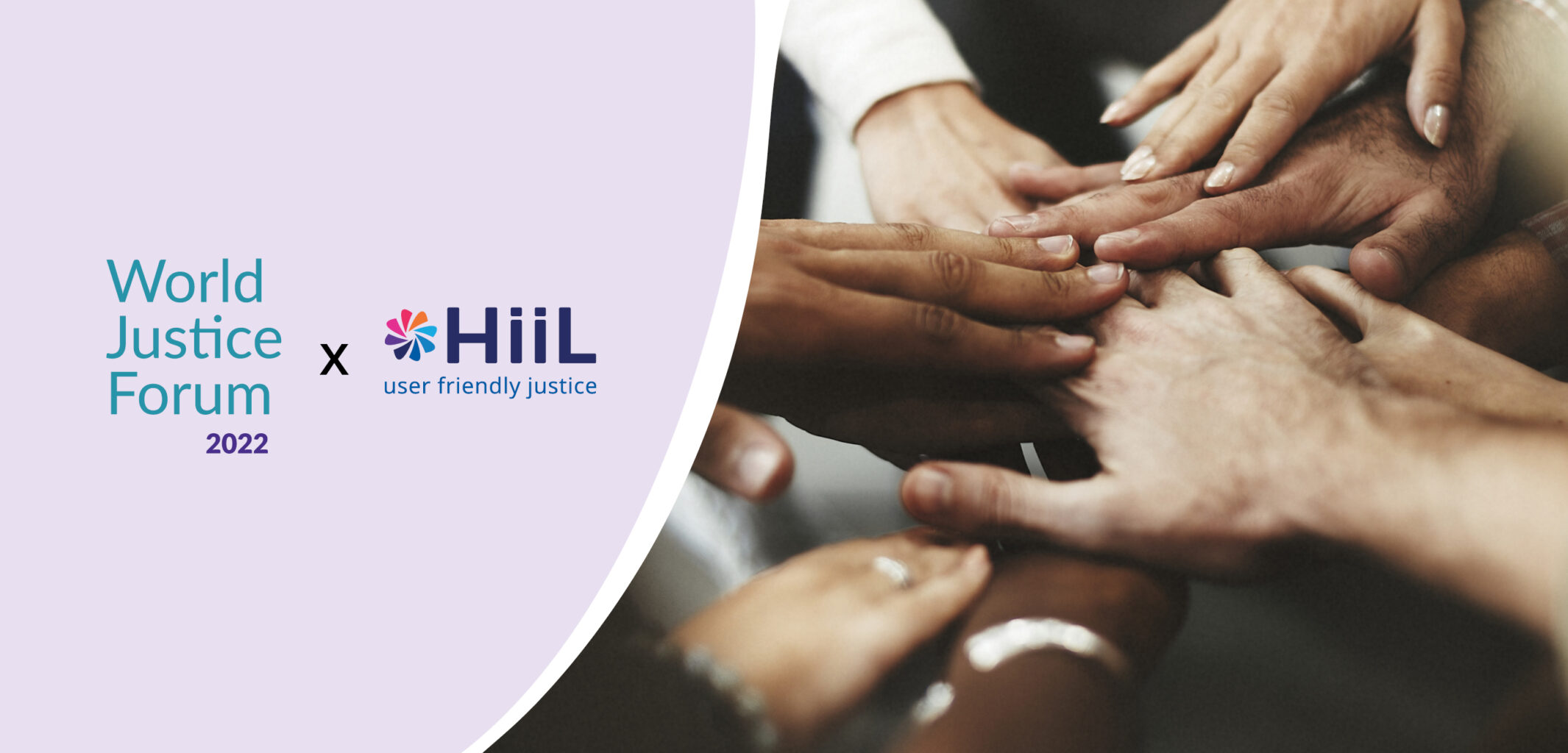 "Access to justice is a Sustainable Development Goal (SDG 16.3) and is on equal footing with global priorities such as addressing climate change or expanding access to healthcare and education," said HiiL's CEO Sam Muller. "Unfortunately, however, justice is the last sector to go through a much-needed transformation. We know that two-thirds of the world's population is facing unresolved problems. It's clear that justice systems are not delivering enough but this conference is proof that a shift towards people-centred justice is underway. We thank the World Justice Project for pulling it together."

The current trust crisis in government institutions and democratic rule of law leads to further polarisation. Add to that the unjust war in Ukraine, the ongoing pandemic, and an economic downturn resulting in more inequality and discontent. We believe that the right approach is to nourish trust and social cohesion through better ways of solving conflict.

In a well-functioning justice system conflicts are resolved, rights can be invoked and violence prevented. People-centred justice is justice that is easy to access, easy to understand, and effective, putting people and the outcomes they need at the centre. This is an emerging approach to creating fair, inclusive, and timely solutions to justice problems. This approach leads to sustainable solutions but also brings impressive social and economic benefits.
The core elements of people-centred justice programming are: data collection on the needs and experiences of people, moving to evidence-based practice, developing gamechanging justice services, creating an enabling environment, and ensuring engagement and accountability. Each of the five elements has been tried and tested in different environments; a people-centred justice programme brings them together.
"This conference is really about making people-centred justice a reality and about the wider movement."
Insights gained from HiiL's various country projects have shown that anchoring people-centred justice projects in a country framework is the best way to make change happen. That is why we are joining forces globally to work on national priorities for people-centred justice in six countries and to reach a 'turning point' in each by 2024. These efforts, along with attracting funding for national people-centred justice programmes in key countries, are integral to closing the justice gap.
The Forum will feature public officials and business leaders from all over the world including UN High Commissioner for Human Rights Michelle Bachelet, Microsoft President Brad Smith, European Commission Vice President Věra Jourová and Chair Mo Ibrahim from the Mo Ibrahim Foundation. HiiL will lead or participate in five sessions:
Justice Needs and Satisfaction Study in the US: Lessons for Moving from Data to Action (Tuesday, 31 May)
People-Centred Justice: How to Make it Happen Systematically? (Wednesday, 1 June)
Creating a Functional Justice Marketplace with Public and Private Sector Engagement (Thursday, 2 June)
Scaling Gamechangers for people-centred justice (Friday, 3 June)
Side event on Customary and Informal Justice and SDG16+ (Friday, 3 June)
Sam Muller will lead the session, "People-centred justice: how to make it happen systematically?" on 1 June. The session will bring together important changemakers from several countries to discuss how national people-centred justice programmes can work on the ground.
The World Justice Forum will also see the launch of the Innovating Justice Fund, a first-of-its-kind financial fund with a unique focus on SDG 16. "To close the Justice Gap, innovation is needed to bring new services to scale that can prevent or resolve justice problems for all," said Ronald Lenz, Director of Justice Accelerator. "Startups with gamechanging business models are a key driver in this transformation of the justice sector."
HiiL's Justice Accelerator has supported 139 startups in the past 10 years, and some of them are growing fast. Many of these successful entrepreneurs connect the public and private sectors to develop innovations that increase access to justice. The 2 June session, "Creating a Functional Justice Marketplace" will explore what marketplace is required for gamechanging justice services to scale.
"This conference is really about making people-centred justice a reality and about the wider movement," said Sam Muller. "HiiL is part of that movement, and joining forces with the World Justice Project, along with our co-partners, enables us to achieve greater impact and make people-centred justice happen at a bigger scale."
Now is the time to make people-centred justice a reality. Visit the World Justice Forum website for more details and information about the conference.
~~~
For media inquiries please contact:
Senior Communications & PR Advisor
T: +31 (0)6 -24 28 94 91
---