Stakeholders exchanged best practices and insights on effective justice delivery, while discussing what is working and what challenges remain. The Justice Dialogue, an expert-led webinar, served as a pre-event to HiiL's upcoming World Justice Forum in May 2022.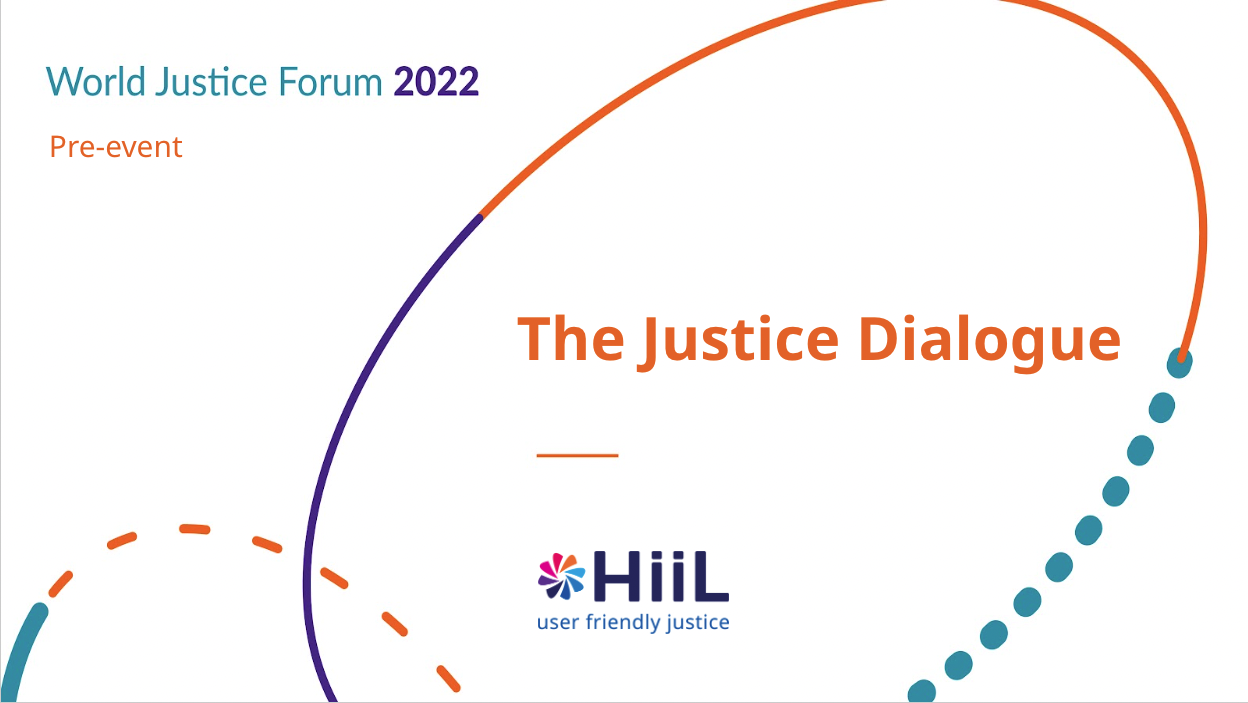 There are four core elements to a people-centred justice approach. First is the need to collect data on the justice needs. Second, apply the best practices on 'what works'. Third, open up to innovations to scale and create game-changing solutions. And finally, justice sector professionals must create an enabling environment and nurture private-public partnerships that get results.
But how do we realise these four core values of people-centred justice? High-level stakeholders from across the justice spectrum from Nigeria, Kenya, Uganda, the USA and the Netherlands gathered to address this question, among others. The short answer: prioritising data, resources, knowledge, and establishing the right incentives that build trust and cooperation.
"The first major enabler towards people-centred justice is having conversations like these and getting all our perspectives together on the table," said Sam Muller, CEO at HiiL. "And making the case starts with data, data, data." The Justice Dialogue was organised under Chatham House Rules.
Make the case
If you want to make it work, you have to make the case. The discussants unanimously agreed that a lack of data was "pervasive" and undermining the efforts to enact change. As one participant noted, "more data would enable practitioners to focus on the right issues". Justice Needs & Satisfaction (JNS) studies conducted by HiiL provide much of these insights for policymakers. To date, HiiL has conducted JNS surveys in 16 countries. It's estimated that 1 billion people face a new and serious conflict each year. However, making the case also involves living the experience. For example, taking a minister or parliamentarian along the justice journey of an average citizen where one may realise the burdensome, frustrating, and even outrageous hurdles to achieve justice.
"We need to make sure we are spending time on things that people actually need and directing services towards those goals."
Convene the right stakeholders
"This is a massive change management project," said one participant. At its core, delivering justice involves interactions between people who commit themselves to make people-first choices. Bringing the right people together is the first step toward developing an enabling environment that nurtures game-changing justice innovations. Discussants identified several enablers and impediments to making the case for people-centred justice.
Time, resources, knowledge, trust and funding are the five critical elements which can both serve as an enabler or impediments to realising people-centred justice. The conversations at the Justice Dialogue tested this rationale and set a stage for sharing lessons and best practices across a diverse group of stakeholders. As for groups which must come together if people-centred justice is to be realised, these include users (public and communities), justice practitioners within the system (judges and lawyers), justice champions (innovators and civil society organisations), and representatives from other sectors (academia, policymakers, and government officials).
Create an enabling environment
Data and stakeholder engagement can direct conversations on the parameters of risk because, as one participant commented, "the risk of doing nothing is greater than taking action." These conversations serve to create an environment where trust, incentives, and outcome indicators lead to positive change.
Concluding remarks
The Justice Dialogue will inform a Plenary Session titled "People-centred justice: how to make it happen systematically?" led by HiiL at the World Justice Forum. A select group of stakeholders from the Justice Dialogue will attend the World Justice Forum.
Attend the World Justice Forum in The Hague or Online
World Justice Forum 2022: Building More Just Communities is the premier international event for the rule of law. Join HiiL, the World Justice Project, its partners, and hundreds of changemakers from around the globe in The Hague or online, May 30 – June 2, 2022.  The Forum will offer three days of learning, agenda-setting and action to ensure a just recovery from COVID-19 and renewed progress on the Sustainable Development Goals. Register now.
Further reading
---