Stakeholders from Uganda, Kenya, Nigeria, the Netherlands and the USA exchanged best practices and challenges on realising people-centred justice at a Justice Dialogue that took place on Wednesday, 20 April. The participants all work at the forefront of applying people-centred justice approaches.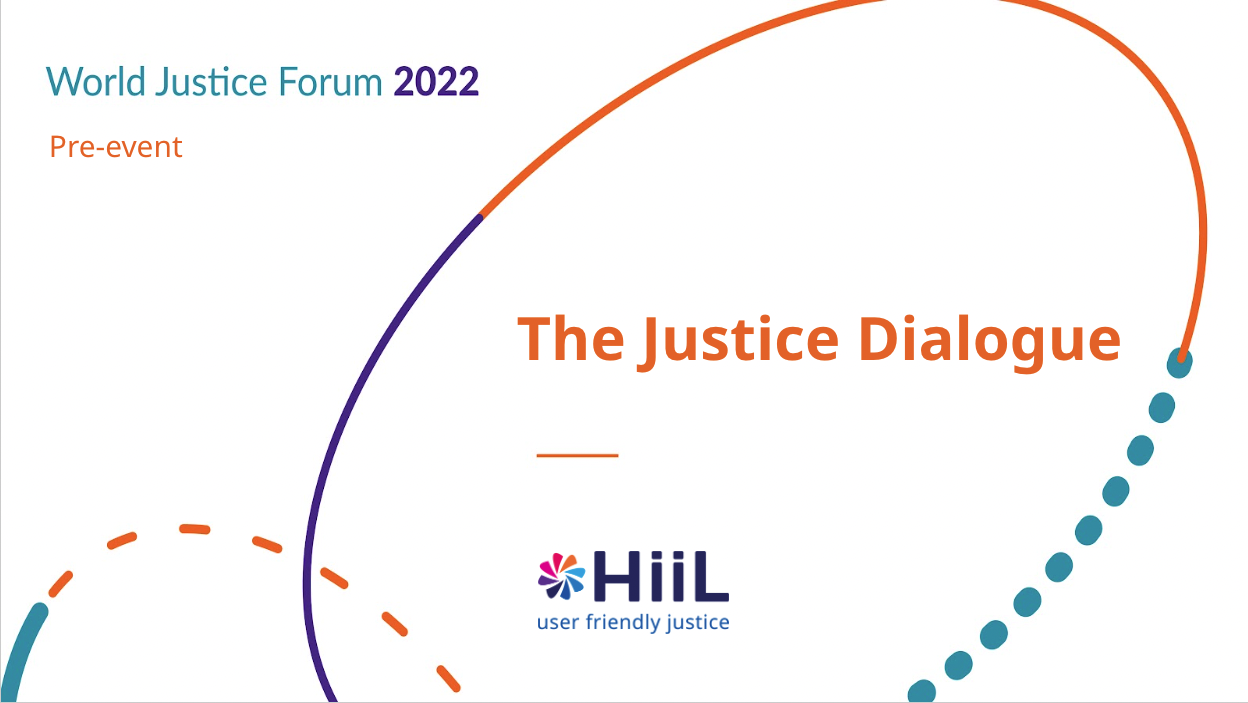 "The Justice Dialogue sought to better understand how the justice sector can make the transformation to people-centred justice programming, a way of working that puts people and the outcomes they need at the centre, not institutions."
The timing of the Dialogue could not be more pertinent. While the conversation was organised as a precursor to HiiL's plenary at the upcoming World Justice Forum, it also brought together the much-needed perspective on some of the critical components needed to bridge the access to justice gap.
To throw further light on the challenge, we see the demands for access to justice growing across different parts of the world. People and SMEs are demanding that governments deliver justice more effectively. There is a promise in SDG16 for equal access to justice for all. Constitutions in most countries, along with other laws, contain a commitment to access to justice. However, more changes are needed for the justice system to deliver on the promise of equal access to justice for all. Average rates for fair resolution remain in the range of 30% and need to be doubled or tripled.
At the same time, changes are starting to take place. Justice practitioners want to be more effective and contribute more toward people-centred justice. More concretely, five core elements for such an approach are emerging. First is the need to collect data on justice needs. Second, apply best practices on 'what works'. Third, open up to innovations to scale and create game-changing solutions. Fourth, justice sector professionals must create an enabling environment and nurture private-public partnerships that get results. And finally, create accountability to ensure the justice system's shared goals are met.
"People-centred justice programming has five components that, together, keep the focus on getting justice systems to fully fulfil their potential to society and the economy."
The Dialogue was organised to learn more about challenges and impediments to people-centred justice programming and provide input for HiiL's research into these questions. We will build on the inputs from this webinar during a plenary session that HiiL will convene at the World Justice Forum on 1 June. The stakeholders validated the hypothesis presented by HiiL that factors such as time and resources, incentives, knowledge and trust play a fundamental role in creating scale for national people-centred justice programming. Many agreed that these factors are both enablers and impediments – depending on how they are constructed within the policy and social framework of a country.
The Justice Dialogue was organised under Chatham House Rule. The dialogue featured the following participants:

Akingbolahan Adeniran
Partner, Awodi & Co.
Former Attorney General, Ogun State, Nigeria


Maha Jweied
Non-Resident Fellow
Center on International Cooperation, New York University, USA


Paul Kimalu
Director, Planning and Organisational Performance
Judiciary Kenya


Rose Wachuka
Chief of Staff, Office of the Chief Justice of the Republic of Kenya and President of the Supreme Court of Kenya


Jane Adongo
Senior Sociologist
Uganda Law Reforms Commission


Folusho Obienu
Director of Citizens Rights
Ogun State, Nigeria


Justice Khobo
Innovative Justice Reform Judge
Kaduna State, Nigeria


Chinedu Agu
Secretary of Imo State Bar Association,
Imo State, Nigeria


Natalie Anne Knowlton
Director, Special ProjectsInstitute for the Advancement of the American Legal System (IAALS), USA


Gerald Abila
Founder
BarefootLaw, Uganda


Angela Lungati
Executive Director
Ushahidi, Kenya

Odunoluwa Longe
Co-founder
TLP Advisory, Nigeria/UK

Why is 'people-centred justice' a priority:
Stakeholders agreed that investing in PCJ is crucial for a variety of reasons. "People-centred Justice focuses specifically on people's problems and provides alignment towards creating solutions that address these problems."
"When the governments make PCJ a priority, it helps drive investment and promote the growth of the economy," said one participant. This provides an important link between justice and economic progress and a perspective on why PCJ may be necessary to be implemented at scale.
Make the case
Participants at the Dialogue were of the view that making people-centred justice work requires a strong case. "The first major enabler towards people-centred justice programming is having conversations like these and getting all our perspectives together on the table," said Sam Muller, CEO at HiiL, when he opened the session. "And making the case starts with data, data, data."
The discussants unanimously agreed that a lack of data was "pervasive" and undermining the efforts to enact change. As one participant noted, "more data would enable practitioners to focus on the right issues".
However, making the case also involves living the experience. For example, one participant voiced their wishes to take their governor to more places where justice needs emerge and show the exchanges of how people deal with their respective problems. In this way, the governor could witness the justice journey of an average citizen.
"We need to make sure we are spending time on things that people actually need and directing services towards those goals."
Convene the right stakeholders and enable the environment
"This is a massive change management project," said another participant. At its core, delivering justice involves interactions between people who commit themselves to making people-first choices. Scaling people-centred justice is a cross-sectoral work. Bringing the right people together is a large part of the solution. These conversations serve to create an environment where trust, incentives, time and resources and relevant knowledge can enable positive change.
The government's role in this process cannot be undermined either. Their willingness to have the right regulatory framework contributes towards developing an enabling environment that nurtures game-changing justice innovations that can address people's justice problems at scale.
Innovating and implementing
The appetite for innovation is growing across different stakeholders. "Justice practitioners want to be valued and more effective," said Maurits Barendrecht, HiiL's Director of research and development. "Judges, lawyers, prosecutors, social workers, informal justice providers, civil servants, therapists, and mediators are all working within communities to pilot, grow, and improve access to justice."
Indeed, as one participant commented, "the risk of doing nothing is greater than taking action." The Justice Dialogue laid a foundation for continuing the promise of people-centred justice. Looking ahead, discussions on what components and elements support the successful implementation of such an approach will be of utmost importance during the 2022 World Justice Forum (The Hague, 30 May to 3 June 2022). In particular, HiiL will lead a Plenary Session titled "People-centred justice: how to make it happen systematically?" which will feature several stakeholders from the Justice Dialogue among a diverse group of international practitioners all committed to realising user-friendly justice.
Further reading
---