Over 1 million Ugandans who are facing family conflicts are waiting for solutions that can enable them to move on with their lives. Our goal was to develop a practical manual to help people resolve their family conflicts. How did we do?
Practical solutions to help resolve family conflicts
On the 11th and 12th of February, a group of 10 Ugandan experts in the field of family justice gathered in Entebbe. Across Uganda, HiiL has engaged practitioners and users to collect evidence on family conflicts and solutions. Now this group of 10 passionate experts was faced with the difficult task of combining the large amount of knowledge HiiL worked to consolidate into a practical handbook that people can use: The Uganda Family Justice Catalogue. It was clear that there were long days ahead!

Over the past year, over 120 Ugandan practitioners and users from across the country had engaged in focus group discussions to submit and evaluated their best practices from the field. These focus group discussions have been facilitated by HiiL in both rural and urban settings with a wide range of participants. An international research team coordinated by HiiL has developed and executed a methodology to collect and analyze supporting evidence.


Delving into the challenge
The group held a strong sense of purpose and responsibility. Having a group that included police officers, lawyers, justice workers, teachers and researchers, led to many different perspectives being shared and evaluated. While at times there was disagreement, the group was determined to reach consensus on all topics, all details mattered.

The challenge of developing a shared understanding with a diverse group was mitigated by our shared vision of making the best practical handbook possible that will change the lives of families, particularly young children.

The participants agreed that the goal over the next two days was to reach a common understanding. They knew that at times this would not be easy. There are many different ways that people approach resolving a family conflict and what works in some cases may not work well in others. Some important gaps that needed to be addressed emerged through sharing the varied experience in the group, guided by Dr. Richard Asaba and HiiL's family justice research team.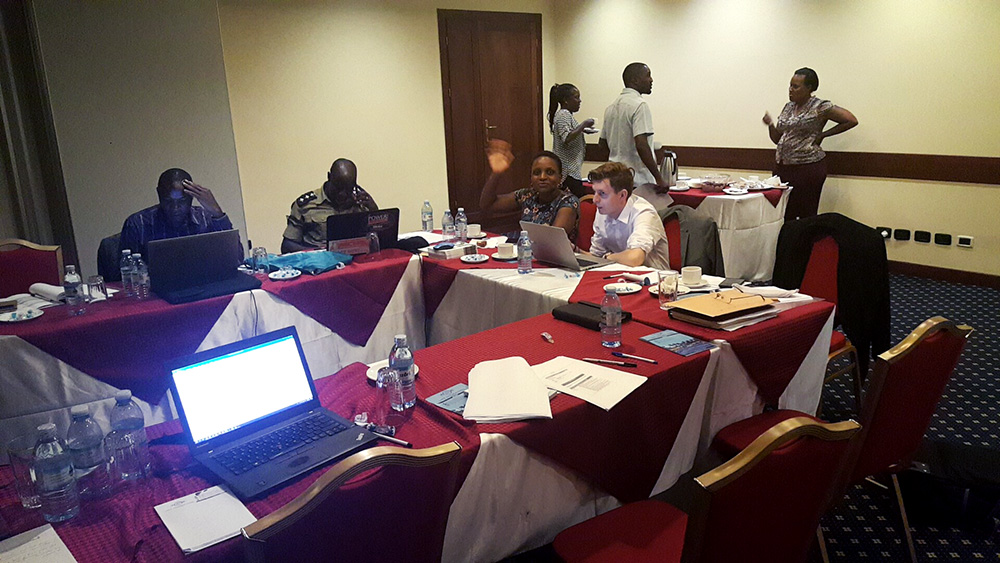 Making the family solutions work
There is a shared understanding that resolving family disputes is all about human relationships. The roles of all practitioners and helpers should be to help family members to agree to new arrangements that help them to manage these relationships in a better way. The group agreed that laws and institutions can be helpful, but they too should be encouraged to follow a problem-solving approach. A few questions were repeated multiple times as the group evaluated the evidence "how will this affect the well-being of each family member?", "Can this work in an urban/rural context?", "Can this work for all users/practitioners?". Local leaders play a pivotal role in resolving family disputes and looking out for the well-being of families in their community. They need to be able to rely on practical solutions they can implement on the ground and this is precisely what the catalogue aims to provide them with.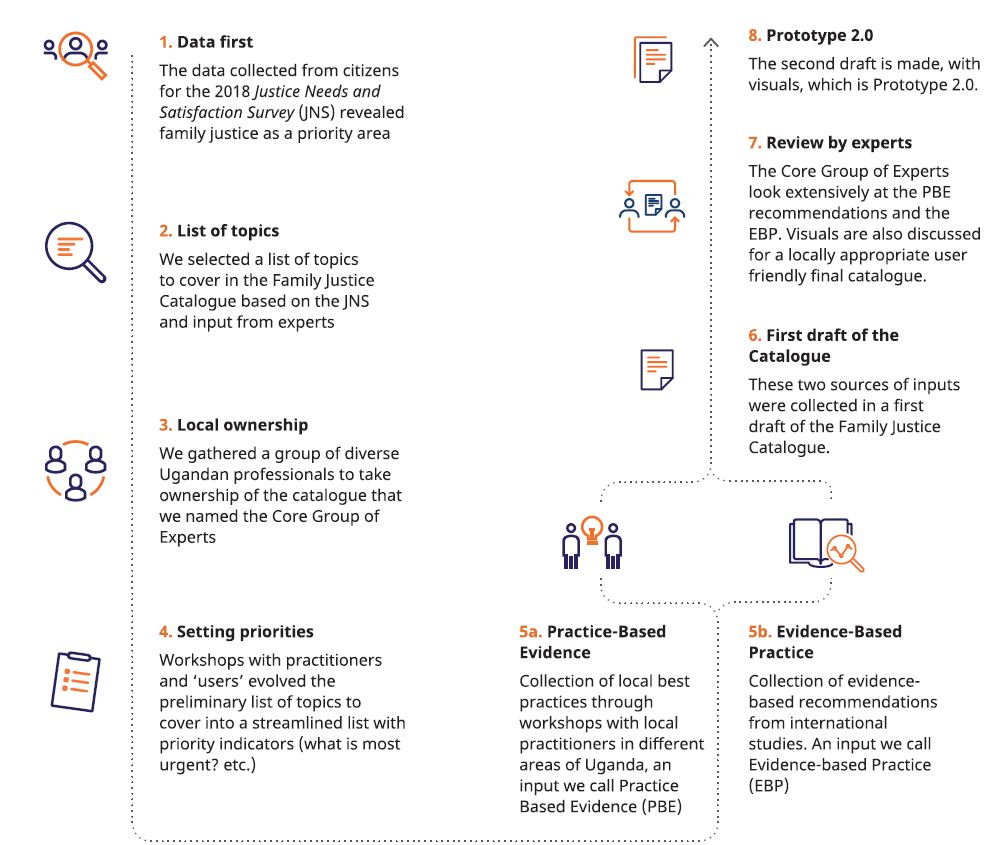 Uganda is ready for the Family Justice Catalogue, and the Catalogue is (almost) ready for Uganda!
After long days of deliberations, the group were triumphant. The group was in agreement with what needed to be changed for the best possible handbook to be presented to Uganda family justice practitioners and their helpers. Different versions of the catalogue will be tested in the coming weeks before it is officially launched and distributed to practitioners and users across Uganda. This process is being implemented by us, JLOS as well as an international group of family justice experts.
Want to be part of the movement? Contact us!

---