2022 was the year in which people-centred justice programming went from 'How To Do It?' to 'Let's Do It!'.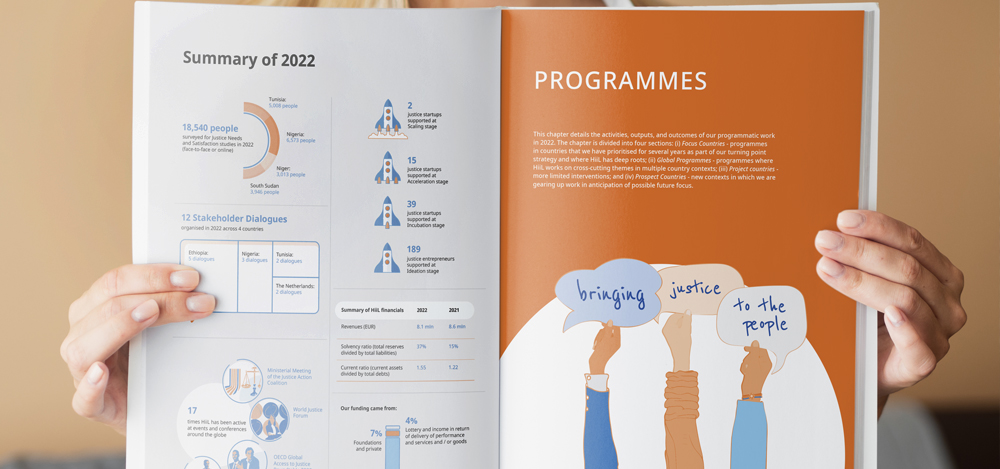 We saw this shift as we worked together with justice practitioners on improving access to justice. In close partnership with the ministries of justice of Niger and Burkina Faso, we completed two new national Justice Needs and Satisfaction surveys. In Nigeria, we worked with Kaduna State's justice leaders to develop and share their commitments to realise innovative, affordable and responsive justice delivery, while in Ogun State, we collaborated with experts to draft Best Practice Guidelines for land and family justice problems. In Tunisia, similar Best Practice Guidelines were drafted to help with employment justice. And together with the City of The Hague, we developed a process to solve neighbour problems. Finally, we supported justice innovation through our Justice Accelerator programme which, in 2022, helped 12 startups scale up towards becoming game-changing initiatives to better prevent or resolve justice problems.
In 2022, HiiL helped drive the international agenda to build more support for the people-centred justice programming approach, bringing together data, evidence-based working, and innovation, as well as building an enabling environment and a movement to support that. We saw (and continue to see) that an increasing number of justice leaders and practitioners were embracing people-centred justice programming and wanted to start developing such programmes. At the same time, we experienced that finding the necessary funding, either from national budgets, development funding, or philanthropy, remains challenging. It is urgent that funders adapt to the huge opportunities that are now on the table to make concrete progress on SDG 16. In 2023, we will continue to focus on building the necessary funding partnerships required.
Related Posts
---