The Innovating Justice Fund
INVESTING FOR ACCESS TO JUSTICE FOR ALL
The Innovating Justice Fund is a first-of- its-kind fund with a unique focus on SDG 16: equal access to justice for all. The Fund provides funding and support to early-stage companies in emerging markets that provide innovative solutions for people-centred justice.
We are currently deploying for our first investments, as we continue to raise additional capital via like-minded mission-oriented investors.
Each year, more than 1 billion people face a serious justice problem. Up to 55% of these problems remain unresolved or are resolved in a way that is felt as unfair. Our current justice systems are unable to deliver equal access to justice for all.
This lack of justice not only causes huge suffering, it also erodes trust and social cohesion, entrenches and exacerbates inequalities, disrupts economic development, and makes societies less resilient. The Covid-19 pandemic and the ensuing economic crisis have further widened the justice gap and further eroded governments' ability to provide justice.
To close the Justice Gap, innovation is needed to bring new services to scale that can prevent or resolve justice problems for everybody. Strengthening and innovating justice systems results directly in stronger economies, and provides opportunities for companies, governments and investors.
Start-ups with game-changing business models are a key driver in this transformation of the justice sector.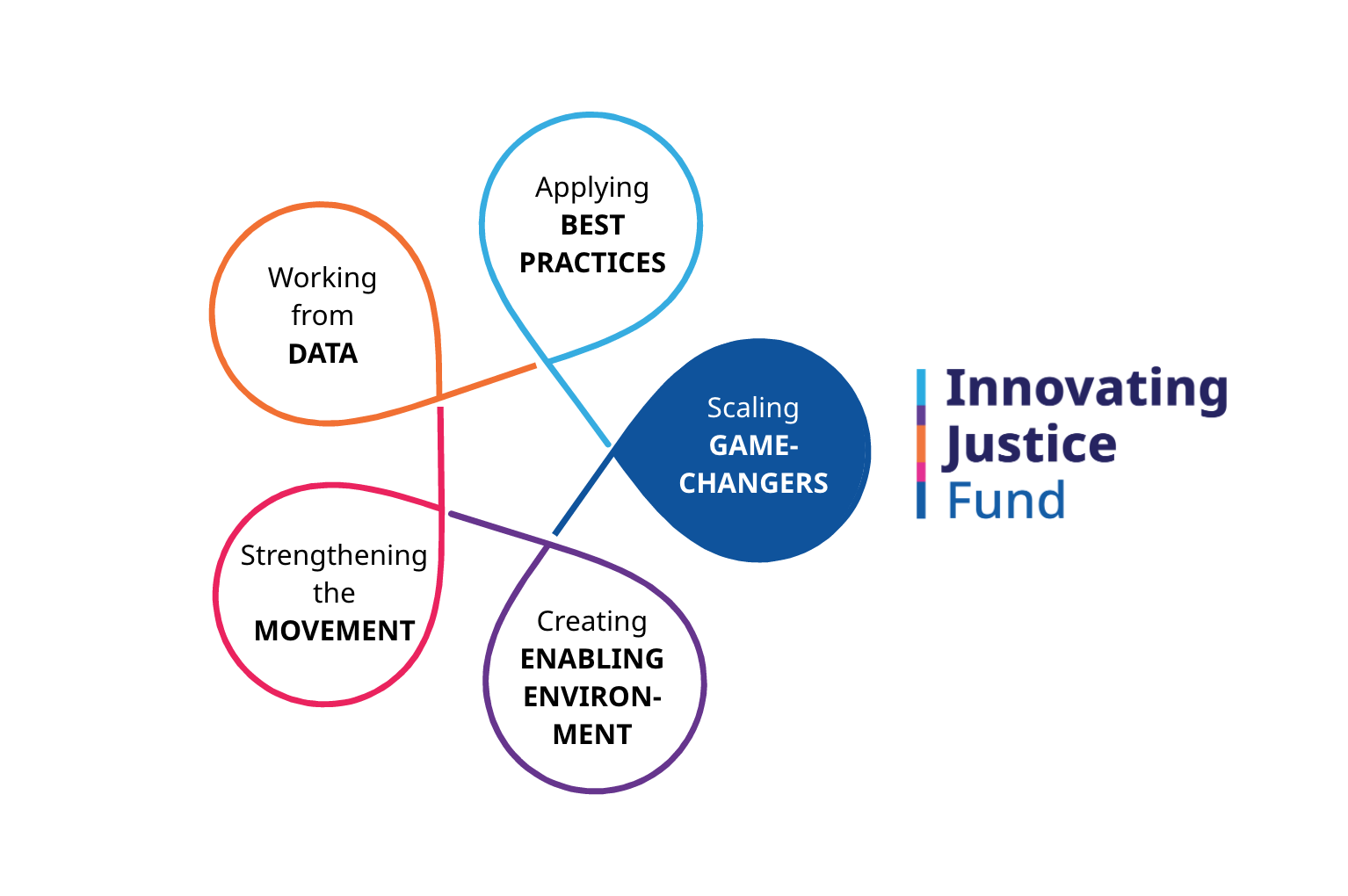 A Fund to Scale Justice Innovation
HiiL has an integrated approach to contribute to SDG 16. HiiL collects data on citizens' justice problems and journeys, analyses best practices in the justice sector, engages with top-level policy-makers on justice strategies, and helps scale game-changing justice innovations. In close partnership with local and international change-makers HiiL works towards its mission of enabling 150 million people to prevent or resolve their most pressing justice issues by 2030.
To scale justice innovation expertise and capital is needed to grow to its fullest potential. As part of the scaling game-changers activities fund manager FOUNT and HiiL have recently launched the Innovating Justice Fund and an accompanying Scaling Programme.
The Innovating Justice Fund addresses the Justice Gap by providing funding and technical assistance (TA) to early–stage companies that deliver innovative justice services in emerging markets. Their services prevent and resolve pressing issues around employment, family, fraud, crime, land, housing and neighbour conflicts.
The Fund aims to demonstrate how to generate significant impact for people that get improved access to justice by investing in scale-up companies with game- changing business models for resolving and preventing justice problems.
Investment instruments are primarily equity, convertible loans and other mezzanine finance products (typically in the seed or series-A stage). In addition to the investment capital companies are also supported with Capacity Development services.
The Fund provides financing per company in a target range of EUR 250k – 1 million enabling these to scale and generate significant impact.
Investees will receive dedicated support on technical and management matters, including further development of the business model, expanding the network and making the companies ready for follow-up investments.
Fund Capital structure and initial sponsor

Currently the Fund is being launched with support from the Dutch Government, long-time partner of HiiL, fostering the pipeline coming from HiiL's successful Justice Accelerator programme and an expert team with in-depth knowledge of justice and investments in emerging markets.
The Fund is to be established as a Dutch limited partnership (CV) with a blended capital structure. The target capital size is EUR 10 million. In addition a stand-alone Technical Assistance (TA) Facility for TA to support portfolio companies, support to develop sustainable business models by pipeline companies and investment in sector engagement of EURO 1 million will be raised.
We are now looking to raise additional equity capital for the Fund plus TA funding. It is expected that the Fund will have a small net positive return, in this respect junior equity investors should obtain capital preservation (0%) whilst senior equity investors are expected to receive a small return on top of their capital contribution.
Pipeline and Typical Investees
Pipeline will mainly be generated through HiiL's Justice Accelerator and Scaling Programme, particularly in the countries where HiiL is active or present including Kenya, Uganda, Nigeria, and Tunisia.
The Fund is also open for companies in different countries and/or without a background in the HiiL program as long as the business model is promising and dedicated support is safeguarded.
Profiles of typical early-stage companies which are eligible:
Fund Management Partnership
The fund management for The Innovating Justice Fund is based on a partnership between FOUNT and HiiL.

FOUNT provides extensive investment and fund management expertise (>10 years) in impact funds in developing countries. FOUNT currently manages a number of funds covering Africa, Asia and Latin America has a rich network in the impact investment sector with numerous partners and investors providing potential for co-, follow-up financing and exits for the Fund.

HiiL, the initiator brings unique and in-depth justice sector expertise amongst others through its annual innovative Justice Accelerator programme (from which pipeline companies for the Fund are sourced) in combination with a broad industry network. HiiL has supported more than 139 justice start-ups globally since 2011 through its Justice Accelerator. Combined they impact more than 10 million people per year.
FOUNT is the Fund Manager and HiiL the Technical Assistance Manager and technical advisor to the Fund.

The Fund focuses on SDG 16, to deliver access to justice for all. In a world where billions of people are not yet able to obtain justice, we must resolve justice problems and prevent injustices from occurring, as well as use justice systems to create opportunities for people to participate fully in their societies and economies. In addition to SDG 16 the Innovating Justice Fund also contributes to SDG 5 (gender equality), SDG 8 (decent work and economic growth) and SDG 10 (reduced inequalities);
The Fund's main ambition is to contribute to people-centred justice services at scale and to empower people to prevent and resolve their most pressing justice problems. Eligible portfolio companies must be able to demonstrate a measurable contribution to this mission. Our impact methodology is based on the best market standards. For each portfolio company, a series of Key Performance Indicators (KPI's), in line with the Fund's impact framework, will be closely monitored and measured.
The Fund will provide support to each investment company with tailored Technical Assistance (TA) to maximise their impact and growth.
The Fund aims to demonstrate that it is possible for these early stage justice companies to scale. The team actively engages with local banks and ecosystem to share its key learnings, knowledge and best practices to unlock additional funding and replication and scale-up of the investment model.
The Fund is financially viable and presents a unique opportunity to substantially contribute to SDG 16, to support the justice sector in several regions and be a frontrunner as investor in the first SDG 16-focused justice Fund.


The Fund has a dedicated investment team of seasoned professionals in place and is based on strategic partnership of FOUNT and HiiL.


We have access to a strong proprietary pipeline of early stage gamechangers ready to scale through the Justice Accelerator programme of HiiL and strong networks of both FOUNT and HiiL.


We have a local hub network available in most focus countries, providing in depth local knowledge and access to the local ecosystem.
Want to learn more about our Justice Accelerator programme?